California Firefighters Trying to Contain Wildfire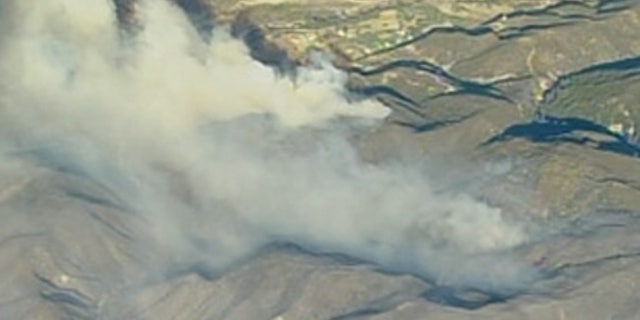 LYTLE CREEK, Calif. – A wind-fanned wildfire that charred some 5 1/2 square-miles of the San Gabriel Mountains continued to rage Sunday as firefighters worked to prevent flames from advancing toward a mountain resort community.
The 3,500-acre Sheep fire, driven by wind gusts of up to 40 mph, destroyed three homes and was 10 percent surrounded.
Between 4,000 to 6,000 residents were ordered to evacuate, said Robin Prince, public information officer for the San Bernardino National Forest.
"The winds are quite a problem," Prince said.
Firefighters were making a stand in the mountain resort community of Wrightwood, which contains a mix of full-time residences and vacation homes, spreading fire retardant gel to structures to protect them from advancing flames.
Erratic winds and low visibility temporarily grounded firefighting aircraft, but helicopters and air tankers took to the skies by Sunday morning aided by about 1,000 firefighters on the ground.
The blaze broke out Saturday near Lytle Creek, a small community surrounded by the San Bernardino National Forest. Fueled by thick timber and brush, the fire pushed over hills and canyons by winds.
In Arizona, some residents of the city of Williams remained away from their homes for another day as a prescribed burn that grew out of control threatened the town known as the "Gateway to the Grand Canyon."
Punky Moore, a Kaibab National Forest spokeswoman, said the Twin Fire scorched about 1,000 acres, or more than 1 1/2 square miles, by Sunday morning. It was burning forest undergrowth and ponderosa pines on Bill Williams Mountain.
For more on this story, go to MyFoxLA.com.