4 Killed in Fiery Helicopter Crash Had Been at Charity Event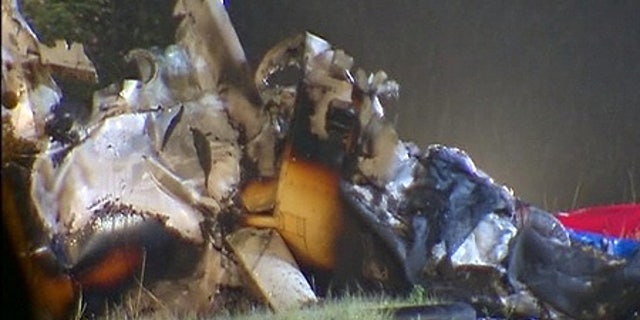 SMITHSBURG, Maryland – Four people killed when their helicopter crashed on a Maryland highway were returning from an event where they had given helicopter rides to raise money for troubled youth, authorities said Friday.
Investigators do not yet know why the helicopter crashed on Interstate 70 and burst into flames around 10:30 Thursday night, said Kitty Higgins, a National Transportation Safety Board member. No vehicles were hit and no one on the ground was hurt.
The pilot and two of the people on board were employees of Frederick, Maryland-based Advanced Helicopter Concepts. The fourth was a friend who had flown with them to Hagerstown for a meeting of the Advanced Helicopter Youth Foundation charity.
Raw video, photos and more at MyFOXDC.com
The pilot, who had about 630 hours of flight experience, waited two hours after Thursday's event to return to Frederick because of the weather, Higgins said.
Visibility was somewhat limited by fog at the time of the crash, but it wasn't clear if weather played a role, said Washington County emergency services director Kevin Lewis. Storms had passed through the area earlier in the night.
Witnesses reported seeing the craft flying low when it hit power lines over the interstate, then saw sparks fly before it went down. There was no flight plan and no contact with air traffic controllers because the tower was closed.
The aircraft was engulfed in flames when firefighters arrived at the scene, Lewis said.
Maryland State Police tentatively identified those on board as Jeffrey D. Nordaas, 24, of Columbia, Maryland; George H. Tutor Jr., 39, of Westminster, Maryland; and Niall R. Y. Booth, 43, and Kim R. Felix, 48, both of New Market, Maryland. Police did not say which was the pilot.
Gary Smith, an instructor for Advanced Helicopter Concepts, said Friday morning that the company had suffered a "huge loss."
"We thank everyone for their support and understanding during this difficult time," he said, declining to release further details. Smith said the company was cooperating with NTSB investigators. The company trains pilots, takes photographers on aerial tours and fixes and sells helicopters, according to its Web site.
Advanced Helicopter Concepts' office sits at the end of a hangar at Frederick Municipal Airport.
Troopers temporarily shut down lanes in both directions at the crash site near Smithsburg, which is about 10 miles east of Hagerstown. The highway reopened early Friday.
Wreckage could be seen just off the shoulder of the three eastbound lanes. A blade jutted out from twisted metal. The wreckage was almost directly beneath a set of power lines.
The helicopter fell into a "static" power cable that's essentially a lightning rod for the power poles, said Allegheny Power spokesman Todd Meyers. Two other live wires were damaged in the crash, knocking out power to about 700 customers for about two hours after the crash.
Federal Aviation Administration records list the owner of the four-seat Robinson R44 helicopter as Marsan Aviation Inc., of Wilmington, Delaware. Telephone messages weren't immediately returned early Friday by an attorney for Marsan listed in FAA records.