Yeo hires longtime assistant Sydor for Blues' vacant coaching staff
By ,
Published May 24, 2017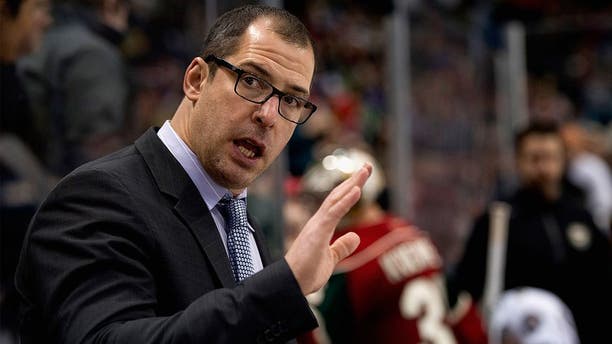 ST. LOUIS -- Darryl Sydor, a longtime member of coach Mike Yeo's staffs in Minnesota and the American Hockey League, has rejoined his former boss as the first hire onthe Blues' revamped coaching staff.
Sydor, who finished an 18-year NHL playing career with the Blues in the 2009-10 season, signed a three-year contract with St. Louis.
Sydor previously coached under Yeo with the Minnesota Wild for five seasons and the AHL's Houston Aeros for one season.
I amexcited tohave Darrylback on my staff, said Yeo, who is starting from scratch with his staff as he begins his first full season as St. Louis head coach. He was an outstandingteacher during our time in Minnesota and will add a wealth of experience and knowledge to our team.
Sydor, 45, spent last season as an assistant with the AHL'sChicago Wolves, then the Blues' primary affiliate. The Wolves finished first in the Central Division in the regular season and reached the second round of the 2017 Calder Cup Playoffs.
Before lastseason, Sydor helped Yeo guide the Wild tofour consecutive postseason berths from 2013-16, including back-to-back trips to the second round in 2014 and 2015. Sydor's year with Yeo in the AHL was 2010-11, when the Aerostied for fifth in the leagueoverall with98 points in the regular season and advanced to the 2011 Calder Cup Finals.
Sydor, the seventh overall draft pick bythe Los Angeles Kings in 1990, appeared in 1,291 NHL regular-season games with Los Angeles, Dallas, Columbus, Tampa Bay, Pittsburgh and St. Louis. He is a two-time Stanley Cup champion (Dallas in 1999 and Tampa Bay in 2004).
Jasen Vinlove-USA TODAY Sports | Jasen Vinlove
https://www.foxnews.com/sports/yeo-hires-longtime-assistant-sydor-for-blues-vacant-coaching-staff