With Blackhawks, Ducks there's no shortage of star power in Western Conference final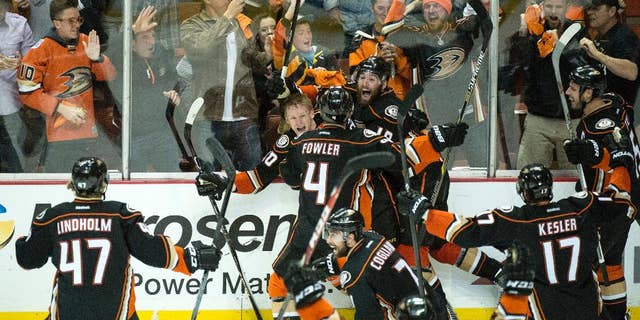 CHICAGO – No team in the NHL is on a bigger roll than the Anaheim Ducks and none is more tested than the Chicago Blackhawks.
These two powerhouses are about to meet in a Western Conference final full of star power and intriguing matchups.
"It's going to be one heck of a series," Ducks captain Corey Perry said. "They're a great team. When you put two teams together, it's going to be a great series. They're a skating club, and they're kind of similar to Calgary. They've got a lot of speed, a lot of skill, and you've got to be ready to step in front of them and eliminate their time and space, and if we do that, we'll be all right."
The top-seeded Ducks just might be the deepest and most physical team in the conference, if not the NHL, but they haven't won a Stanley Cup since 2007 — the last time they got advanced past the second round. They come into this series on quite a roll, at 8-1 in the postseason after capturing their third straight Pacific Division title, but they are facing a team that knows a thing or two about winning this time of year.
The Blackhawks and Los Angeles Kings have basically been trading the Stanley Cup since 2010, with each team winning twice and Boston grabbing it in 2011. Chicago missed a chance at another last year after an overtime goal by the Kings' Alec Martinez in Game 7 of the conference final.
"They have a great team," Chicago's Brandon Saad said. "They have a great forecheck and they're big and physical, and they play a good puck-possession game. It's going to be a battle. It's not going to come easy and we're going to have to be patient like these past couple series."
The Blackhawks won two of three from Anaheim during the regular season, outscoring the Ducks a combined 8-3 and surrendering just one goal in each game. They know that success against a team in the regular season does not necessarily translate to the postseason, where the stakes and the intensity go up a level or two.
"You watch 'em play, they've got a lot of different options they use," Blackhawks coach Joel Quenneville said Monday. "They're very mobile and they're strong in all aspects. ... So we need to be our best in all areas ourselves. We feel like if we progress in the playoffs, you've got to elevate your game to beat teams that have a lot of confidence and they've got to be playing the right way. They've got a lot of things going for them."
The Ducks certainly looked sharp while sweeping Winnipeg and ousting Calgary in five games.
Anaheim has power and force in all four lines and plenty of skill to go with it. The Ducks lead the playoffs with 35 goals, and their power play has scored a whopping 31 percent of the time.
The Blackhawks, eyeing their third championship since 2010, got here by knocking out Nashville in six games and sweeping Minnesota. And they will certainly be well-rested by the time Game 1 rolls around. After all, they haven't played since Thursday.
While the start date for the conference final has not been announced, one mystery was solved Sunday night when Perry bounced up off his knees and scored in a scramble in overtime against the Flames after injuring his right leg earlier in the game. With a league-leading 15 points in the playoffs, Perry sure has been a headache for opposing teams.
"He does everything pretty well," Blackhawks goalie Corey Crawford said. "He's a strong guy around the net. He's hard to move and his stick is so quick and he's a hard shot, too. He's pretty crafty too around the net. He's tough to read. You need to be aggressive on him but at the same time try to be patient too."
Chicago presents some headaches of its own. Besides Jonathan Toews, Patrick Kane is rolling after missing the final 6 1/2 weeks of the regular season because of a broken collarbone. Kane and Perry are tied for second with seven goals and a plus-8 rating in the postseason.
"We are spoiled in a lot of ways," Quenneville said. "We got some top guys you get to watch here as a team and they make our team go in a lot of ways. But Kaner, he's got the wow factor along with that consistency in his game."
___
AP Sports Writer Greg Beacham in Los Angeles contributed to this report.