Will Dodgers call up top prospect Julio Urias to join beleaguered bullpen?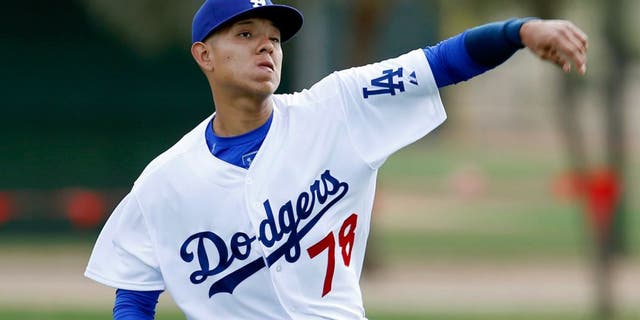 Although the Los Angeles Dodgers have two of the best starting pitchers in baseball, they don't have a formidable bullpen in place to back their aces, which may force them to make an eventful September call-up.
Although the Dodgers still have the option to acquire a reliever through the waiver wire, ESPN reports that that it's "unlikely the team will be able to trade for an impact reliever this month since they have been 'blocked all month' by teams lower in the standings."
There's no denying the Dodgers' need to fortify their bullpen before the postseason, as it proved to be the crux of their downfall in last year's postseason, in which manager Don Mattingly was forced to stretch ace Clayton Kershaw to compensate for his justifiable lack of trust in the bullpen.
If Los Angeles is unable to acquire a reliever on waivers, it will almost certainly resort to calling up a prospect or demoted starter Mike Bolsinger, who could provide crucial long-relief during the pennant race.
With expanded rosters coming in September, the Dodgers will have the opportunity to add some reinforcements to the bullpen, the most notable of whom could be the organization's top prospect, 19-year-old lefty Julio Urias, who has yet to make his major-league debut.
Although Urias is slated to be a starter in his major-league career, teams have brought up starters as relievers and later transitioned them into starters or other roles at the major-league level.
The most notable recent examples include Carlos Martinez and Shelby Miller of the St. Louis Cardinals and Francisco Rodriguez, who helped the then-Anaheim Angels win a World Series in 2002.
After pitching out of the bullpen for the Cardinals for two seasons, Martinez is now an ace in the Cardinals' rotation, Miller is having a career year as a starter now with the Braves, and Rodriguez went on to be an elite closer for years.
Of course, the most relevant example as it pertains to the Dodgers is Fernando Valenzuela, who helped the Dodgers in the pennant chase in his first month in the majors in Sept. 1980, during which he threw 17 2/3 scoreless innings of relief with 16 strikeouts over 10 games.
Whether Urias is ready to face major-league batters or not is a decision only the Dodgers can assess, but he is having another solid season in the minors this year, in which he holds a 3.21 ERA with 80 strikeouts and 16 walks in 70 innings.
In his three years in the Dodgers organization, the Mexican left-hander holds a 7-6 record with a 2.67 ERA and 256 strikeouts in 212 innings.
Now it's up to the Dodgers to make the call: Is it in the best interest of both Urias and the club to bring him up for the pennant race?
(h/t ESPN)