Watch: Iwakuma's no-hitter through the eyes of Mariners fans at Safeco Field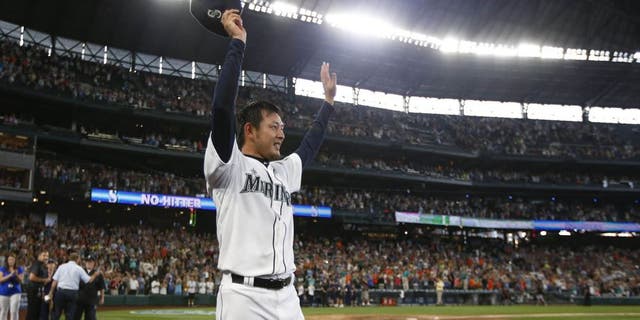 On Wednesday afternoon, Seattle Mariners right-hander Hisashi Iwakuma became the first American League pitcher to throw a no-hitter since teammate Felix Hernandez threw a perfect game back in 2012.
Iwakuma's masterful performance stymied the Baltimore Orioles and shot 'Kuma into the record books, and (at least) two members of the Mariners blogosphere were there to witness it firsthand.
Nathan Bishop, editor of the Mariners' Lookout Landing blog/fan community, used the @LookoutLanding Twitter account to document the afternoon - and capture the final out of the ninth inning:
Bishop's colleague, Colin O'Keefe, had an even better vantage point along the third base line, which allowed him to shoot his own shaky smartphone video:
This is a fun look at the making of a no-hitter from the perspective of fans actually at the game - rather than via the official television broadcasts (though that footage is great as well):
As for Iwakuma, his outing Wednesday was truly spectacular considering the up-and-down year he's had in 2015. Injuries forced him to miss more than two months of action, as detailed on Twitter by MLB.com's Greg Johns:
His manager Lloyd McClendon summed things up succinctly, even referring to Iwakuma as 'the Bear':
Not a bad day a club having as frustrating a season as the 2015 Mariners have thus far.
(h/t Twitter)