Vitor Belfort could follow the Alex Rodriguez plan for redemption
By , Damon Martin
Published May 03, 2016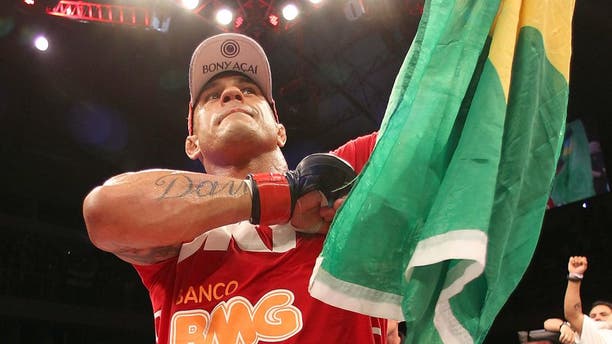 A funny thing happened to perennial villain Alex Rodriguez when he returned to work for the New York Yankees this season following a 162-game ban from Major League Baseball.
Rodriguez largely kept his head down all season long and just went out to the park and played ball. He smacked 33 home runs and 86 RBI's to help lead the Yankees to a playoff berth, and he even found cheers coming from fans that seemingly abandoned him years earlier.
If Rodriguez's resurrection in the public eye relates back to mixed martial arts in any way, it's with Saturday night's main event winner Vitor Belfort and his latest victory over Dan Henderson, which reminded everybody that this "young dinosaur" still has some gas left in the tank. Even if that tank is not super charged any longer.
Much like Rodriguez in baseball, Belfort has been the poster child for performance enhancing drug abuse in mixed martial arts dating back to 2006, when he first tested positive for steroids following his bout with Dan Henderson -- the same person he knocked out in Brazil on Saturday in the first round.
Back then, Belfort exploited the system and refused to live by the Nevada State Athletic Commission's ruling, which came with a nine-month suspension. So "The Phenom" moved to England to fight in a promotion there that didn't adhere to rules set forth in the United States.
While baseball had the "steroid era", MMA was haunted by the testosterone replacement therapy (TRT) era. While the treatment was legal by all standards, Belfort certainly did his fair share to help drive commissions towards banning the substance all together.
Belfort enjoyed a physical transformation as if he was sipping directly from the fountain of youth. His muscles bulged like something out of comic book while he enjoyed a three-fight win streak that was as vicious as anything he'd done in the past decade. He ripped through Luke Rockhold, Michael Bisping and Henderson before the treatment was outlawed, and he had to give up the synthetic goodies all together.
When Belfort returned in July to face middleweight champion Chris Weidman, his body looked like a popped balloon that someone attempted to re-inflate. Belfort was still in incredible shape, but his pulsating muscles were gone. His traps no longer connected to his ears, and the power that once sent a trio of top middleweights crashing to the floor couldn't survive Weidman's onslaught as he put Belfort away in the first round.
So as Belfort moves forward in his career in an age where the UFC is funding around-the-clock drug testing with penalties that reach into multiple years on the sidelines, it seems like the Brazilian fighter is finally fighting clean (or so we hope) and still knocking people out cold.
Of course there are always going to be questions surrounding Belfort, especially in a sport like MMA, where performance enhancing drug use doesn't lead to bigger and better homeruns -- it leads to brain damage and bodily harm.
But Belfort would be wise to follow Rodriguez's lead in the wake of his return to baseball this year, where he went out and put up good numbers before landing a second job as a post-season anaylst following the Yankees' elimination from the playoffs.
Rodriguez impressed the sports media so much that it had some people rooting for him to win "Comeback Player of the Year".
Now, unlike Rodriguez, chances are Belfort won't be calling fights any time soon. But he certainly has a chance to impact fans around the world if he were to act as an ambassador and maybe come clean about some of the poor choices he's made to prevent the next generation of fighters from doing the same. Of course the first step in that plan is Belfort admitting he did something wrong and to date he's never really done that.
Still, Belfort's most recent win over Henderson came on the heels of his life-altering transformation from Greek god to normal, athletic 38-year-old dude, and just weeks after a Deadspin article alleged that he failed a drug test leading up to his 2012 fight with Jon Jones.
If there's one big wall separating what Rodriguez was able to do this year that Belfort may still struggle with now is that the Brazilian has never really faced any consequences for the things he did. Sure, it took baseball the better part of 10 years to finally make Rodriguez pay for his cheating, but Belfort is closing in on a decade since he got first got busted for performance enhancing drug use and to date he's never bothered to face any discipline for his actions.
Whether he actually feels remorse or not, Belfort could do far worse than to answer the charge for all his past transgressions -- which, let's be honest, have added up over the years. Hopefully after that, Belfort could go out and continue to knock people's heads off for the next few years before quietly fading into the sunset.
It may sound strange to tell anyone to follow the "Alex Rodriguez plan" but Belfort is already a kindred spirit -- why not go all the way?
https://www.foxnews.com/sports/vitor-belfort-could-follow-the-alex-rodriguez-plan-for-redemption