US soccer fires women's national team coach Tom Sermanni after 16 months on job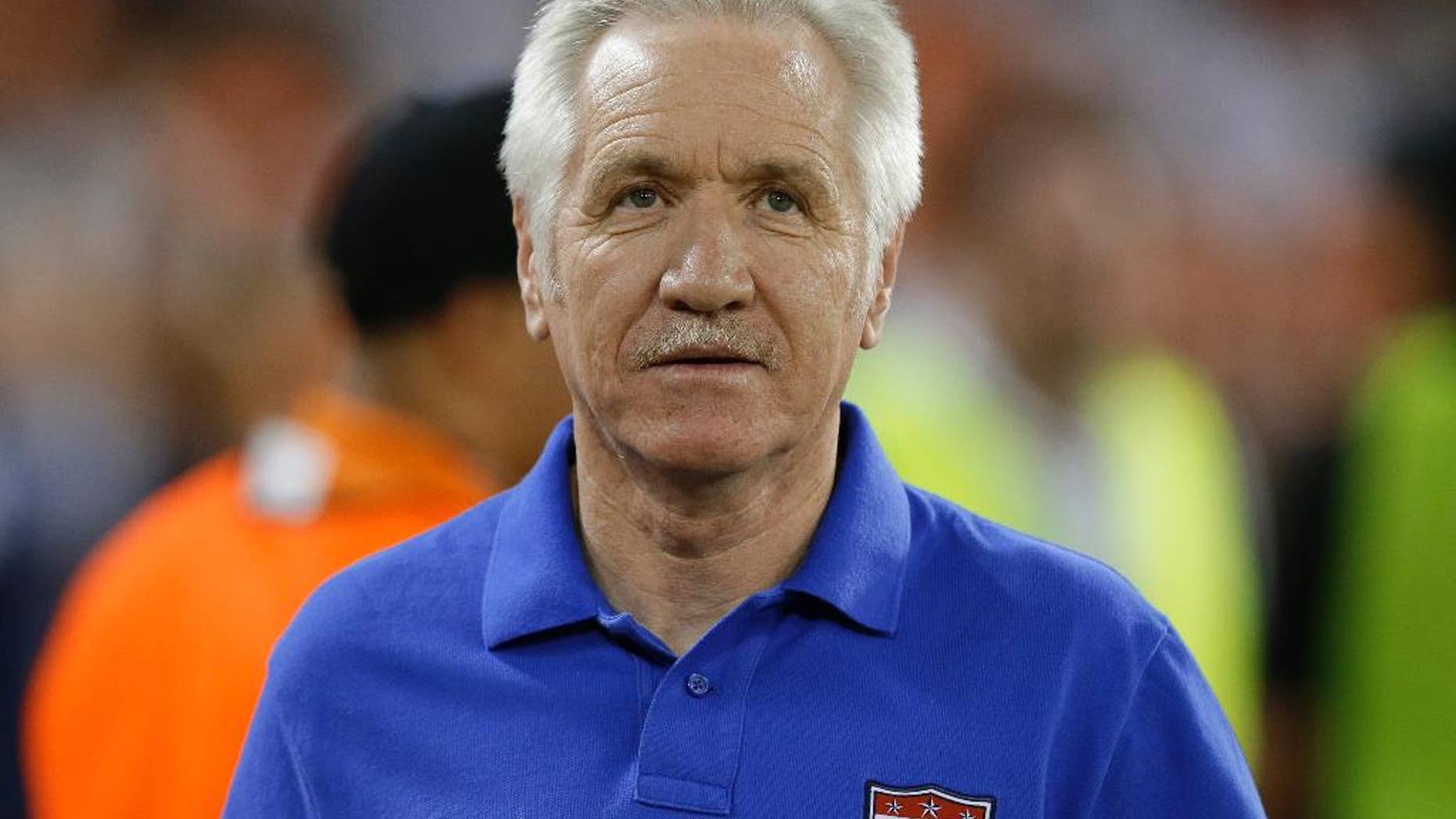 CHICAGO – On Sunday afternoon, Tom Sermanni coached the U.S. women's team to a 2-0 win over China in Colorado.
By Sunday night, he was out of a job.
U.S. Soccer fired Sermanni after a disappointing finish last month at the Algarve Cup. The surprising move came just 16 months after he took over the program.
"We want to thank Tom for his service over the past year and half, but we felt that we needed to go in a different direction at this time," U.S. Soccer President Sunil Gulati said in a release. "We will begin looking for a new coach immediately to guide our women's national team toward qualifying for the 2015 FIFA women's World Cup."
Sermanni was hired in October 2012, but Jill Ellis served as interim coach until he took over that January. Sermanni made his debut for a 4-1 win over his native Scotland on Feb. 10, 2013.
He previously spent eight years coaching Australia's women's team, leading the Matildas to the quarterfinals of the last two Women's World Cups.
Sermanni helped the U.S. to a 13-0-3 record last season, but the Americans went 1-2-1 at the recent Algarve Cup. The seventh-place finish included a 1-0 loss to Sweden and former U.S. coach Pia Sundhage, ending a two-year, 43-game unbeaten streak. That was the first loss following a 16-0-4 start under Sermanni.
Ellis, the director of development for U.S. Soccer, will serve as the interim coach. She went 5-0-2 during her stint as the interim coach in 2012.
The women's team faces China again on Thursday in San Diego.
"I'm disappointed that things didn't work out, but I'd like to thank U.S. Soccer for the opportunity to have coached this team and also the staff and players for all their hard work," Sermanni said in the U.S. Soccer release.
Sermanni's dismissal was announced a few hours after Lauren Holiday and substitute Megan Rapinoe scored in the victory over China in Commerce City, Colo.
If he knew that was his last game with the team, it sure didn't seem that way. He experimented with a 4-3-3 alignment (four defenders, three midfielders and three forwards) as part of the team's preparation for World Cup qualifying, and talked about the team making the most of its offensive opportunities.
"I thought our movement was good, thought our passing was quite incisive," Sermanni said after the game. "What we should've done better is finish the game off a lot earlier. We really need to be finishing these games off when we're creating chances."
The U.S. outshot China 23-1 and ran its unbeaten streak on home turf to 81 games (71-0-10).
Holiday was back in the lineup after missing the Algarve Cup because of a family commitment. She scored in the 39th minute — the U.S. finally solving goalkeeper Zhang Yue after a flurry of shots. Holiday nearly had another goal early in the second half, only to have it deflected away near the goal line.
The defense only allowed one scoring chance to China, which played a defense-oriented game even after falling behind.
"The most important thing is coming together now and figuring out what works and what doesn't," forward Sydney Leroux said. "We're getting better every single day."
Any further improvement will come under a new coach.