Triple Crown Hopeful I'll Have Another Out of Belmont Stakes
By ,
Published December 12, 2016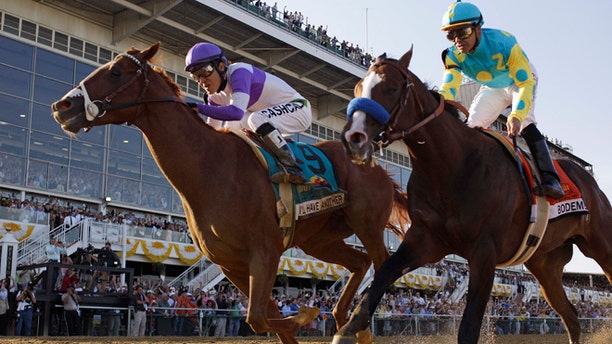 Triple Crown hopeful I'll Have Another was scratched from the Belmont Stakes Friday afternoon.
The three-year-old colt, and his jockey Mario Gutíerrez, were trying to become the first to win the Triple Crown in 34 years.
Rumors have been flying as to why the colt was scratched. Some of those rumors stem from an early gallop run on Friday morning.
The bombshell announcement comes after trainer Doug O'Neill sent Triple Crown hopeful I'll Have Another out for a final gallop in secrecy the day before the Belmont Stakes.
O'Neill said the decision was made to bring his Kentucky Derby and Preakness winner to the track shortly after 5:30 a.m. Friday to avoid congestion around the detention barn housing the 12 horses entered for the Belmont. The colt jogged and then galloped around the 1½-mile oval accompanied by stable pony Lava Man.
"It's been very hectic the last few days, so we thought we would take him out when it's quieter," O'Neill said in a statement released by the New York Racing Association. "The detention barn setup with all 12 of the horses going out at the same time has been a little bit hectic."
After a loose horse nearly collided with I'll Have Another on the track last week, NYRA established a 15-minute window, from 8:30 a.m. to 8:45 a.m.— just for Belmont horses to be on the track.
O'Neill had declared his colt "fit and ready to go."
"We are just trying to let him bring as much energy to the table tomorrow as possible," he added. "We thought giving him an easy day the day before would be a good move. He stayed with coach Lava Man just to keep everything off-speed. I was very pleased with it. Perfect. We are ready to roll."
For Gutíerrez, a native of Veracruz, Mexico, his unexpected road to the Belmont Stakes has come to an end. While every jockey dreams of riding in the sport's biggest spectacles, the dream didn't become reality for Gutíerrez until a couple of months ago.
"I come from a very small town, and my family didn't have much money," he told Fox News Latino. "I was racing quarter horses. I didn't even know about thoroughbred racing really. I just knew I wanted to be a jockey like my dad."
I'll Have Another pulled off two wins in dramatic come-from-behind fashion at the Kentucky Derby and at the Preakness.
I'll Have Another, with jockey Mario Gutiérrez, went from 15-to-1 shot to Kentucky Derby winner. No longer under the radar, he entered the Preakness one of the favorites at 3-to-1.
Tickets for the Belmont Stakes which average $10 to $20 each were going for as much as $800.
Contains reporting by the Associated Press.
Follow us on twitter.com/foxnewslatino
Like us at facebook.com/foxnewslatino
https://www.foxnews.com/sports/triple-crown-hopeful-ill-have-another-out-of-belmont-stakes