Tide Rolls Over Michigan State; TCU Stops Wisconsin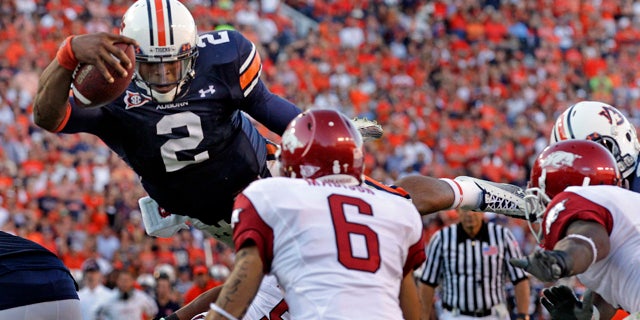 Trying the stamp itself as the nation's No. 1 conference yet again, the SEC started the New Year by stomping the Big Ten.
Three Southeastern Conference-Big Ten matchups went the way of the Deep South's pride and joy on Saturday, including a 49-7 victory by No. 15 Alabama against No. 7 Michigan State at Orlando in the Capital One Bowl.
No. 21 Mississippi State routed Michigan 52-14 in the Gator Bowl and Florida came from behind to beat Penn State 37-24 Outback Bowl.
Michigan State's loss was historic. In the 74-year history of The Associated Press college football poll, the seventh-ranked team had never been beaten by such a lopsided score -- in any game, not just a bowl game.
The last ranked team to lose a bowl game by a more decisive score was Northwestern on Dec. 30, 2000, when the 18th-ranked Wildcats were beaten 66-17 by No. 9 Nebraska in the Alamo Bowl.
The Big Ten also lost the first bowl game of 2011, when Texas Tech beat Northwestern 45-38 in the TicketCity Bowl, and dropped its most meaningful when TCU beat Wisconsin 21-19 in the Rose Bowl. That made it an 0-for-5 afternoon for the conference.
The early part of the bowl season had been good for the Big Ten, with Illinois and Iowa both beating Big 12 teams. Maybe Nebraska, which is moving in from the Big 12 next season, losing to Washington in the Holiday Bowl was a sign of things to come.
The SEC got off to an 0-3 start this bowl season, but made up for it when the spotlight came on New Year's Day.
ROSE BOWL
No. 3 TCU 21, No. 4 Wisconsin 19
PASADENA, Calif. (AP) -- Andy Dalton threw a touchdown pass and ran for a score, linebacker Tank Carder swatted down a 2-point conversion pass attempt with 2 minutes to play, and TCU completed a perfect season in the Rose Bowl.
Bart Johnson caught an early TD pass and recovered a late onside kick for the Mountain West champion Horned Frogs (13-0), who followed up their second straight unbeaten regular season by busting the BCS in dramatic fashion.
Dalton passed for 219 yards for TCU, which won't win the national title -- that will go to Auburn or Oregon after they meet in the BCS championship game in nine days -- but proved it can play with anybody on college football's biggest stages.
Montee Ball rushed for 132 yards and a late score for the Big Ten co-champion Badgers (11-2), whose loss capped a nightmare New Year's Day for their conference.
The Big Ten went 0-5 in bowl games Saturday, and the Badgers fell just short of a late rally when Carder made a defensive play that will live forever in TCU lore.
OUTBACK BOWL
Florida 37, Penn State 24
TAMPA, Fla. (AP) -- Urban Meyer walked away from Florida with a win against Joe Paterno, who insists Penn State's disappointing season won't be his last.
Meyer closed out a highly successful six-year run that included a pair of national titles by leading the Gators back from a second-half deficit to beat JoePa's Nittany Lions 37-24.
Omarius Hines and Mike Gillislee ran for touchdowns, Chas Henry kicked three second-half field goals, and Ahmad Black sealed the Outback Bowl win with an 80-yard interception return TD to help Florida (8-5) send Meyer out with a smile.
The 46-year-old coach resigned last month amid health concerns.
Meyer and the 84-year-old Paterno met at midfield for a postgame handshake that was anything but typical. "He said, 'I love you kid,"' Meyer said. "He's the only one who calls me kid. And I love him too."
As for Paterno, he -- and his wife and Penn State officials -- spent the week leading up to the game repeatedly shooting down rumors that the Outback Bowl could be his last.
He expects to be back for a 46th season with Penn State (7-6). At one point, he called the speculation about his future -- including reports that he might be in poor health and had been hospitalized -- "ridiculous." He reiterated Friday that he has no plans to retire.
Matt McGloin threw five interceptions for Penn State after only being picked off four times in 174 attempts during the regular season. He finished 17 of 41 for 211 yards and one touchdown.
GATOR BOWL
No. 21 Mississippi State 52, Michigan 14
JACKSONVILLE, Fla. (AP) -- Chris Relf threw three touchdown passes, Vick Ballard ran for three scores and the Bulldogs overwhelmed the Wolverines.
The 38-point drubbing was the worst bowl loss in Michigan's storied history and may have sealed the fate of Wolverines coach Rich Rodriguez. His three-year tenure has been tainted by consecutive losing seasons, NCAA sanctions and late-season slides.
Michigan (7-6) was out of this game early, done in again by a defense that made a middle-of-the-pack Southeastern Conference offense look like a juggernaut.
Relf and Ballard posed problems all day. Relf completed 18 of 23 passes for 281 yards, and added 49 yards on the ground. Ballard ran for 77 yards. The Bulldogs (9-4) finished with 485 yards and punted twice.
CAPITAL ONE BOWL
No. 15 Alabama 49, No. 7 Michigan State 7
ORLANDO, Fla. (AP) -- Mark Ingram ran for two scores to break the Alabama career touchdown record, and the Crimson Tide rolled to the most lopsided victory in Capital One Bowl history.
The 2009 Heisman winner had 59 yards rushing against the team he rooted for as a kid, Greg McElroy threw for 220 yards and one touchdown, and Alabama (10-3) pulled most of its starters in the third quarter. Ingram moved past Shaun Alexander's mark (41) with 42 career touchdowns.
The Crimson Tide found the end zone on their first four possessions, held the Spartans (11-2) to 171 total yards and sacked Kirk Cousins four times in their best performance all season.
The margin of victory topped East Texas State's 33-0 victory over Tennessee Tech in the 1953 game, then known as the Tangerine Bowl. The bowl dates back to 1947.
TICKETCITY BOWL
Texas Tech 45, Northwestern 38
DALLAS (AP) -- Taylor Potts threw four touchdown passes and scored another on a trick play, and Eric Stephens ran 86 yards for a score to carry Texas Tech.
The Red Raiders (8-5) led by 22 points early in the second half, then had to sweat it out.
The Wildcats (7-6) got within a touchdown twice in the fourth quarter, with freshmen quarterbacks Evan Watkins and Kain Colter combining to lead three straight touchdown drives and Jordan Maybin returning an interception 39 yards for a score with 5:37 left.
The game wasn't decided until the final play, a heave by Watkins that was intercepted.
Northwestern remains winless in a bowl since 1949. The Wildcats have lost eight in a row, including three straight close ones the last three seasons.