The key to success in BYU's secondary? 'Play sticky'
By ,
Published October 21, 2015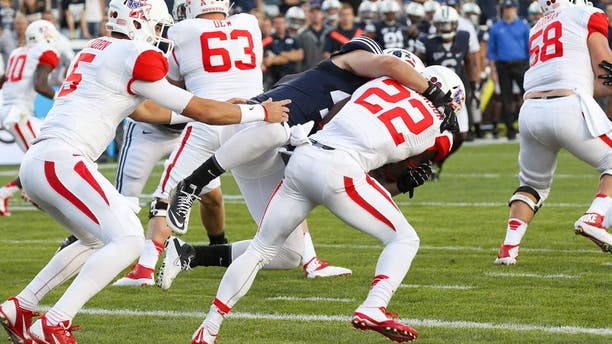 Sep 11, 2014; Provo, UT, USA; Brigham Young Cougars linebacker Zac Stout (47) tackles Houston Cougars running back Ryan Jackson (22) in the end zone and gets a safety during the first quarter at Lavell Edwards Stadium. Mandatory Credit: Chris Nicoll-USA TODAY Sports USA Today Sports
Coachspeak, while often maddening, can also be quite humorous. Coaches are known to come up with odd terminology to explain what they're seeing out on the field, and it's up to the players, observers and fans to try to understand and digest it.
On Friday night against Cincinnati, BYU's defense was very good. Specifically, the secondary was very good.
So, what the word of the night?
'Sticky.'
"I thought the DBs covered better than they had in a long time," BYU outside linebackers coach Kelly Poppinga said Tuesday after practice. "That allowed us to get a lot of pressure on the quarterback. A lot of those sacks were because the coverage was so sticky, so a lot of credit is due to the defensive backs covering those guys."
Sophomore corner Micah Hannemann echoes those sentiments.
"That's the goal, to be sticky man-on-man on a guy," Hannemann said. "Obviously we weren't perfectly sticky for the whole game, but when you play that many plays in man and you are winning the majority of the time, that's pretty hard to do."
(h/t Daily Herald)
https://www.foxnews.com/sports/the-key-to-success-in-byus-secondary-play-sticky