Tag team champs: Tareq Azim prepares Marshawn Lynch for imminent return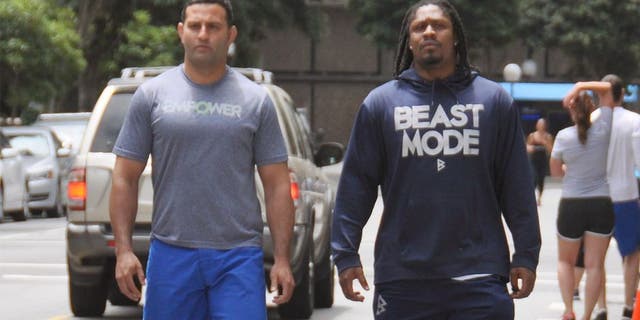 When Marshawn Lynch was forced to undergo hernia surgery several weeks ago, the Seattle Seahawks running back immediately called his friend Tareq Azim to help him on the road to recovery so he could prepare for another run at the Super Bowl this season.
Until now, Lynch had never gone through surgery during his entire playing career, so this was uncharted territory for the five-time Pro Bowl running back.
Lynch reunited with Azim at Empower Gym in the San Francisco Bay area for his rehabilitation, after they worked together for many years during the spring and summer months to get him in peak physical condition for the season ahead.
"Things are going really well," Azim told FOX Sports about Lynch's recovery on Tuesday night. "Obviously, his first day returning back to home base at Empower, it was a little different, he came here kind of showing me what he was able to do. It was very minimal movement, very minimal activity and I just spent the first day doing about two or three different sessions together really assessing the capacity.
"It really didn't take long for me to see a lot of this had to do with getting comfortable with the discomfort of the operation, the discomfort of something that has never been done before to him. He's never had an operation before."
According to Azim, Lynch's recovery is right on track to return to the Seahawks for the playoffs, where he hopes to help push the team toward a third consecutive Super Bowl berth.
"Right now, Marshawn is in a place where he could run around anybody if he wanted to. Physically in the last two weeks, we're doing two-a-days and three-a-days everyday, and then you've got his physical therapy. So he's literally here between eight and ten hours a day with me in some fashion. Right now, I can confidently tell you he can run around anybody," Azim said.
"In a couple of days from now if he can just build on the confidence that he's acquired in the last week here, he'll be able to run through everybody confidently. He's got the confidence to run around people but 'Beast Mode' runs through people. That's what we want to finalize. He's not far from that at all."
Azim was first introduced to Lynch by his mentor Tom Cable, who is the Seahawks assistant head coach, and the two have created a bond working together over the last few seasons.
Azim, who played football at Fresno State, says that Cable put trust in him to help Lynch stay ready for the NFL season, and the three of them remain very close to this day. As Lynch is going through this current stretch of recovery and rehabilitation, Azim says Cable has continued to support them with whatever they need and when the powerful tailback returns to the Seahawks, he'll be able to hit the ground running.
"Trust does play a huge role and the stem of that trust was who Marshawn has the utmost respect for in his professional career and that's Tom Cable. It's that initial introduction where Marshawn took his trust and met with me and saw there was a perfect fit. We're ride or die for each other and we'll always help each other succeed," Azim said.
"One of the reasons why Tom Cable has such a great relationship with a lot of these guys is the fact that he's a player's coach. He's more about the guys and their lives. People appreciate his authenticity. He's been my mentor for almost a decade. Marshawn knows (Cable's) intentions are only about a better life. The team took a humongous turn from a lot of instability to a really united team. Marshawn is coming back to what Marshawn always wanted and now he's got it. It's exactly what he wanted as a leader."
As far as specifics on Lynch's recovery, Azim says on the first day he showed up at Empower to begin rehabilitation, the two of them sat down and created a plan to help him maximize his physical ability while also giving him the mental stability he needed to come back from surgery.
The result has been Azim and Lynch working together non-stop, sometimes for 8 to 10 hours a day, to make sure he's in peak condition when he returns to the Seahawks.
"It's so important that you can never address a general program for anybody. Everybody's body reacts different, everybody's does different things and everybody's body is different. So with that being said, there can't be a general rehabilitation plan for Marshawn," Azim explained. "It really has to be customized off of his key deficiencies and his key abilities and really trying to integrate and innovate a development program that not only gets him physically back in the game but mentally gives him the confidence to feel like himself again.
"I have a long history with that. If you look at the stable of athletes I work with from all the NFL standouts to all the MMA standouts to baseball standouts to hockey standouts and other extreme athletes, all the guys I work with who come into my life, we all have a similar philosophical crossover. All of us believe the same thing -- that our key performance indicator is understanding the mental deficiencies that are preventing me from being the maximum me."
It's been a pleasure to work with Lynch during his recovery according to Azim, who says the running back's approach, attitude and work ethic in the gym are the same things that make him such a weapon on the field as well.
It also led to the great working relationship they've built over the years that has allowed Azim to get the most out of Lynch and for Lynch to receive the best training possible from this partnership.
"What we do as a team at Empower is I don't have the answer to anything. We figure it out together and then build on it together. I ask the questions, they respond," Azim said. "The beautiful thing about working with someone like Marshawn is for what society has made of him and the great things he's accomplished and the things he aspires to do, he's so humble to allow my perspective to have any value in his development.
"It comes down to him being as open as he is to me to find where the deficiencies are, where he wants to get better. You work with your athlete on what they see and then you work on that and it leaves no room for them not to maximize."
Azim has spent so much time with Lynch over the last few weeks getting him healthy and ready to return that he says that they are essentially a tag team at this point, like a "modern day Legion of Doom."
All jokes aside, Azim knows that Lynch has put in the work necessary to come back at full strength and give the Seahawks the maximum performance upon his return.
"To tell you the truth, we wouldn't be spending Christmas Eve, Christmas day, like every single day of this break with him developing if I didn't think he couldn't come back stronger," Azim said.
"I believe he'll come back stronger because what he's been able to do with this whole experience and use it as another credential of achievement. Being able to defeat being held back. It's a whole new level of confidence he's been able to achieve."