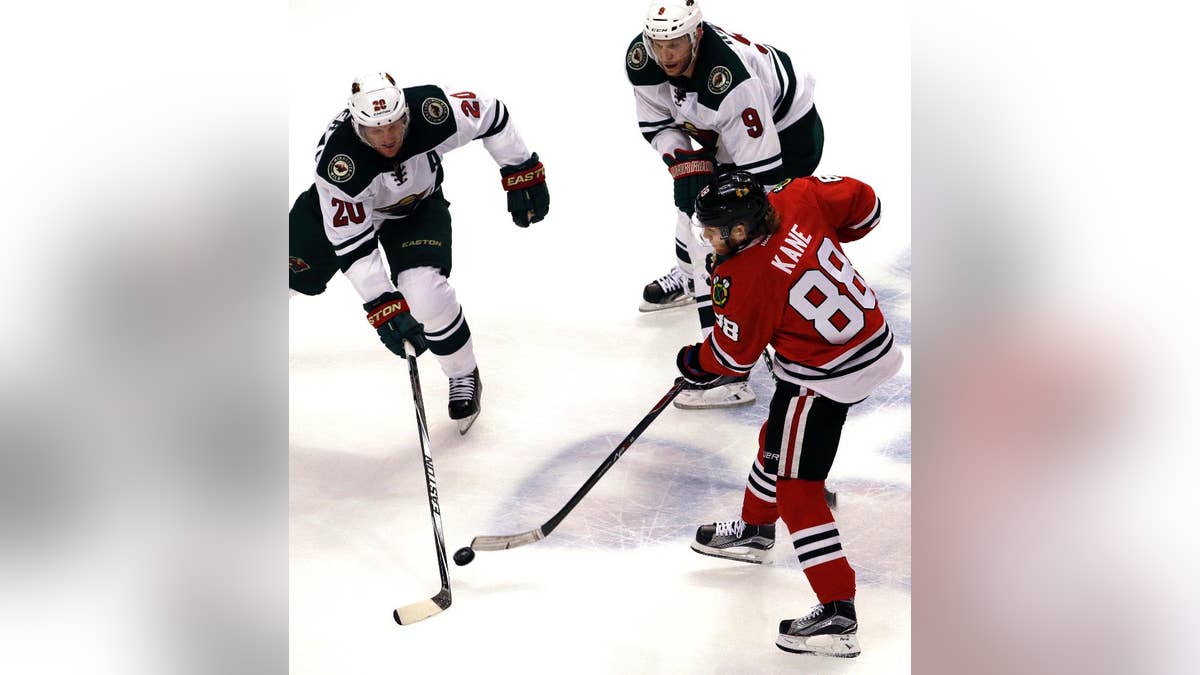 ST. PAUL, Minn. – The original prognosis for Patrick Kane's surgically repaired collarbone dictated his return for some point during the Western Conference finals, if the Chicago Blackhawks were to advance that far.
The superstar right wing came back in almost half that time and his reintegration with the Blackhawks has been as quick as one of his vintage rushes along the perimeter to set up a display of his deft touch for scoring.
"I was feeling good even after the surgery," said Kane, who broke the bone when he was cross-checked into the boards in a game against Florida on Feb. 24. "You never really know when you're going to be allowed to come back and get cleared, but it's been awesome playing here in the playoffs."
The three-month timetable for his recovery became seven weeks when Kane joined the Blackhawks for the start of the first round against Nashville. The 26-year-old speedster, sharpshooter and master stick-handler had two goals and five assists in that series. He's scored four times on Minnesota, guiding Chicago to a 3-0 lead in the Western Conference semifinals with goalie Corey Crawford sharing the load with 90 saves.
The streak of four straight playoff games with a goal has matched Kane's run in 2010 on the way to the first of two Stanley Cup championships of his career.
"In all honesty, we denied him the puck a lot, I thought. But he's the type of guy who gets that one look and it's in," Wild left wing Zach Parise said. "He's not showing too many signs of still being hurt or still feeling it. People have been physical on him, and it doesn't look like its hurting or bothering him at all."
Both teams stayed off the ice on Wednesday in order to rest for Game 4 on Thursday. The Wild have played well enough to win two of the first three games, but they've been missing the opportunism for knocking the puck in the net when it's needed most. Kane sure hasn't lost his, despite the 21-game absence at the end of the regular season.
"He doesn't need much to be effective out there. He gets a little glimpse of sunlight, and he's able to find a way to make something happen, whether it's a pass or finding somebody backdoor or putting it in the net," Blackhawks defenseman Brent Seabrook said.
For coach Joel Quenneville, the only question was going to be how Kane would be able to handle the physical contact in the corners and avoid the apprehension about re-injury that can hold players back.
"You could see in the first game he was working his way through it," Quenneville said. "But as far as him being up to pace and up to speed, he could still skate as quick as he always did."
Crawford carried the Blackhawks to the title two years ago, and his performance during the regular season was as solid as ever. But Quenneville pulled him for Scott Darling after a three-goal first period in Game 1 against Nashville, and he gave up six goals in Game 2. Crawford didn't return until the first period of Game 6, when Darling was scored on three times.
There was some mystery, then, about how Crawford would bounce back, too, but he has allowed only four goals in the three games against the Wild and improved his playoff record against them over the last three years to 11-3 with a 1.60 goals-against average and a .942 save percentage.
"There's not much you can do. You've just got to work hard in practice and try and feel the best you can for the next time you get in," Crawford said.
Quenneville reiterated the team's confidence in the 30-year-old Crawford in a conversation they had after the switch.
"It's easy to beat yourself up and hear everybody on TV and in the newspaper maybe say some bad things about you," Blackhawks left wing Patrick Sharp said. "We never doubted Crow for a second."