StaTuesday: How the preseason has impacted the Vikings historically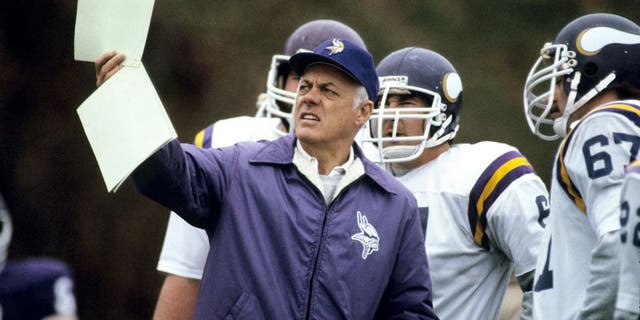 On Aug. 5, 1961, the Minnesota Vikings first took the field in an organized clash against a team wearing different fatigues. On that day, in Sioux Falls, S.D., the purple and gold were dealt a 38-13 preseason beating by Dallas.
That initial setback seemed to set the tone for a 3-11 regular season for the Vikings in '61, in a campaign mostly fraught with struggles (Minnesota was outscored, 407-285, that year).
The Vikings entered this month 144-96-3 all-time in the preseason, good for a .599 win percentage. That compares favorably to Minnesota's .539 win percentage (438-374-10) in regular-season play. (The Vikings' 14-3 win over the Steelers in the Hall of Fame Game on Sunday was not an official preseason contest.)
Yes, preseason games often don't mean much in the long run, as a procession of fringe players like Spergon Wynn garner a considerable amount of snaps, while proven stars like Adrian Peterson chew sunflower seeds on the sideline. But, a close examination of their history shows the Vikings' best regular seasons are often preceded by unbeaten preseasons.
And, a study of Minnesota's history also shows that the Vikings' head coaches seem to take the preseason seriously, especially early in their careers.
How much, exactly, does the preseason correlate to the regular season for the Vikings? Let's examine closer.
One thing history seems to suggest: A great, undefeated preseason often translates to big success later in the year in the Land of 10,000 Lakes. The Vikings have had seven undefeated preseasons all-time, and only two of those unblemished exhibition campaigns were followed up with losing regular-season marks (in 2001 and last season).
When the Vikings have looked truly dominant in the preseason, it usually means they're bound for legitimately exciting things in the months ahead, like in 1998, when Minnesota's memorable, 15-1 regular-season was preceded by a 4-0 preseason run. That was also the case in 1992, when, in Denny Green's first season as head coach, the Vikings ran roughshod through the preseason -- winning every exhibition game by at least 21 points, including a 56-3 whitewash of Cleveland -- en route to an 11-5, division-winning campaign.
That leads us to another common theme throughout Vikings history: first-year coaches having preseason success. Since 1984, the Vikings haven't had a first-year head coach endure a losing preseason. And that makes sense, upon closer review, since first-year head coaches have an increased sense of urgency in August, as they try to send a message to their new troops while implementing their new system.
Minnesota has only had two winless preseasons in its history, in 1961 (0-5) and in 1979 (0-4). Those poor exhibition stretches gave way to regular-season marks of 3-11 (as mentioned earlier) and 7-9, respectively.
Of course, there have been a few years where the preseason seemed to have no direct correlation to what followed for the Vikings. In 1976, for example, Minnesota looked rather pedestrian in the preseason, with a 3-3 mark that included a 31-7 beating endured in Cleveland. That '76 season, of course, ended with an appearance in the Super Bowl, against Oakland (we'll assume you remember how that turned out).
Another year where the preseason mattered not for Minnesota? How about 2001, when the Vikings sprinted out of the gates with a 4-0 August, only to finish the season 5-11. . . with an overwhelmed Spergon Wynn III taking snaps in the regular-season finale at Baltimore.
Follow Kelly Beaton on Twitter