Soccer Roundup: Messi Can't be Stopped, Chicharito Gets his Footing
By Michael Lewis, ,
Published January 10, 2017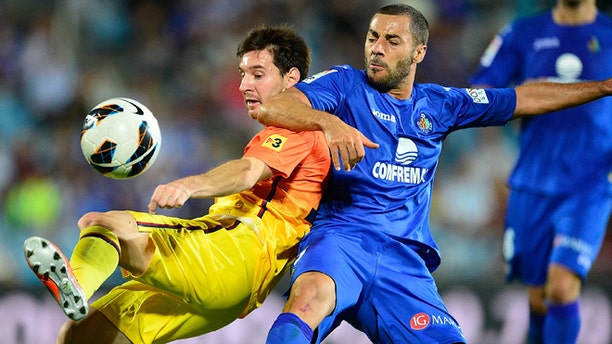 There is no stopping Lionel Messi in Spain's La Liga these days, even when he plays about a half an hour.
Messi struck for a brace in Barcelona's 4-1 triumph over host Getafe on Saturday. Messi, who was used as a sub in a La Liga encounter for the first time in a year, was given a break after performing for Argentina in its 1-1 World Cup qualifying draw with Peru last Tuesday.
By the time Messi entered the match in the 59th minute, Barca enjoyed a 1-0 lead. Cesc Fabregas, who was playing essentially in the Argentine star's role in the game, set up Adriano in the 32nd minute.
Messi came on for Thiago and Barca started cooking. He converted a penalty kick in the 74th minute after Pedro Rodriguez in the penalty area before putting in a cross by Martin Montoya four minutes later. Messi has a league-best six goals in four matches.
Spanish international David Villa completed the rout with a late goal.
Getafe's score was an own goal when Pablo Sarabia's shot deflected in off Argentine Javier Mascherano of Barca.
Barca is off to a perfect start at 4-0-0 and 12 points.
The same certainly cannot be said of La Liga defending champions Real Madrid (1-2-1), which finds itself eight points behinds its archrivals. The club has gotten off to a horrendous start, which was punctuated with a 1-0 loss to Sevilla.
"My players' heads are not focused, for many of them football is not a priority," Real coach Jose Mourinho was quoted by the Associated Press. "But I am the coach and if there are heads that are not focused, it is my fault.
"I am not worried about the points, my worry is that I don't have a team."
The Real players' heads must get focused in a hurry as the Spanish power will face Manchester City in its first UEFA Champions League match of the season on Tuesday.
Barcelona will make its Champions League season debut at Spartak Moscow on Wednesday without two starters -- standout defender Carles Puyol, who strained knee ligaments vs. Getafe, and Andrés Iniesta.
ENGLAND
Javier Hernandez
Finally getting a rare opportunity to start for Manchester United on Saturday, Chicharito stumbled a bit early on, but found his footing later on for a goal in a 4-0 romp over Wigan Athletic. Chicharito, playing because of an injury to English international Wayne Rooney, missed a penalty kick six minutes into the match. Danny Welbeck managed to convince referee Michael Oliver than he had been tripped in the penalty area and the hosts were awarded a penalty. Hernandez, who scored the lone goal of Mexico's 1-0 World Cup qualifying win over Costa Rica in Mexico City on Tuesday, stepped up to take the kick. But goalkeeper Ali Al-Habsi denied the striker. Hernandez atoned for his miss in the 63rd minute as he scored for a 2-0 advantage. ManU manager Sir Alex Ferguson coached his 500th game at Old Trafford, earning his 365th victory at the stadium.
Javi Garcia, Carlos Tevez
The Spaniard and Argentine combined for the equalizing score in the 35th minute to lift Manchester City into a 1-1 road draw at Stoke City. Garcia had all sort of space as he headed in Tevez's free kick.
Luiz Suarez
A Uruguayan, Suarez saved a point for Liverpool by scoring in the 71st minute of a 1-1 draw at Sunderland after Steven Fletcher tallied in the 29th minute.
SPAIN
Carlos Vela
The Mexican converted a penalty kick for an insurance goal to help Real Sociedad register a 2-0 home victory over Real Zaragoza. Inigo Martinez gave the hosts a 1-0 lead in the 55th minute before Vela scored six minutes later.
Javier Saviola
Levante fell victim to the Argentine striker known as El Conejo -- the rabbit -- in its 3-1 defeat by Malaga. The 30-year-old Saviola scored one goal and created another. Saviola, who joined Malaga on the transfer deadline day, scored in his first start, finding the back of the net in the 27th minute. After the visitors equalized, Saviola turned playmaker, setting up Joaquin in the 59th minute.
Radamel Falcao
Falcao, a Colombian, put in a penalty kick for Atletico Madrid's fourth and final goal in the 56th minute, his ninth goal in only six games for club and country this season. But AM needed that goal because Rayo Vallecano's Andrija Delibasic scored two goals in the final eight minutes in what turned into a 4-2 win
ITALY
Diego Milito
Another Argentine played scoring hero as Milito tallied Inter's first goal in the 13th minute in its 2-0 victory at Torino.
Maxi Lopez, Marcelo Estigarribia
Lopez, an Argentine striker, finished with a brace (31st and 76th minutes), and Estigarribia, a Paraguayan midfielder, added a goal on the hour to lead Sampdoria to a 3-2 triumph at promoted Pescara.
Edinson Cavani
The Uruguayan converted a penalty kick in the third minute to start Napoli to a 3-1 win over Parma.
Arevalo Rios
A Uruguayan, Rios scored his first goal for Palmero, which tied against Cagliari, 1-1. Rios tallied in the 41st minute when he fired in a deflected shot from a Fabrizio Miccoli feed through a bunch of players.
FRANCE
Javier Pastore
The Argentine struck in the opening half to start Paris Saint-Germain onto a 1-0 home win over Toulouse. Pastore took a pass from Marco Verratti in the 38th minute. He was part of the set-up of Zlatan Ibrahimovic's insurance goal in the second half.
FRANCE
Guillermo Ochoa, Lisandro Lopez
Sometimes even goalkeepers can't save their teams with brilliant performances. Just ask Ochoa, the Mexican international who tends goal for AC Ajaccio. He made two fantastic second-half saves, but still could not stop second-place Lyon from recording a 2-0 win. Ochoa parried Clement Grenier's lob shot and stopped a point-blank header by Bafetimbi Gomis. Lyon had taken the lead on center back Dejan Lovren's header off Clement Grenier's corner kick in the 25th minute. Ajaccio tried to equalize, but Lopez, an Argentine, put in a goal off a counterattack in the 75th minute.
GERMANY
Jefferson Farfan
Schalke 04 continued its unbeaten start to the season with a 2-0 win at Greuther Furth. The Peruvian did not figure in the scoring, but he hit the woodwork in stoppage time.
Claudio Pizarro, Javi Martinez
Pizarro, a Peruvian striker, came on as a substitute late in Bayern Munich's 3-1 win over Mainz to tie the record for the most Bundesliga games by a foreign player with 336 appearances, but did not score. Martinez, a Spaniard, set up Toni Kroos' stoppage-time score.
RUSSIA
Cristian Ansaldi
Ansaldi, an Argentine, was red-carded just at the stroke of halftime, forcing Rubin Kazan to place the rest of its 1-0 loss to Lokomotiv Moscow to play with 10 men. Dmitry Tarasov scored the one goal in the 52nd minute.
BELGIUM
Ignacio Gonzalez
The Uruguayan scored for Standard Liege in a 3-2 losing effort to Beerschot AC.
UNITED STATES
Fredy Montero
The Colombian scored in the 57th minute to lift the Seattle Sounders into a 1-0 lead over the host Portland Timbers, but his teammates could not hold the lead and settled for a 1-1 draw. Defender Rodney Wallace tallied the equalizer later in the second half.
Rafa Marquez
Starting his first game for the Red Bulls since July 15, the Mexican international set up the equalizing goal in a 3-1 home win over the Columbus Crew. Marquez sent a 50-yard pass over the defense to Thierry Henry, who scored in the ninth minute.
Alvaro Fernandez
Fernandez connected for the insurance goal for the Chicago Fire in its 3-1 victory over the visiting Montreal Impact. Chris Rolfe crossed the ball into the penalty area and the Uruguayan slotted it home in the 80th minute.
https://www.foxnews.com/sports/soccer-roundup-messi-cant-be-stopped-chicharito-gets-his-footing