Six Points: Ravens vs. Broncos
By ,
Published September 25, 2015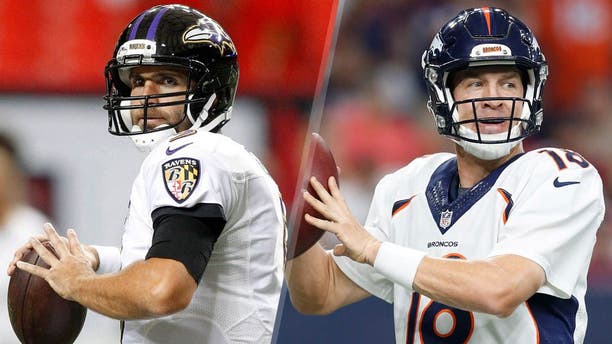 Peyton Manning kicks off his 18th professional season when his Denver Broncos welcome the Baltimore Ravens on Sunday. The last time Denver played host to Baltimore in a season opener was in 2013, Manning torched the Ravens for seven touchdown passes in a 49-27 victory.
Manning's status is in flux for the first time since his rookie season in 1998. Under the direction of new coach Gary Kubiak, he'll be asked to throw less and hand off the ball more. That could spell the end of record-setting passing days for "The Sheriff."
The Ravens will continue to win with physical play and tough defense. Gritty wide receiver Steve Smith Sr. announced 2015 as his final season. Head coach John Harbaugh wants to make it a winning one; he's led the team to playoff berths in four out of the last five seasons.
Here are three keys to the game for the Ravens and Broncos:
RAVENS:
1. Get after Manning and his receivers
Besides a new system, Manning also has a retooled offensive line in front of him, with one returning starter. Terrell Suggs and Elvis Dumervil must be relentless in their pass rush while their corners must do everything they can to jam Demaryius Thomas and Emmanuel Sanders to disrupt their timing with Manning.
2. Use the young tight ends
The Broncos have one of the better corner tandems in the league in Aqib Talib and Chris Harris, and Baltimore's receivers are an unknown commodity outside of Steve Smith Sr. New starting tight end Crockett Gillmore and rookie Maxx Williams are going to get thrown right into the fire. Expect Joe Flacco to look their way underneeath with coverage strong on the outside.
3. Don't turn the ball over, especially on special teams
The Ravens have struggled to find a return man in the wake of Jacoby Jones' departure. Asa Jackson looked to be the frontrunner, but fumbles cost him the job and a roster spot. If second-year receiver Michael Campanaro ends up being the guy, he better hold the ball tight, because giving Manning a short field is the last thing you want to do.
BRONCOS:
1. Put it all on C.J. Anderson's plate
Kubiak wants C.J. Anderson to be the Terrell Davis to Manning's John Elway for a Super Bowl run. There's only one way to find out if last season's breakout back can play that role — and it involves a lot of zone-blocking and handoffs. Kubiak's system is in place; if it's going to work, Anderson needs to get to work early against the stout Ravens defense.
2. Put someone speedy on Justin Forsett
Matt Forte broke NFL records for running back receptions last season in Chicago. His play-caller? Marc Trestman, who inherits Kubiak's old job and versatile ballcarrier, Forsett. Expect a lot of checkdowns, swing passes, and screens to go his way on Sunday. Losing surefire tackler T.J. Ward for this game will make it tougher to wrangle Forsett.
3. Let Shane Ray loose
DeMarcus Ware and Von Miller sputtered as a duo down the stretch last season. Enter Shane Ray, who shined this preseason and becomes a sparkplug for new defensive coordinator Wade Phillips' pressure defense. Ray proved he could harass mobile quarterbacks like Russell Wilson this preseason --€" he'll make a good counter for Flacco if the quarterback tucks and runs.
https://www.foxnews.com/sports/six-points-ravens-vs-broncos