Similarities to Alex Smith prompted 49ers to bring in Gabbert
By ,
Published May 03, 2016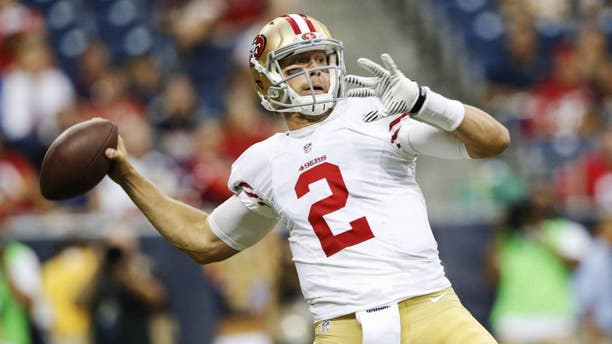 Blaine Gabbert went 5-22 as a starter with Jacksonville. Kevin Jairaj USA TODAY Sports
Quarterback Blaine Gabbert flamed out in three seasons with the Jacksonville Jaguars, winning only five of 27 career starts.
That didn't stop the San Francisco 49ers from swinging a trade with the Jaguars in 2014, since Gabbert reminded them of a quarterback they drafted with the No. 1 overall pick in 2005.
"When we got Blaine on board here, there were some similarities to what we thought Alex Smith went through," San Francisco offensive coordinator Geep Chryst told reporters Thursday. "Alex came here very young and played, had to slug out a lot of tough situations. And we thought that Blaine had all this talent, and as a young player, maybe a change of scenery would be good for him."
Smith labored through a horrendous rookie season, throwing one touchdown pass against 11 interceptions while completing 50.8 percent of his passes. He endured a revolving door of offensive coordinators and fought through injuries before finding success when Jim Harbaugh took over the club in 2011.
Gabbert owns a career completion percentage of 53.2 percent with 23 touchdowns and 24 interceptions, but he lost his final 10 starts with the Jaguars. The 49ers are hoping that Gabbert will continue to progress much like Smith did.
"Last year, we thought he practiced well, but in the preseason games he got a little skittish, a little, 'I'm not ready for this,' " Chryst said. "And with another year with him in the system, another year within the organization ... I thought he had a really good preseason."
MORE NEWS: Want stories delivered to you? Sign up for our NFL newsletters.
https://www.foxnews.com/sports/similarities-to-alex-smith-prompted-49ers-to-bring-in-gabbert