Saban waiting for a quarterback to assert himself and seize the job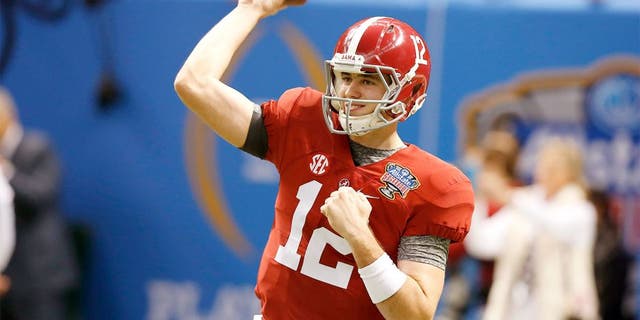 Nick Saban appears to be growing frustrated with the questions regarding his starting quarterback. The Alabama coach spoke to the media following Saturday's practice and clearly put the onus on his quarterbacks to step up and seize the job. Until he sees that happen, don't expect a starter to be named.
"The way I see it happening is, as soon as we start gaining a little bit of confidence in a guy and we put him in the situation where you've got a chance to be the guy, they have to take advantage of that," Saban said post practice. "They have to take the ball and run with it. We've seen that a couple times, and it's a little bit like, 'Giddy-up, whoa.' I'm just waiting for somebody, when they break out and have a couple good days, and say, 'I'm going to do this.' You've got to win the team, and I see guys starting to win the team, and then something happens. That's gotta happen."
No statistics were released from the weekend's practice but it appears what Saban is referring to goes beyond simply completing passes and accurate throws. If the Crimson Tide are to compete for an SEC title this season, the entire team will have to buy-in on that player and have confidence in his ability to lead the team to victory.
"Somebody's gotta make it happen. I can't make it happen. As bad as I'd like to make it happen, I can't make it happen. Miss Terry was here today, and I'm sure when I go home, I'm going to get an earful about the quarterbacks, who played best, who she likes the best and all that, but she can't make it happen either. If it doesn't get decided, like it didn't when A.J. (McCarron) and Phillip Sims were here, they both played a quarter, a quarter, a quarter, a quarter in the first game, and that's how we figured it out.
"So, do I want it to happen that way? No. But I can't make this happen, as bad as everybody wants it to happen, and they want to create this great hope. 'Coach said this guy is the man.' I can't make it happen."
Here's the full-length post practice video of Saban's interview: