Rose shows love for 'Duck Dynasty'
By ,
Published September 19, 2015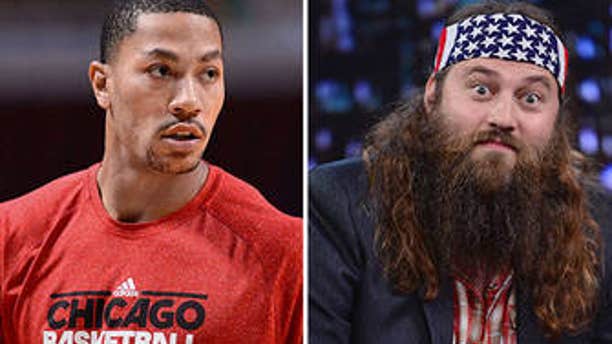 Traditionally, there has not been a lot of cross pollination between the NBA and duck hunting, but this is the magic of television.
A&E's reality-based sitcom "Duck Dynasty" -- which chronicles the comings and goings of some bearded Louisiana duck-call tycoons -- is one of the highest-rated cable television programs of all time. It has crossed over from niche to pop cultural phenomenon, and for evidence we bring you Derrick Rose dressing up as a "Duck Dynasty" guy for his son's birthday party.
Derrick Rose dressed up as the Duck Dynasty guy for his son's birthday: http://t.co/RL3oX2moi0
-- Deadspin (@Deadspin) October 9, 2013
Beyond the Buzzer has more photos from the party, which Rose threw for his 1-year-old son, PJ, who came outfitted in a "Monsters Inc." getup.
Dynasty, indeed.
https://www.foxnews.com/sports/rose-shows-love-for-duck-dynasty