Roger Staubach speaks out about Cowboys DE Greg Hardy
By ,
Published November 11, 2015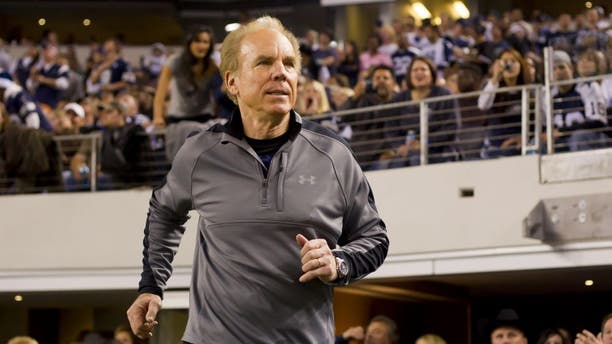 Dallas Cowboys legend Roger Staubach is still a fan of the team, but there's one player he refuses to root for -- defensive end Greg Hardy.
"I'm rooting for the Cowboys, I don't root for him," Staubach told USA TODAY Sports Tuesday. "I'm still rooting for the Cowboys. I'm not a Hardy fan."
This past week, the media outlet Deadspin published documents from Hardy's alleged assault of ex-girlfriend Nicole Holder that included some very graphic images. Staubach believes that these images may motivate others who share his strong opinions on the situation to speak out.
"People, when they see something they react differently, the same with the (Ray) Rice thing," Staubach said. "We know what he did. I've got a wife and four daughters and I've got 12 granddaughters. I would go ballistic if anybody touched any of our daughters or granddaughters in a harmful way. I'm not that forgiving for anybody that commits domestic violence. But we are human beings."
Staubach admits that he is not sold that Hardy is sincerely remorseful, and that he also worries that this might not be the last domestic violence incident that Hardy becomes involved with.
"It just seems like that particular problem, unless you really get a lot of help, you just don't overcome it. You've got to get help. It's not just, 'Hey, I did this, it won't happen again.' It happens again … It's a worrisome deal when someone hits a woman. Hopefully that someone is getting help to never do it again.
"It just seems like the incident on the field, knocking the clipboard out of the coach's hand, you can talk about passion, but you also have to talk about common sense on the field," Staubach said of Hardy. "He is still a mixed bag as far as if he is really sincere about the past, making sure it never happens again."
Staubach also spoke with ESPN's Todd Archer about Hardy, and he admitted to Archer that Hardy's punishment was simply not harsh enough. In 2014, he was placed on the commisioner's list for the final 14 games, but he was still paid. The NFL suspended him for the first 10 games of the 2015 regular season, but Hardy appealed that suspension and had it reduced to four games.
"I think he should've had a much stiffer fine and then he should be looked at every day to make sure he's doing what it takes so he doesn't ever commit another domestic violence act again," Staubach said to Archer in a phone interview. "... It's a sickness to me, whatever it is that makes you do that. For people to overcome that, hopefully he's doing what it takes. I don't know what's going on behind the scenes."
(h/t USA TODAY Sports, ESPN)
MORE NEWS: Want stories delivered to you? Sign up for our NFL newsletters.
https://www.foxnews.com/sports/roger-staubach-speaks-out-about-cowboys-de-greg-hardy