Report: Security had to tell Jets' Nick Mangold to chill out at Rangers-Penguins game
By , Brett Smiley
Published April 20, 2016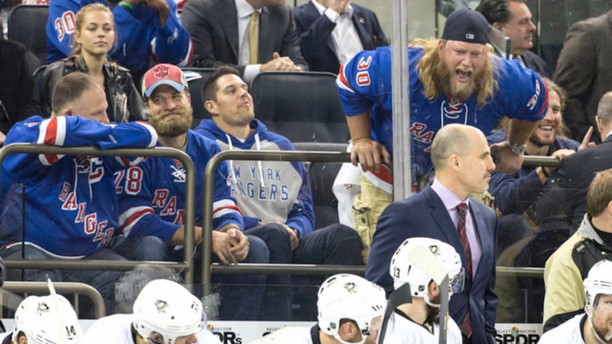 A large bearded man got pretty heated up Tuesday night at Madison Square Garden for Game 3 of the Rangers-Penguins opening round series and his name is Nick Mangold, center for the New York Jets.
Per the New York Post:
On Tuesday he was seen giving it to the Penguins before they took the ice in the third period, and was so out of control, security came over a few times to tell him to calm down, a source said. The Rangers declined to comment.
Meanwhile, notice as-yet-unsigned quarterback Ryan Fitzpatrick smirking while Mangold takes out his frustration on the Penguins during the 3-1 Rangers' defeat.

Jets wide receiver Eric Decker provided some behind-the-scenes:

This was not a one-off trip to MSG for 10-year Jets veteran Mangold. He also attended in early January when the Dallas Stars came to town and likewise made sure the opponent heard him:
Notably, the Jets organization is not at all concerned:
https://www.foxnews.com/sports/report-security-had-to-tell-jets-nick-mangold-to-chill-out-at-rangers-penguins-game