Ravens' Harbaugh believes fans will defend home turf from Terrible Towels
By ,
Published December 24, 2015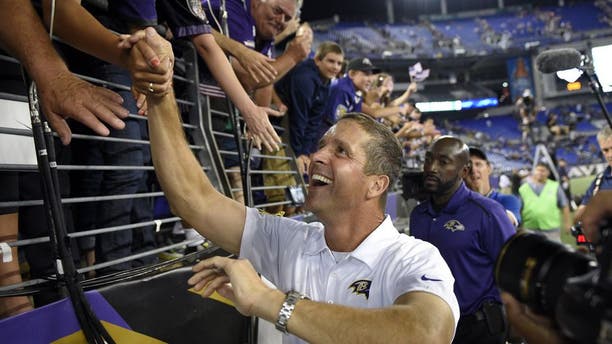 Baltimore Ravens head coach John Harbaugh is showing extreme confidence in his team's fanbase despite a down season.
Harbaugh believes the fans will show up in full force this Sunday against the visiting Pittsburgh Steelers to prevent an invasion of Terrible Towels. Tickets for the intense divisional rivalry are usually hard to come by for visiting fans, but with the Ravens (4-10) so far out of contention, ticket holders may be tempted to put their seats on the market for some extra holiday cash.
Here is what Harbaugh had to say about the possibility of Steelers fans taking over M&T Bank Stadium via CSN Mid-Atlantic.
The Ravens are already playing for next year, but it would be a shame if Jimmy Clausen or whoever is playing quarterback has to go to a silent count because of boisterous Steelers fans as Philip Rivers had to do in San Diego earlier this season.
https://www.foxnews.com/sports/ravens-harbaugh-believes-fans-will-defend-home-turf-from-terrible-towels