Purdue tries to shore up offensive line to help QB, running game ahead of visit to Penn St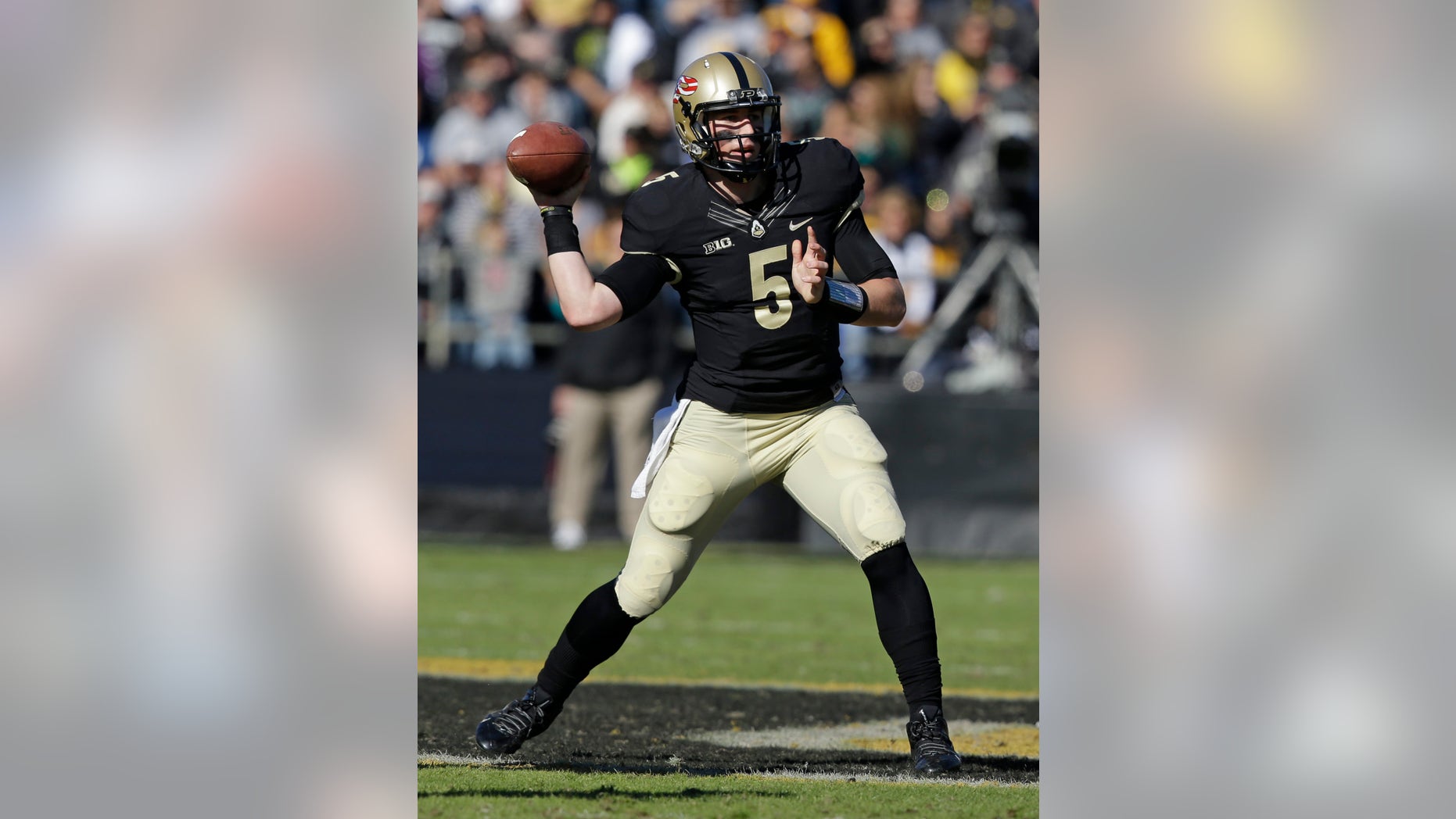 WEST LAFAYETTE, Ind. – Purdue freshman quarterback Danny Etling needs more time to make plays. And the Boilermakers' running backs need more help to get going.
So first-year coach Darrell Hazell is making adjustments to his offensive line.
"The thing that we're not getting in our offense right now is the big play in the run," Hazell said. "And we need to be able to hit some of those big plays because where we are right now, we're not able to drive the ball 10-, 12-play drives down the field. We need to hit some big run-plays going forward."
The adjustments start in the middle of the line. The Boilermakers were happy with left tackle Kevin Pamphile and right tackle Justin Kitchens in last week's 38-14 loss to Iowa.
Purdue will experiment with 6-foot-5, 300-pound redshirt freshman Cameron Cermin. On the depth chart he's listed behind Pamphile at left tackle, but Hazell will try him at guard and at center as the Boilermakers (1-8, 0-5 Big Ten) prepare to visit Penn State (5-4, 2-3) on Saturday.
Hazell said the coaching staff "stumbled" on to Cermin as an option in practice last week.
"That is a much bigger body inside," Hazell said. "He looks like a big guy inside. So we'll take a look at that here in the next couple days and hopefully he can give us some depth inside."
J.J. Prince, also a redshirt freshman, could be an option to help beef up protection. He's behind Kitchens at right tackle, but tight end Justin Sinz has a bruised rib. Prince could be involved in a "package," Hazell said.
Either way, Hazell likes the potential moving forward. Pamphile and Kitchens both are in their final season with Purdue. The other starters on the line are young — two redshirt freshmen and a sophomore.
"You look at college football programs and that's the one position where you'd like to get two or three years into the program before you actually throw those guys up," Hazell said. "It takes those guys a little bit of time to develop."
That will help Etling, also a freshman, in the coming years as the leader of Purdue's offense. Already, Hazell believes Etling is taking steps forward.
He was 15 of 28 for 145 yards against Iowa, and didn't throw an interception for the first time since taking the place of Rob Henry as the starter.
And Etling was sacked just twice last week. The week before, against Ohio State, Etling got sacked six times. At Michigan State on Oct. 19, he was hit behind the line five times. He was also sacked five times in his first start for Purdue against Nebraska on Oct. 12.
"Last week when he had protection, you saw some of the things that he was capable of doing," Hazell said. "It was just what you want to see from a young guy. I think he can make all the throws. We're in such a situation right now where you've got to do some things to protect him."