Phoenix star Brittney Griner brings dunking skills in pro debut at Madison Square Garden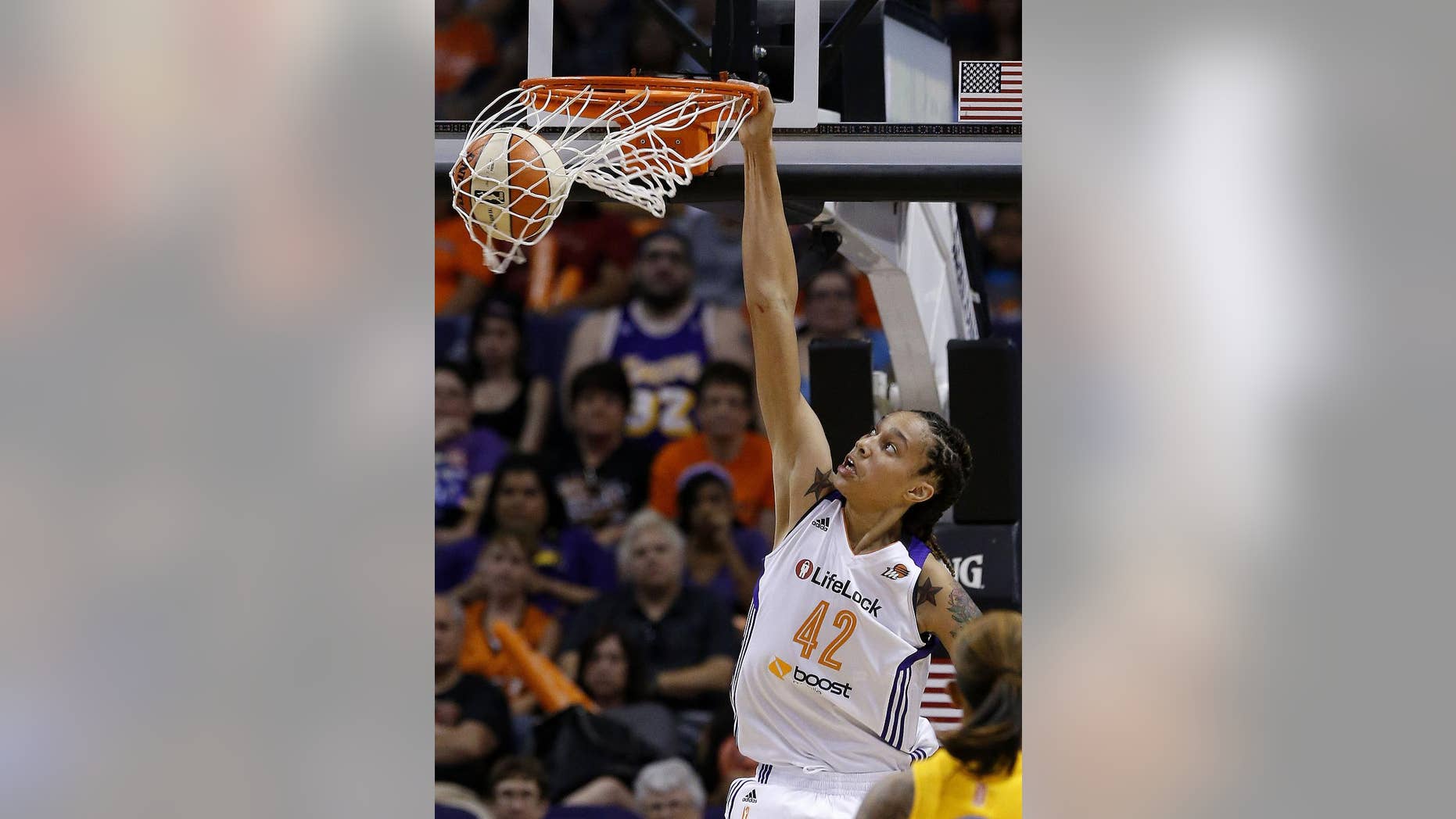 NEW YORK – Brittney Griner looked relaxed at shoot-around Tuesday before the Phoenix Mercury's game against the New York Liberty, running drills, shooting free throws and chatting with teammates while trying half-court shots.
There weren't any dunks at the end of practice, but that may change at Tuesday night's game.
The 6-foot-8 Griner brings her slam-dunking skills to Madison Square Garden in her pro debut there, hoping to take her team a step closer to the WNBA playoffs and a possible league record 30-win season.
Griner wouldn't commit to dunking at the Garden, but says "If it's there, I will dunk it. But I'm not going to force it."
The Mercury boast the best record in the WNBA at 26-4, with four games left in the regular season heading into the contest against the Liberty (13-17).
Griner is averaging 15.7 points and 7.9 rebounds while leading the league in blocks at nearly 4.0 per game. Her improved shot-making and defensive presence helped Phoenix go on a 16-game winning streak before it was snapped by the Minnesota Lynx two weeks ago.
If Griner does dunk, it will be her fourth slam of the season.
She threw down a rising baseline slam at the All-Star game on July 19, just the third player to dunk at the midsummer classic that the East won 125-124 in overtime. She also dunked in wins against the Washington Mystics and Los Angeles Sparks.
Griner competed at the Garden twice in college at the Maggie Dixon Classic. She played the Liberty in Newark, New Jersey, during her rookie season last year while the famous arena was being renovated.
"It is great to play here on this stage," Griner said, "but it is just like any other game and we really want this win."
After leading Baylor to the 2013 NCAA Final Four, she came out that April and was the No. 1 overall pick by Phoenix in the draft. She played in China during the winter months, developing her footwork, post moves and weight training, adding about 10 pounds on her slight frame to help box out bigger players.
This spring, she published her memoir "In My Skin," outlining her struggles with sexuality and acceptance. Griner signed copies of her book at the Women's Final Four in Nashville, Tennessee.
The best part of the book tour was "having people tell me they related to certain parts of the book in their lives," Griner said.
Phoenix coach Sandy Brondello, in her first year with the team, has the Mercury three wins away from breaking the league record. The four-time WNBA champion Houston Comets won 28 games during their reign in the late 1990s, and Seattle and Los Angeles also reached that mark.
"There's not in situation in a game we're not ready for," Griner said of Brondello and her staff. "Whether it's a last-minute play, scouting reports, we are so well prepared."
Brondello, an Australian, played in the WNBA and has been an assistant on several teams.
She calls Griner "such a great kid and so coachable. She's open to new things. She's gotten stronger hands, runs the floor hard and stays in plays. She could be a better rebounder, but she's such a great shot-blocker she thinks others should get the rebound.
"She's no longer a rookie, she's a leader on the team. The team expects her to be a leader every night. It's not because she's 23, but because she's one of the best players in the world."