Paul George and Roy Hibbert said goodbye with haircuts in Hibbert's man cave
By ,
Published September 29, 2015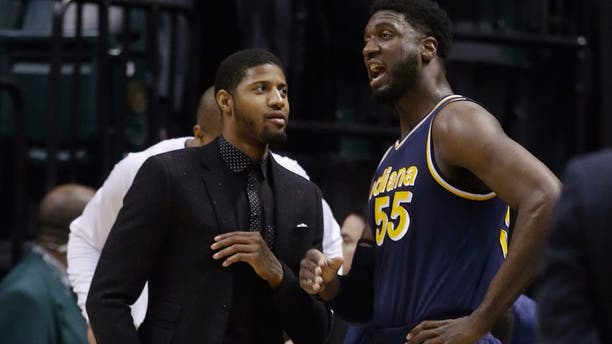 Though things between Roy Hibbert and the Indiana Pacers didn't end as planned, the former Pacer center isn't holding any grudges against his former team or teammates.
In fact, Hibbert invited Pacers superstar Paul George over to get a haircut from his barber and say a proper goodbye.
Here's an interesting tidbit from Mike Bresnahan of the Los Angeles Times:
"Before Hibbert moved out of his Indiana home last week, he invited Paul George to come over one last time, hiring a barber to give the former Pacers teammates haircuts in the barber-shop chair in Hibbert's man cave.
'"I don't harbor any resentment. I don't want to see those guys do badly,' Hibbert said."
There was rampant speculation last season that the two did not get along, but this report refutes that to an extent. Hibberts has always seemed like a good guy from the outside looking in, and that was certainly a kind gesture to George.
There is obviously more to the story that we'll never know -- Hibbert and Geroge could have had a falling out and patched things up recently -- but it's nice to see the two on good terms.
(h/t Los Angeles Times)
https://www.foxnews.com/sports/paul-george-and-roy-hibbert-said-goodbye-with-haircuts-in-hibberts-man-cave