Ovechkin switches wings to score winning goal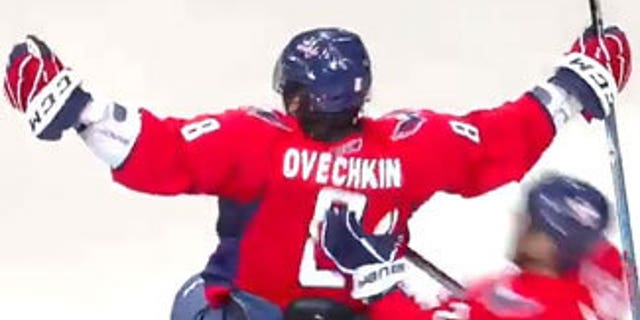 WASHINGTON -- Alex Ovechkin has been hockey's best left wing since he entered the NHL six years ago. Is it possible he could become the best right wing as well?
Ovechkin spent Game 5 of the Washington Capitals' Eastern Conference Quarterfinal series on the opposite side of center Nicklas Backstrom and the result was impressive. His highlight-reel goal proved to be the game-winning tally in Washington's series-clinching 3-1 victory Saturday afternoon at Verizon Center.
"I thought it was his best game of the series easily -- and I mean complete," Capitals coach Bruce Boudreau said. "In the other games he's had flashes of brilliance and he's been not so visible. I thought he was very visible on the ice and doing the right things. I thought his goal was spectacular."
Boudreau moved Ovechkin to the right side of his top line during Game 4 when he elevated Brooks Laich to the unit in place of Jason Chimera. Mike Knuble, who normally anchors the spot next to Ovechkin and Backstrom, missed his second straight game with what is believed to be some kind of hand or wrist injury.
Ovechkin has played a few games at right wing in his career, but not many. This is also his first extensive postseason action on that side.
"I like him on that side," Boudreau said. "If he can play that side and starts to enjoy side, you can move him to the left side whenever you want and it makes other teams harder for them to put a defense pair against them."
Ovi looked very comfortable as a right wing when he put Washington ahead 2-0 in the second period. Ovechkin was standing between the hash marks while the puck was fought for in the far corner -- where he likely would have been had he been playing left wing.
The puck squirted free and Laich sent a pass to Scott Hannan. Ovechkin sensed the change in possession and took off up the right wing. Hannan fed him the puck and he carried into the New York zone.
Marc Staal tried to get back and defend Ovechkin, but his stab at the puck proved fruitless. Ovechkin had inside position on the All-Star defenseman and was able to skate around him and cut to the middle of the ice for a nifty backhander past Henrik Lundqvist.
"I think I have pretty good speed over there. Hannan gave me nice pass and so I just do what I have to do score goals. It is my job," Ovechkin said. "I think we knew Staal and Girardi had lots of ice time and we knew if we got the puck deep they were going to be tired. I think when I score goal Staal was a little bit tired. That's why I have more opportunity to make some moves."
Added Backstrom: "I know he was fast, I didn't know he was that fast. It was great play by Alex to skate around him. I don't know if [Staal] was tired or not, but he is a fast skater too. It was a great goal."
The Capitals will now have several days off before the second round begins. The time off could be enough for Knuble to be ready to play in Game 1. If not, Boudreau may now have the luxury of moving his top offensive weapon around to avoid certain matchups.
Ovechkin had been going against Dan Girardi in most of his one-on-one battles, but the move to the other side gave him -- and the Rangers -- a new look.
"Right now I doesn't matter where I'm going to play if it going to work," Ovechkin said. "If the team has success I am going to play right wing. If it doesn't work Bruce can put me back on the left."