ON FOOTBALL: In QB-driven league, time to give dynamic WRs their due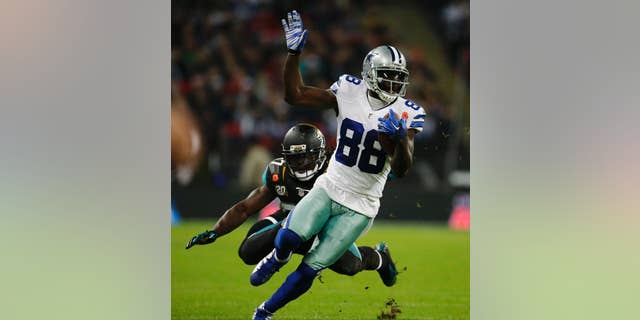 In this quarterback-driven league, someone has to catch the ball.
Dynamic receivers are making their mark this season — and not just for their creative (some might say over-the-top) celebrations. The passers get the pub much of the time, so here's some love for the guys grabbing those throws.
Most notable for the likes of Antonio Brown, Jordy Nelson, Dez Bryant, Jeremy Maclin, Julian Edelman and the other eye-catching receivers is their breakaway skill.
Jerry Rice, the greatest wideout in NFL history, was not known for his sheer speed as much as for his separation skills and acceleration in his routes. These players share that talent.
Ask Mike Tomlin about Brown, who leads the league in receptions by a wide margin — 13 over Golden Tate of Detroit — and yards through the air, 1,070, 68 more than Denver's Demaryius Thomas.
"He's one of the best in the world at what he does," Tomlin says. "He's physically and mentally on top of his game and when you have somebody that's playing like that, when you step into a stadium he's a known issue, but still he performs."
Brown has become a known issue since the beginning of last season. Same thing for New England's Edelman, ostensibly the replacement in the slot for Wes Welker. Instead, Edelman has become as dangerous as any receiver anywhere — and, again like Brown, as good as any punt returner.
He even has earned a nickname from Tom Brady.
"Minitron, he can do all the different things," Brady says. "He's so quick, and what he did on the (84-yard) punt return (against Denver) was just incredible. And then he comes out there at receiver and makes a bunch of plays."
What also separates Brown, Edelman, Maclin and Bryant in particular is they don't have a lot of established support at their position.
The Steelers have an emerging target in rookie Martavis Bryant, who has six TD catches in his first four games, an NFL mark. So do the Eagles to help Maclin in rookie Jordan Matthews, and Bryant gets aid from second-year man Terrance Williams.
And there are some standout tight ends such as the Patriots' Rob Gronkowski and the Cowboys' Jason Witten to offer help.
Most of them benefit from playing with outstanding QBs — Brady, Aaron Rodgers, Tony Romo, Ben Roethlisberger — or, in Maclin's case, in a system where his skill set fits perfectly.
Maclin is considered a prime contender for Comeback Player of the Year after missing 2013 with his second torn ACL. He's really come on in recent weeks.
"I was so disappointed for Jeremy a year ago when he got hurt because I thought in terms of what we do, what a real outstanding player he could be in this system, and we're starting to continue to see that," Eagles coach Chip Kelly said.
"But I think he's a difficult one-on-one matchup. He's got good size, he's got good speed. I think he can stretch it from a vertical standpoint, but he can also run after the catch."
As can Nelson, whose variety of TDs range from breaking away with short passes, often with diagonal cuts, to racing deep and snaring Rodgers' passes.
Nelson might have had the biggest impact of any of the wideouts making noise in 2014 because his performances have opened space for teammate Randall Cobb, who has 10 TD receptions.
"A lot of it is good fortune and getting the right call against the right defense and everyone executing," Nelson says, "and sometimes them screwing up. That's why all you can do is go out and do your job and what happens from there, happens.
"The more you can do on offense, the more effective you'll be, and the more effective (you are), the defense has to be on their heels."
No offense puts a defense on its heels better than Denver, of course. The Broncos were overwhelming last season — until the Super Bowl — with Peyton Manning throwing to Demaryius Thomas, Eric Decker, Welker and TE Julius Thomas. Decker is gone and it's a measure of the talent of his replacement, Emmanuel Sanders, that he's developed an immediate rapport with Manning.
Sanders earned Manning's trust quickly after leaving Pittsburgh and his buddy Brown and signing with Denver.
"I give a lot of credit to him,' Manning says "He's really worked hard, trying to learn this offense. It's not an easy offense to learn, especially with all the changes and the no-huddle philosophy that we have. So, he's put the time in, he's worked hard and you combine that with great ability — which he has — it's allowed him to get off to a fast start. I've enjoyed working with him."
Can't have a better endorsement than that.
___
AP Pro Football Writers Rob Maaddi and Arnie Stapleton, and Sports Writers Genaro Armas, Howard Ulman, Will Graves and Schuyler Dixon contributed to this story.
___
Online: http://pro32.ap.org/poll and http://twitter.com/AP_NFL