No. 9 Syracuse gets 20 points from C.J. Fair, beats upstate NY rival Colgate 69-50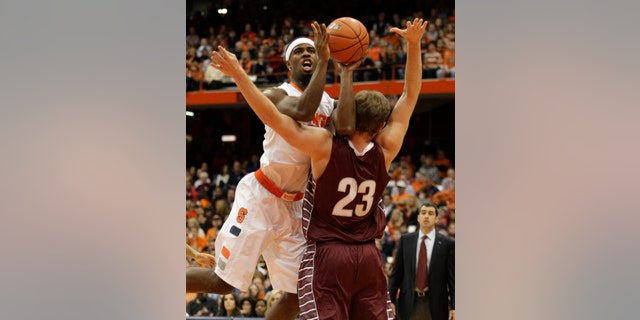 SYRACUSE, N.Y. – C.J. Fair scored 20 points, freshman guard Tyler Ennis hit four 3-pointers for 12 points, and No. 9 Syracuse beat Colgate 69-50 on Saturday.
Michael Gbinije had 11 points in 18 minutes and Trevor Cooney scored 10 for the Orange, who outrebounded Colgate 52-34, including a 26-7 advantage on the offensive glass. Syracuse scored 30 points in the paint and forced 21 turnovers.
Syracuse (3-0) has won 38 straight against Colgate for a 121-45 advantage in the longest-running series for both teams. Colgate (0-2) was coming off an 89-78 road loss to Wake Forest last week in the Raiders' season opener.