No. 3 Alabama meets No. 11 Ole Miss in Western Division fight; No. 15 LSU a rare underdog
By ,
Published September 11, 2015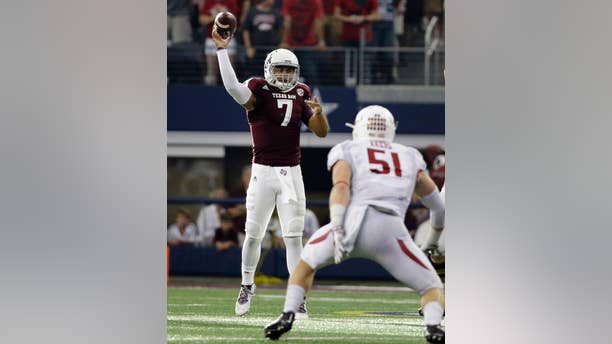 Here are some things to watch in Week 6 of games in the Southeastern Conference:
GAME OF THE WEEK: No. 3 Alabama at No. 11 Mississippi: It's been a lopsided series of late, with Alabama winning the past 10 in a row. But the Rebels are 4-0 for the first time since 1970 and giving up just 8.5 points per game, which leads the SEC. The Crimson Tide counter with a potent offense, led by quarterback Blake Sims, receiver Amari Cooper and a three-man backfield of T.J. Yeldon, Kenyan Drake and Derrick Henry. "Something's got to give at some point," Ole Miss coach Hugh Freeze said. "At the end of the day it'll be about players making plays."
MATCHUP OF THE WEEK: Texas A&M's passing offense against Mississippi State's defense. The 6th-ranked Aggies keep rolling along with sophomore quarterback Kenny Hill, who helped lead Texas A&M to a come-from-behind win over Arkansas last weekend. Hill leads the league with 1,745 yards passing and 17 touchdown passes. The 12th-ranked Bulldogs are allowing a league-high 319 yards passing per game.
NUMBERS GAME: South Carolina coach Steve Spurrier owns a 20-1 career record against Kentucky, which hosts the Gamecocks on Saturday. No current Football Bowl Subdivision coach has won more games over an individual school. ... Florida's nine-game winning streak over Tennessee is the Gators' longest in the series' 43-game history. ... This is the first time since 1958 that Ole Miss (11th) and Mississippi State (12th) have been ranked among the nation's top 12 teams at the same time.
LONG SHOT: No. 15 LSU is in an unfamiliar position this week as an eight-point underdog at No. 5 Auburn. Since losing 13-3 to eight-point favorite Florida in 2009, LSU has been more than a seven-point underdog just twice, in its last two meetings with Alabama. An LSU defense that allows just 13 points per game - the sixth-lowest average among FBS schools - will be eager to redeem itself after getting gashed by Mississippi State's rushing attack in a 34-29 loss to the Bulldogs two weeks ago.
IMPACT PERFORMER: LSU freshman quarterback Brandon Harris makes his first career start Saturday at Auburn. Harris sparkled in a relief role last week, as he led seven consecutive touchdown drives in a 63-7 blowout of New Mexico State. Harris became the first LSU true freshman to throw three touchdown passes or to account for five touchdowns in a single game. "Harris has some ad-lib to his game which is very, very positive," LSU coach Les Miles said. "He is really fast and can really throw the ball. He can extend a play so really good things can happen."
_____
Compiled by Steve Megargee in Knoxville, Tennessee, and David Brandt in Jackson, Mississippi.
https://www.foxnews.com/sports/no-3-alabama-meets-no-11-ole-miss-in-western-division-fight-no-15-lsu-a-rare-underdog