NFL Week 2 schedule, scores, updates and more
Week 2 is in the books and ended with a solid Packers-Lions game
Week 2 of the 2021 NFL season is in the boks.
The first week was filled with exciting games from start to finish and should've gotten the average football fan looking forward to seeing how the rest of the year plays out. Week 2 began with an NFC East matchup between the New York Giants and Washington Football Team and ended with a bounce-back win for the Green Bay Packers.
The game didn't need an overtime period but it went down to the wire with Dustin Hopkins nailing a field goal to give Washington the win as time expired.
On Sunday, there were a few games that went down to the fire and a ton of injuries to quarterbacks. Tyrod Taylor, Tua Tagovailoa and Carson Wentz were just some of the slingers who went down.
On Monday, Aaron Rodgers threw four touchdown passes and helped the Packers to their first win of the season.
NFL POWER RANKINGS 2021: TOP 10 TEAMS AHEAD OF WEEK 2
Read below for the schedule, updated scores and standings.
All times are Eastern.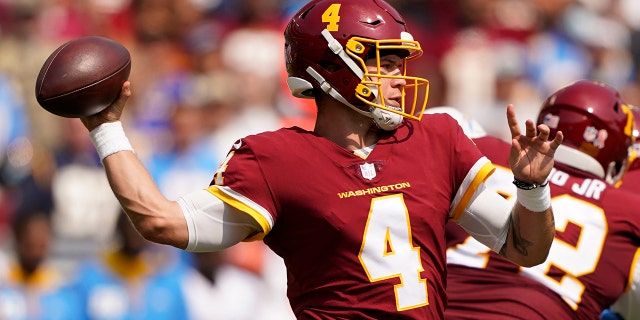 -
Week 2 Schedule
Thursday, September 15, 2021
WASHINGTON 30, GIANTS 29
Sunday, September 19, 2021
BEARS 20, BENGALS 17
BROWNS 31, TEXANS 21
RAMS 27, COLTS 24
BILLS 35, DOLPHINS 0
PATRIOTS 25, JETS 6
49ERS 17, EAGLES 11
CLICK HERE FOR COMPLETE NFL COVERAGE ON FOXNEWS.COM
RAIDERS 26, STEELERS 17
PANTHERS 26, SAINTS 7
BRONCOS 23, JAGUARS 13
CARDINALS 34, VIKINGS 33
BUCCANEERS 48, FALCONS 25
COWBOYS 20, CHARGERS 17
TITANS 33, SEAHAWKS 30
RAVENS 36, CHIEFS 35
Monday, September 20, 2021
PACKERS 35, LIONS 17
-
Key Headlines
-
Standings as Week 2 nears end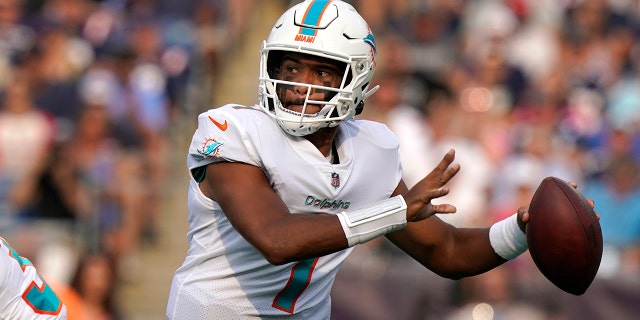 AFC East
1). Bills (1-1)
2). Dolphins (1-1)
3). Patriots (1-1)
4) Jets (0-2)
AFC North
1). Steelers (1-1)
2). Browns (1-1)
3). Bengals (1-1)
4). Ravens (1-1)
AFC South
1). Texans (1-1)
2). Titans (1-1)
3). Colts (0-2)
4). Jaguars (0-2)
AFC West
1). Broncos (2-0)
2). Raiders (2-0)
3). Chiefs (1-1)
4). Chargers (1-1)
NFC East
1). Eagles (1-1)
2). Washington (1-1)
3). Cowboys (1-1)
4). Giants (0-2)
NFC North
1). Bears (1-1)
2). Packers (1-1)
2). Lions (0-2)
4). Vikings (0-2)
CLICK HERE TO GET THE FOX NEWS APP
NFC South
1). Panthers (2-0)
2). Buccaneers (2-0)
3). Saints (1-1)
4). Falcons (0-2)
NFC West
1). 49ers (2-0)
2). Rams (2-0)
3). Cardinals (2-0)
4). Seahawks (1-1)