NFL Quick Hits: Replacing Dion Lewis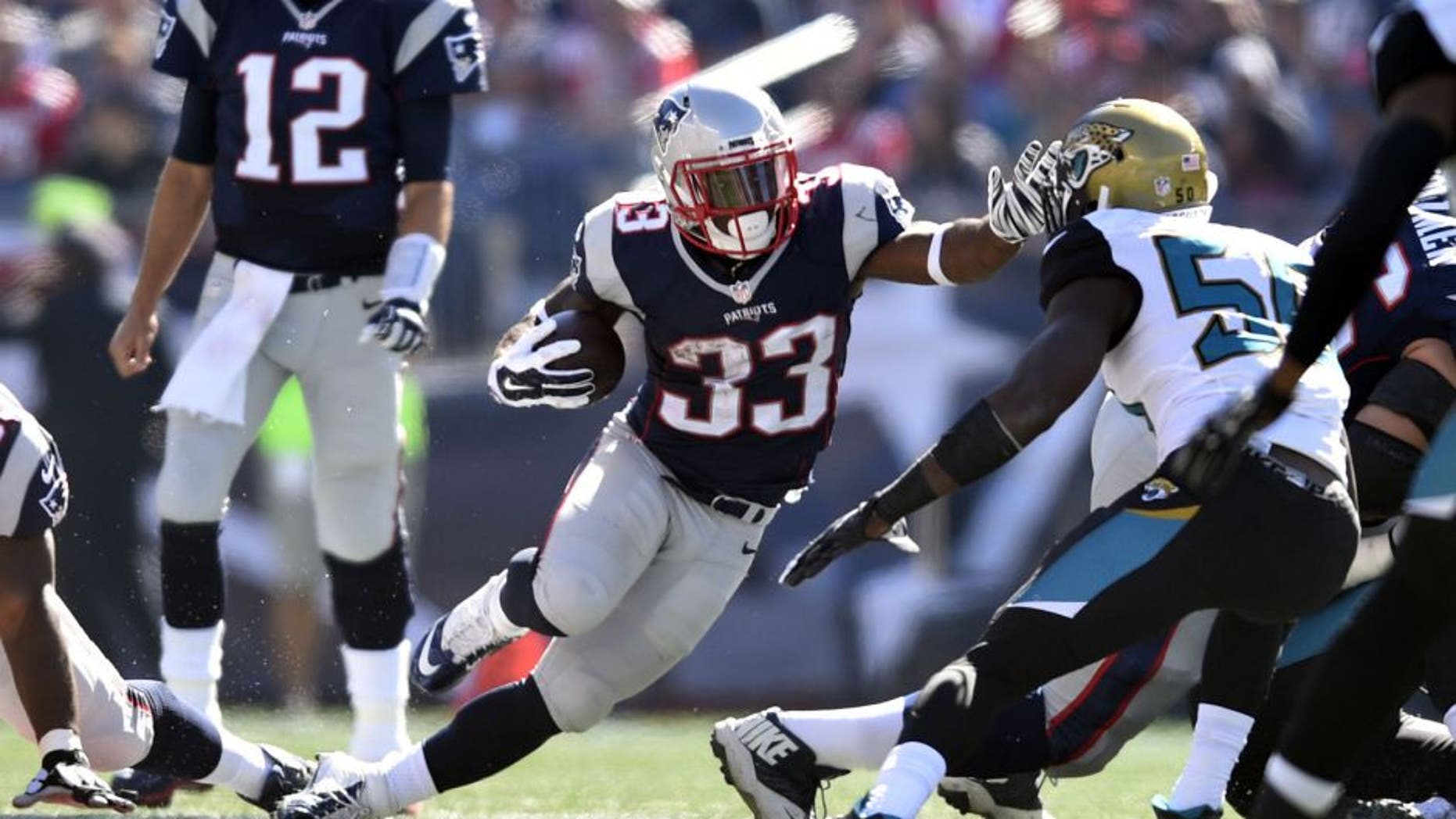 Patriots RB Dion Lewis is out for the season due to a torn ACL in his left knee. This is a huge blow to Lewis' fantasy owners, as he was this year's most pleasant surprise, ranking seventh among running backs in FOXSports.com PPR scoring. Replacing Lewis won't be easy, especially if you decide to pursue one of his real-life teammates.
Brandon Bolden caught three passes for 27 yards and a touchdown in place of Lewis on Sunday, but that doesn't make him the automatic replacement. The Pats have routinely activated just three backs, and Bolden has usually been one because of his special-teams skills. When Lewis was out in Week 7, James White served as the passing-down back, catching three passes for 26 yards. White battled Lewis for the role during the preseason, and could ascend now.
Writing under the headline, "Replacing Dion Lewis will have to be a team effort," Providence Journal beat writer Mark Daniels notes that "teammates know there isn't a single player who can replicate his performance by himself." The Boston Herald echoes this sentiment, reminding that while the team will "rely" on Bolden and White on passing downs, "neither can fill Lewis' shoes."
Remember the days when the Pats' backfield was extremely confusing for fantasy owners? They're back. LeGarrette Blount's role probably becomes a bit more stable, as he'll be less likely to disappear in favor of one of the receiving backs. When hunting for free agents this week, lean toward White over Bolden, as the Pats have been reluctant to trust Bolden in the past. Bolden is owned in 0.9 percent of FOXSports.com leagues, with White taken in 0.8.
In other news ...
Landry Jones will be under center when the Steelers host the Browns on Sunday, as Ben Roethlisberger has a sprained left foot. The Steelers have a bye in Week 11, and they hope Roethlisberger will be back after that.
Raiders RB Latavius Murray suffered a concussion on Sunday, and while the team sounded optimistic in the aftermath, this will be a wait-and-see week for Murray. I'd favor Marcel Reece over the other Raider backs if Murray misses any time.
In other concussion news, the Vikings think QB Teddy Bridgewater will be ready to face the Raiders this week.
The Falcons, Colts, Chargers and 49ers are off this week, while Thursday's game is Bills-Jets. Have you seen the uniforms the teams will wear on Thursday? Click this link, but shield your eyes first.
The Jets will be without kicker Nick Folk, who will miss 4-6 weeks with a quad strain. Look for a replacement to be named today or tomorrow. QB Ryan Fitzpatrick seems to be leaning toward Friday surgery on his left thumb, and might not need to miss any time.
Bills RB LeSean McCoy (shoulder) didn't practice Monday, and his status for Thursday is just a bit iffy. McCoy says he could have returned after getting hurt on Sunday, but let's see how the week goes. Karlos Williams is owned in 34.8 percent of FOXSports.com leagues, and is probably a good pickup regardless of McCoy's Week 10 status.
Jaguars WR Allen Hurns wore a protective boot on his left foot Monday, but an MRI didn't show anything too bad and nobody seems too concerned.
Jets RB Chris Ivory has carried 55 times for 84 yards in his last three games. Are you getting a bit worried?
The Packers don't seem worried about Eddie Lacy's groin, but this Green Bay Press Gazette story won't make his fantasy owners feel any better. James Starks is owned in just 40.5 percent of FOXSports.com leagues, if you've lost faith in Lacy. Starks is okay, but didn't the Pack draft Lacy because they didn't like Starks all that much in the first place? Lacy might remain relegated to a committee role, but he's unlikely to completely lose his job to Starks.
The Rams have signed WR Wes Welker in the wake of Stedman Bailey's suspension. Before you get excited, remember that 32 teams passed on Welker for nine weeks until one got really desperate.
One note from Monday's Bears-Chargers game: RB Jeremy Langford is pretty good, and is a fine fantasy starter for as long as Matt Forte is out. I liked the way John Fox trolled fantasy owners by sending out Ka'Deem Carey for the first couple of plays.
The Cowboys are targeting a Week 11 return for QB Tony Romo.
Titans WR Kendall Wright (knee) is TBD for Sunday after missing Week 9. Dorian Green-Beckham caught five passes for 77 yards with Wright out against the Saints, and is owned in just 3.7 percent of FOXSports.com leagues.
Lots of defensive injuries to report: Eagles LB Jordan Hicks (torn pectoral muscle, out for the year); Giants DT Jonathan Hankins (torn pectoral muscle, out for the year); Broncos LB DeMarcus Ware (back, out 2-4 weeks). Also, Broncos CB Aqib Talib has been suspended one game for trying to poke a Colts TE Dwayne Allen in the eye. Talib will appeal, but he's unlikely to win.
The Ravens hope to get four games out of rookie WR Breshad Perriman (knee). I'll believe it when I see it.
See you back here Friday morning.