New York Jets preview (No. 20): Geno or Fitzmagic? It's all about the QBs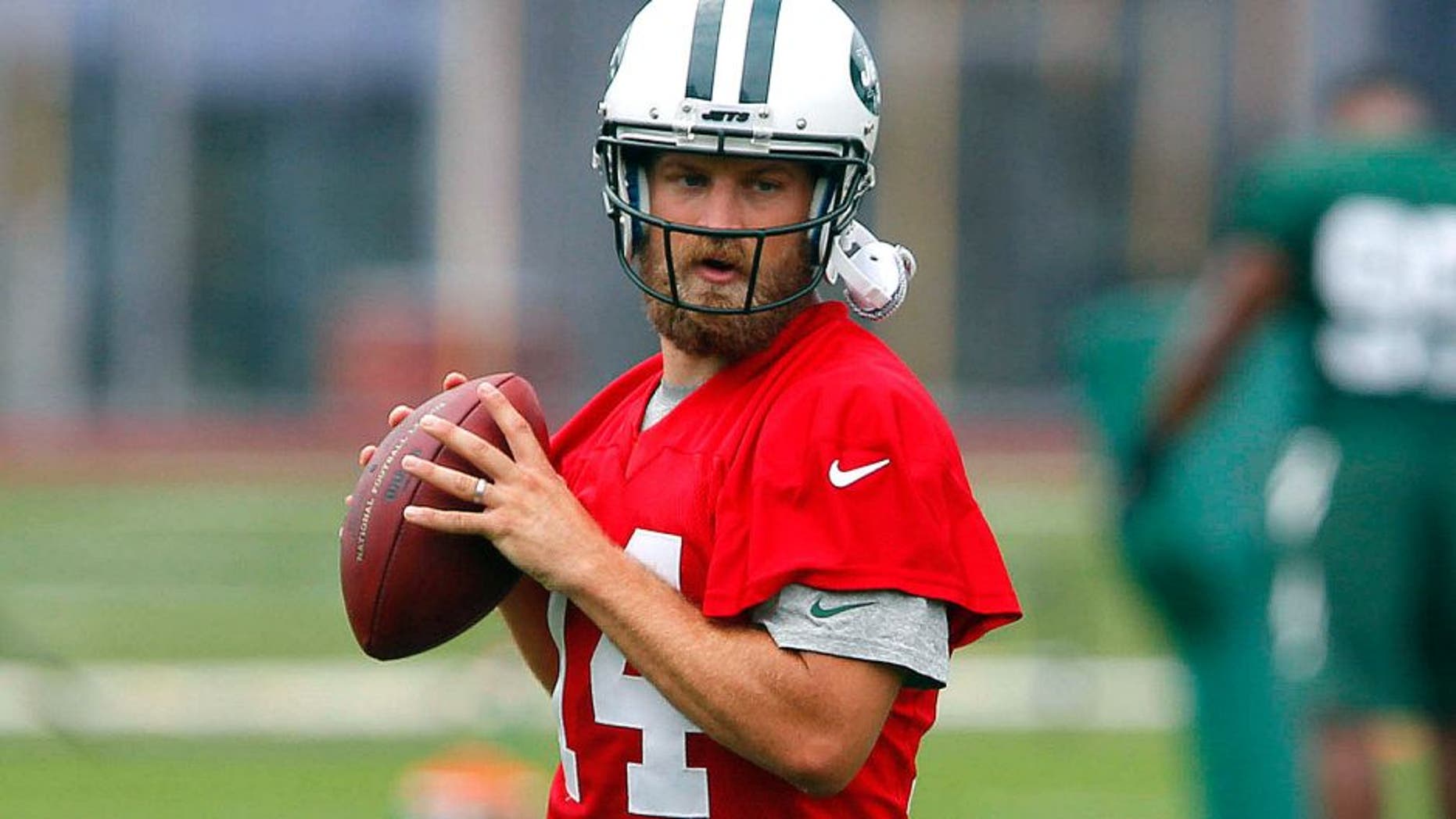 Our 2015 NFL preview series ranks every team, from worst to first. Today: the No. 20 Jets.
2014 Record: 4-12
Head coach: Todd Bowles
Key arrivals: Brandon Marshall (wide receiver), Darrelle Revis (cornerback), Antonio Cromartie (cornerback), Buster Skrine (cornerback), Marcus Gilchrist (safety), Stevan Ridley (running back), James Carpenter (offensive guard), Stephen Bowen (defensive end), Joe Mays (linebacker)
Key departures: Percy Harvin (wide receiver), John Conner (fullback), Greg Salas (wide receiver), Kenrick Ellis (defensive tackle)
2015 Schedule:
Sept. 13: Cleveland, 1:00 pm
Sept. 21: at Indianapolis, 8:30 pm
Sept. 27: Philadelphia 1:00 pm
Oct. 4: at Miami 9:30 am
Oct. 11: BYE
Oct. 18: Washington 1:00 pm
Oct. 25: at New England 1:00 pm
Nov. 1: at Oakland 4:05 pm
Nov. 8: Jacksonville 1:00 pm
Nov. 12: Buffalo 8:25 pm
Nov. 22: at Houston 1:00 pm
Nov. 29: Miami 1:00 pm
Dec. 6: at at New York Giants 1:00 pm
Dec. 13: Tennessee 1:00 pm
Dec. 19: at Dallas 8:25 pm
Dec. 27: New England 1:00 pm
Jan. 3: at Buffalo 1:00 pm
TRAINING CAMP QUESTION: Will Geno Smith or Ryan Fitzpatrick be the Week 1 starter?
If his perfect quarterback rating in the 2014 season-finale against Miami is a sign that Smith has turned the corner entering his third NFL season, New York will be a legitimate playoff contender once again. A lack of offensive weapons won't be an excuse either for what is a make-or-break season for Smith as New York's starter, which he was dubbed by new head coach Todd Bowles. The Jets acquired wide receiver Brandon Marshall in a trade with Chicago, drafted Ohio State wideout Devin Smith in the second round and signed ex-New England running back Stevan Ridley in free agency.
IF EVERYTHING GOES RIGHT:
How much better will the Jets defense be under Bowles? The front office certainly did the first-year head coach some favors by acquiring Pro Bowl-level talent in free agency. The question about this team remains on the offensive side of the ball. Smith must operate efficiently in offensive coordinator Chan Gailey's system and get the ball in his playmakers' hands.
If everything goes wrong:
Smith will crash and burn and the team will pull the plug on him with the hopes that Fitzpatrick can limit the damage. If that's the case, this team will rely on the running game of a three-headed monster spearheaded by Chris Ivory. The defense should be near elite, but one can never predict injuries.
BREAKOUT PLAYER: Strong safety Calvin Pryor
Pryor struggled in his rookie season as the Jets gave him more coverage responsibilities to try and compensate for a weakened secondary. Pryor is now being shifted from free safety to strong safety, which is the ideal fit for his tackling skills.
CIRCLE THIS DATE ON THE CALENDAR GAME: at New England in Week 1 (1 pm ET/October 25)
While the Jets-Patriots rivalry will take on a new dynamic with head coach Rex Ryan leaving for Buffalo, the dislike between the two franchises remains strong. Revis will be returning to face Tom Brady and his former team for the first time since leaving in the offseason.
ALEX MARVEZ'S PREDICTION: 8-8, third place
Optimism has returned for Gang Green following two messy seasons under the dysfunctional pairing of Ryan with general manager John Idzik – both of whom are now gone. New GM Mike Maccagnan struck gold when swiping Revis away from New England and bringing the star cornerback back into the fold following two seasons elsewhere. Thanks to three other strong additions in the secondary (cornerbacks Cromartie and Skrine and safety Marcus Gilchrist), Bowles can now comfortably implement the same attacking style that made him so successful as Arizona's defensive coordinator.
One thing, though, hasn't changed in New York. That's concerns about the offense, particularly at quarterback. It's time for Smith to prove he truly is a franchise passer. Smith has a fighting chance now that he will be working with a bona fide No. 1 wide receiver for the first time in Marshall, whose arrival should make fellow wideout Eric Decker more effective as a complementary target. Running back Stevan Ridley will prove a great under-the-radar free-agent signing if he makes a full recovery from last season's knee injury suffered while playing in New England.