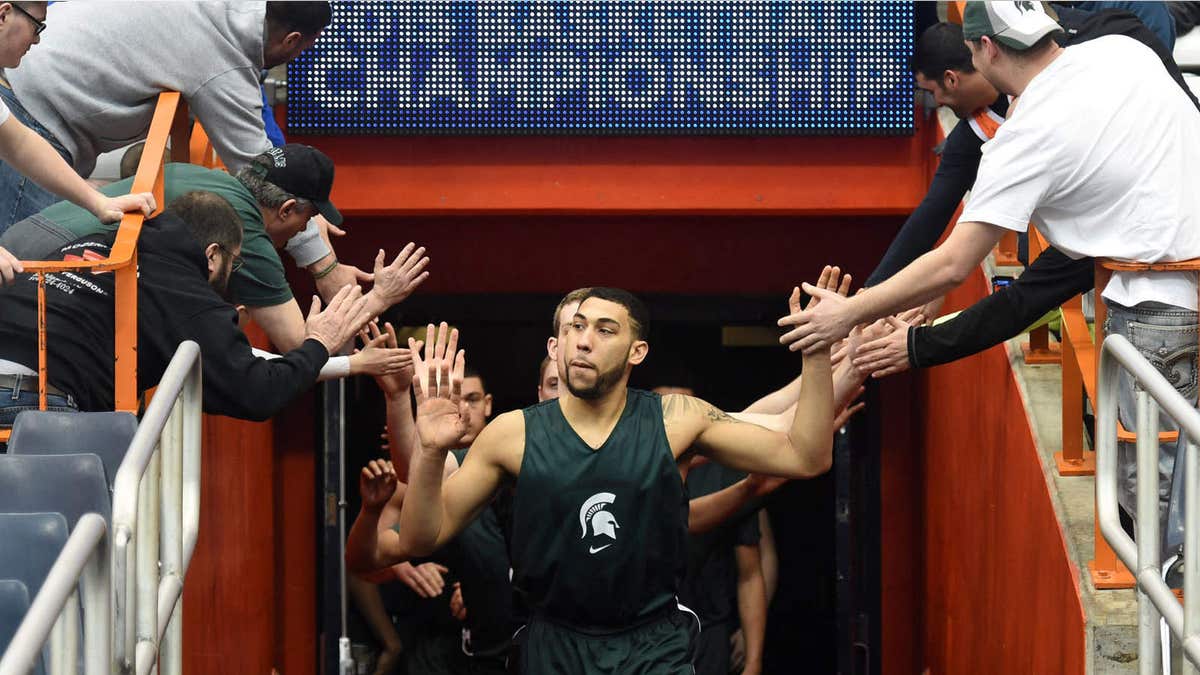 SYRACUSE, N.Y. – Denzel Valentine scored 13 of his 18 points in the second half to lead Michigan State to a 62-58 win over Oklahoma in an NCAA Tournament East Regional semifinal on Friday night.
Counted out in February, the Tom Izzo-coached Spartans (26-11) are instead headed to the Elite Eight for the second straight year and fourth time since 2009. And they're going as a seventh-seeded team that knocked off the third-seeded Sooners (24-11), a week after knocking off No. 2 Virginia.
Travis Trice led the Spartans with 24 points, while Branden Dawson had 11 rebounds.
Buddy Hield led the Sooners with 21 points.
Michigan State is the lowest-seeded team still in the tournament, and advances to face fourth-seeded Louisville on Sunday.
The game turned once Michigan State took its first lead, going up 44-42 on Dawson's 8-foot turnaround jumper with 9:26 left. The teams traded the lead four times before the Spartans went ahead for good with 6:42 left, when Matt Costello put back his own miss with an emphatic dunk.
After Hield missed a 3-point attempt at the other end, Valentine responded by hitting a pull-up 3-pointer in transition to make it 51-47.
And Michigan State maintained the lead by finally hitting shots from the free-throw line. After missing seven of their first 10, the Spartans were perfect on their final six free throws.
Trice hit two to put Michigan State up 62-58 with 13.2 seconds left. Hield missed a 3-point attempt on what became the Sooners' final possession in a game that stretched into Saturday morning.
The Sooners got off to a blistering start on offense by hitting eight of their first 11 attempts, and built a 18-8 lead on Khadeem Lattin's putback of a Jordan Woodard miss 5 1/2 minutes in. It was an impressive start against a stingy Spartans' defense that had limited Virginia to hitting just 17 field goals in a 60-54 win last weekend.
Oklahoma, however, couldn't maintain the pace and allowed the Spartans back into the game. Valentine missed six of his first seven attempts before hitting a 3-point basket with 2:36 left to cut the Sooners lead to 31-27.
TIP-INS
Michigan State: The Spartans improved their NCAA tournament record to 62-27, and moved into seventh place on the victory list — one ahead of Syracuse. ... The Spartans were a No. 7 seed when they reached the Elite 8 in 2003.
Oklahoma: Coach Lon Kruger stayed true to form by starting the same five he's had all season. The Sooners are just one of six teams in the nation to start the same five this year. Kruger did the same last year. ... The Sooners bench, which had combined for 30 points in its last two games, managed just 3 points against the Spartans.
UP NEXT:
Michigan State: Faces No. 4 seed Louisville in the East final on Sunday. The Spartans trail the all-time series 5-3, and meet the Cardinals the tournament for the fourth time — and third in seven years.
Oklahoma: Season is over with the Sooners losing just one starter, senior forward TaShawn Thomas, to graduation.