Montana on 49ers' Gabbert: 'I don't think you let Blaine get away'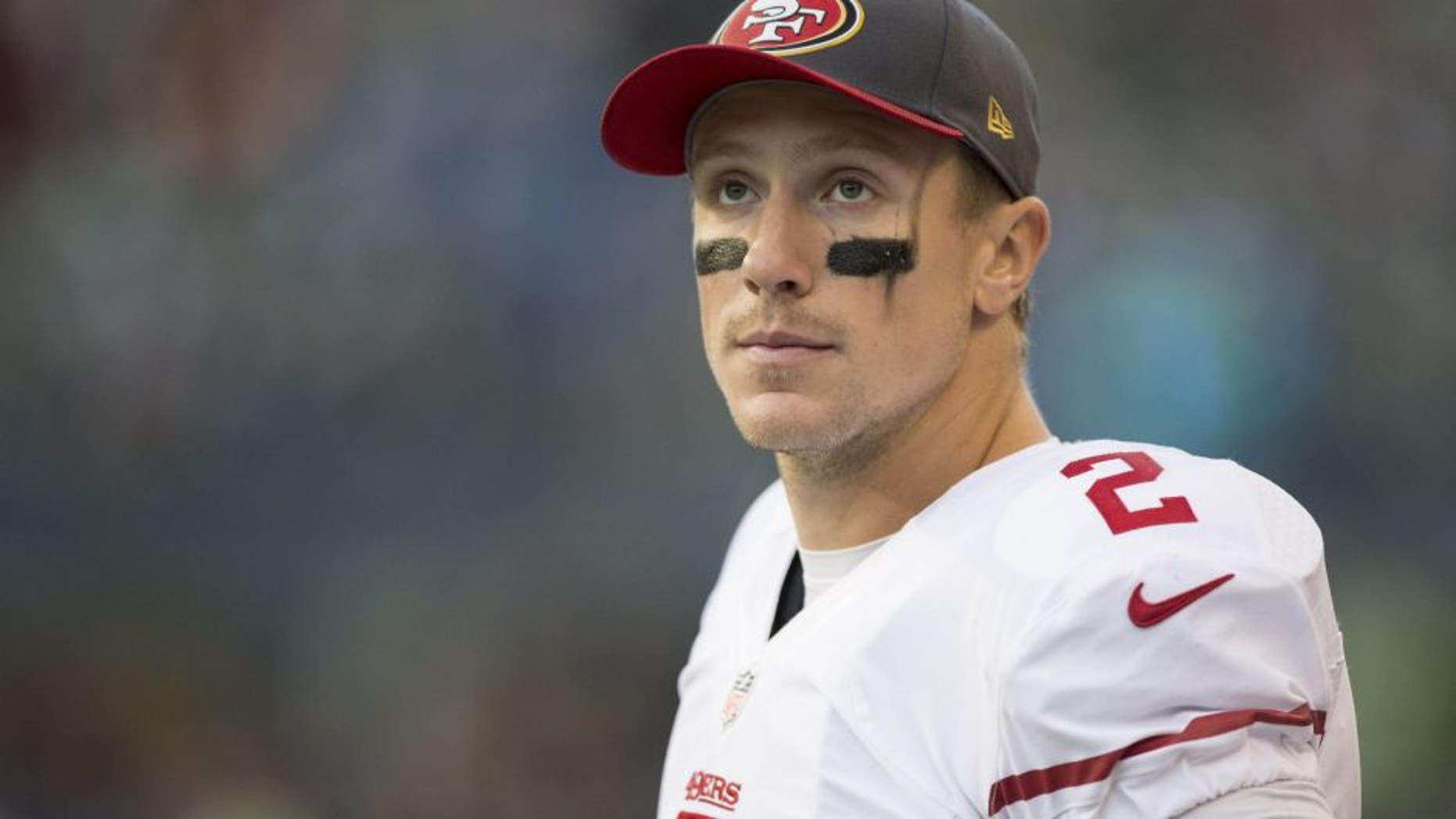 Blaine Gabbert picked up a ringing endorsement to remain as the starting quarterback for the San Francisco 49ers.
Hall of Famer Joe Montana, who led the 49ers to four Super Bowl victories, told the Sporting News that Gabbert has shown more than enough in his four starts to permanently supplant Colin Kaepernick as the No. 1 quarterback.
"He's proved he can not only play at the level to win games, but also in that offense," Montana said. "That's key in proving his worth to the team. I don't know what will happen with Colin or what their plans are with him, but at this point at time, I don't think you let Blaine get away."
San Francisco is 2-2 in four starts under Gabbert, who had fallen off the NFL map after three ill-fated seasons with the Jacksonville Jaguars in which he went 6-22 and lost his final 10 games.
Gabbert had his finest moments with the 49ers late in Sunday's 26-20 overtime win at Chicago. He scored the tying touchdown on a 44-yard run and tossed a 71-yard scoring strike to Torrey Smith in overtime for the victory.
"He has the athleticism to make defenses think about his running," Montana said of Gabbert. "If things break down, he can still get out of trouble and make plays downfield, not only with his arm, but his legs, too."
Gabbert, who initially was named the starter on a week-to-week basis before Kaepernick underwent surgery on his non-throwing shoulder, has shown a surprising ability to run and his accuracy is much improved since his tenure with Jacksonville.
"I think he's done a great job going in under the circumstances, where the team is and how many people they've lost to injuries," Montana said. "Some people would say it's easier because you're losing and there's only upside, but there's still a lot of pressure to perform when you go in. When you make a change like that, you expect the backup to play well."