MLB Quick Hits: Should fantasy owners trade Matt Harvey?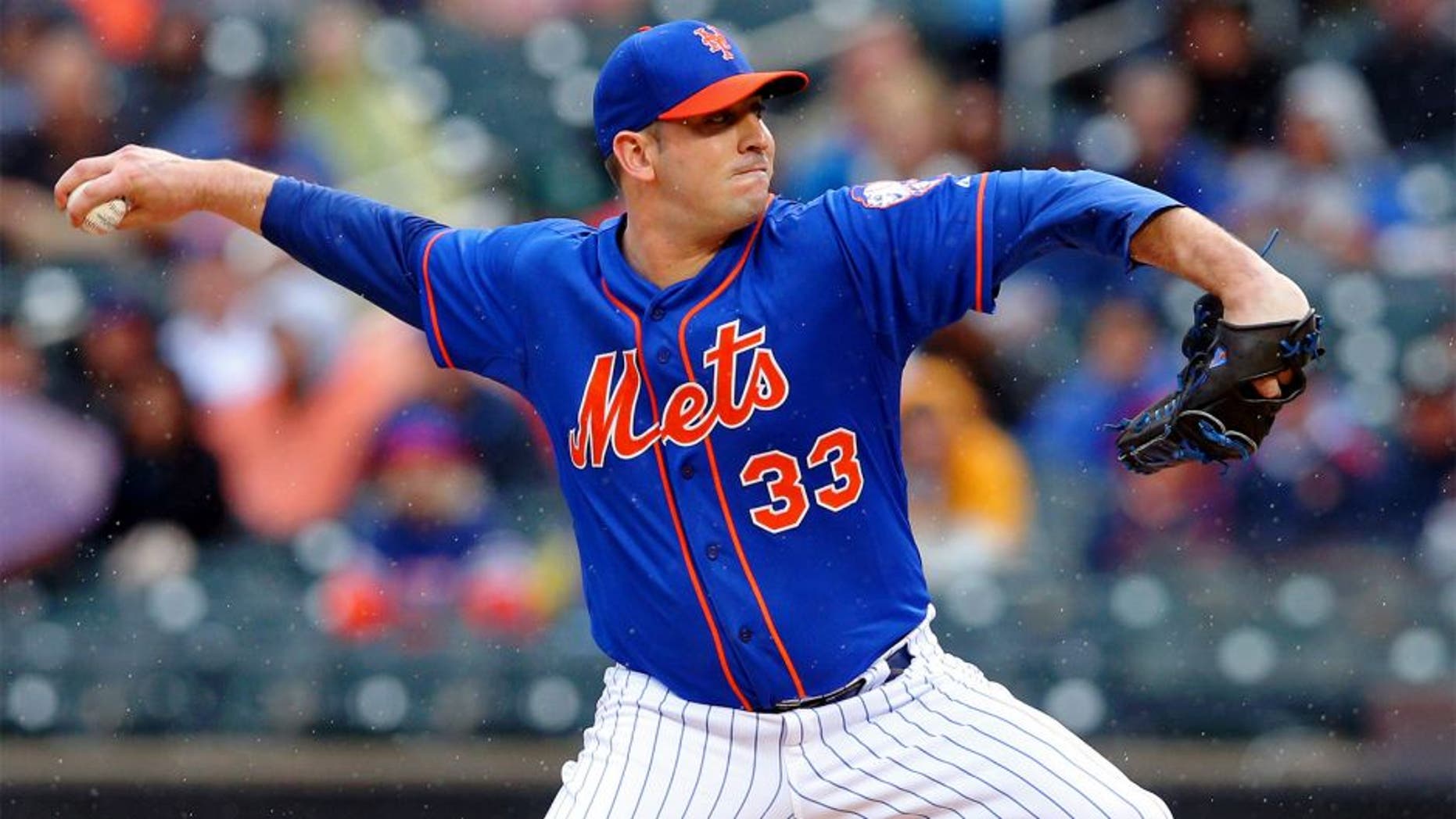 Mets manager Terry Collins has talked recently about managing the workload of his talented young starters, but as FOXSports.com's Rob Neyer pointed out in a Thursday Just a Bit Outside article, Collins is mainly talking about Matt Harvey. Neyer notes that Harvey has about 40 innings to go before reaching the team's preferred limit of 185-90 innings, and since Harvey would be in line for nine starts if he stays on turn, something has to give.
It's possible that the Mets will simply press their foot on the gas with Harvey. Collins said this week that "if we get into September where we've got to have the game Matt Harvey pitches, he's going to pitch it." Other options include a six-man rotation when Steven Matz returns, skipped starts, quick hooks, etc.
None of this is cause for dire concern by fantasy owners, as we're probably looking at a 20-inning gap between a full-time Harvey and a limited Harvey. But, when you're fighting for a fantasy title, the difference between 40 and 60 innings from a stud starter can make an impact.
You'd rather have 40 innings from Harvey than 55 from a middling fantasy starter like, say, Gio Gonzalez, so keeping Harvey isn't a terrible idea. However, Harvey owners who have been looking to deal a starter for a power bat (for instance) should realize that his perceived value will probably exceed his actual value over the season's final seven weeks.
If you own Harvey and want to talk about trade possibilities, send me a tweet (@jhalpin37).
In other news ...
More Mets: 1B Lucas Duda (stiff back) hopes to return tonight, but might need a DL stint.
In case you missed it, Tigers 1B Miguel Cabrera is scheduled to come off the DL today. Start him if you've got him.
The Brewers stole five bases against Jon Lester on Thursday. We might to add a "streaming baserunner against Lester" feature to this blog.
A's ace Sonny Gray was scratched Thursday due to back spasms, and they're not sure when he'll pitch again.
Blue Jays 1B Edwin Encarnacion (finger) "should be good to go" for tonight's series opener against the Yankees. As a Yankee fan, I'm very concerned that the Jays might just win every game between now and the end of the season.
Royals closer Greg Holland allowed four runs without getting an out on Thursday, but manager Ned Yost isn't concerned. "He's not a robot," said Yost.
The Yankees calling up 1B prospect Greg Bird might be interesting in real baseball, but for fantasy owners it's not much to get excited about. Bird will need an injury to either Alex Rodriguez or Mark Teixeira to get regular playing time.
Dodgers 3B Justin Turner (MRSA) was back in the lineup on Thursday.
Twins SP Phil Hughes is on the DL with lower back inflammation, and should be ready to return on August 25. I swore to my editor Ryan Fowler that my preseason ranking of Hughes (4.49 ERA) as a top-25 starter would be proven correct. Do you think Hughes can throw shutouts in each of his final seven or eight starts? If not, I might need to concede defeat.
Angels SP C.J. Wilson will have elbow surgery and miss the rest of the season.
Here are your weekly free-agent recommendations: Tigers C James McCann (owned in 4.7 percent of FOXSports.com leagues) appears to have a hold on the everyday job. He's batting .281 with five homers in 267 at bats ... Rangers 1B Mitch Moreland (21 percent owned) hit his first homer since July 11 on Thursday. He's not great, but at .295 with 17 homers, it's not like you'll find a lot of better free guys at this position ... Yangervis Solarte (21.8 percent owned) has a respectable .734 OPS, 1B/2B/3B eligibility, and bats leadoff for the Padres. Solarte has scored 10 runs in 12 August games ... D-backs 3B Jake Lamb (3.4 percent owned) is slashing .293/.341/.463 in August, and is batting .279 for the season ... Check the stats for Reds SS Eugenio Suarez (4.4 percent owned) when you get a chance. Here's a preview: He has 15 homers with six steals between Triple A and the majors this season ... Abraham Almonte (0.6 percent owned) appears to be the Indians' new regular center fielder. Almonte isn't an impact fantasy player, but he has six homers with 13 steals between Triple A and the majors. Check him out in deeper mixed leagues ... Orioles SP Kevin Gausman (7.4 percent owned) has given up too many runs recently, but he's also whiffed 23 batters against five walks in 27 1/3 innings over his last four starts. If you want to zig while your competitors zag, Gausman is an interesting pickup ... The Braves might not win many games down the stretch, but when they do, Arodys Vizcaino (10.5 percent owned) will close them out.
Ervin Santana stunk as our Thursday streaming starter. The weekend selections are: D-backs lefty Robbie Ray (5.9 percent owned) at the undermanned Braves on Friday; surging Mets southpaw Jon Niese (25.7 percent owned) against the Pirates on Saturday; and Orioles SP Wei-Yin Chen (29.4 percent owned) versus the sputtering A's on Sunday.
Friday DFS advice (based on 50/50 games, salaries from DraftKings): The price is right for Corey Kluber ($10,600) against the slumping Twins ... With Jaime Garcia ($9,800) being on the pricey side, look to Ray ($7,500) or Alex Wood ($7,600 vs. CIN) as your SP2. Wood has averaged 16.7 DK points over his last four starts, and the Reds aren't hitting ... Start your Rockies and Padres at Coors! Padres C Derek Norris ($4,200) should lead the way ... BvP alert: Royals 1B Kendrys Morales ($4,000) is 8-for-12 with a homer vs. Jered Weaver ... Cardinals 2B Kolten Wong ($3,800) is pretty cheap for a guy who has double-digit DK points in three of his last four games ... Red Sox 3B/SS Xander Bogaerts ($3,900, .408 wOBA vs. LHP) is a strong option vs. Mike Montgomery ... Almonte ($2,000) is at the minimum salary, and has averaged 14.6 DK points in five games as an Indian.
See you back here Monday morning.