MLB clubs perpetuate idea that U.S. players don't care about World Baseball Classic
By , Ken Rosenthal
Published March 17, 2017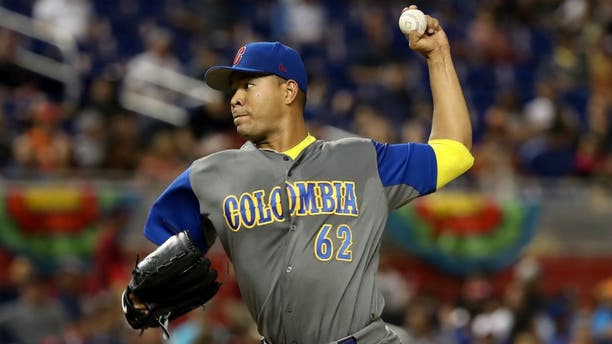 MIAMI -- Here is all you need to know about the difference in how major-league clubs sometimes treat their American and foreign participants in the World Baseball Classic.
The Rays made a deal with right-hander Chris Archer to allow him to pitch for Team USA, a deal that forced his removal after four perfect innings Friday night and helped give Colombia a chance for a major upset.
The White Sox did not dare pull such a stunt with left-hander Jose Quintana, knowing how important it was for him to contribute as much as possible while representing his country.
Quintana got five more outs than Archer, allowing just one hit in 5 2/3 innings while falling two pitches short of the 65-pitch limit for the first round. Colombia took a 2-0 lead off Orioles righty Mychal Givens immediately after Archer left the game, but Team USA rallied to tie the score, then win in 10 innings, 3-2.
This is not a criticism of Archer, who surely loves the U.S. as much as Quintana loves Colombia, and said that the sequence of events leading to Colombia's go-ahead rally left him "sick to his stomach."
The blame goes to clubs like the Rays, who contribute to the perception that U.S. cares less about the WBC than other countries by setting greater restrictions on the use of American players and in some cases discouraging them to participate.
The clubs are 50-50 partners with the players' union in the WBC, but most managers and front offices continue to regard the event with dread, fearing injuries. Never mind that a number of pitchers routinely suffer one malady or another in spring training, anyway -- Alex Reyes, David Price, Sonny Gray, Andrew Cashner, Zach Britton, Huston Street and Scott Kazmir are among those currently sidelined.
Archer, who threw only 41 pitches, said he tossed 15 to 18 more in the bullpen to complete his night's work. Granted, it was March 10, relatively early in spring training. But heaven forbid he throw those extra pitches in the game.
No, Archer said his deal with the Rays at this stage of the spring was four innings or 60 pitches, whichever came first, and that he agreed to follow whatever limits the team established in September. Still, Team USA manager Jim Leyland checked with him after the fourth to make sure he was actually done.
"There may have been a little bit of miscommunication," Archer said. "They came up to me and said, 'What's the deal?' I said, 'I've got to stick with the Rays' protocol.' It was tough, trust me.
"If it was 55 pitches, or even 50, it would have been a lot easier. When I came out of the game and the momentum shifted there for a second, I was not very happy."
Leyland could not have been happy, either, saying the forced removal of Archer put Team USA "behind the eight ball a little bit" with its bullpen. But the former manager of the Tigers, who was on the other side of the equation during the first three WBCs, has spoken frequently about honoring the clubs' wishes in handling players.
Team USA should be in decent position with its pitching against the Dominican Republic on Saturday -- Leyland will piggy-back right-handers Marcus Stroman and Tanner Roark, with both available for 65 pitches.
Left-handed reliever Andrew Miller also will be in play; Leyland used six other relievers in the victory. Miller would have worked the 11th, which under a new rule would have started with runners on first and second. But Adam Jones' decisive two-out RBI single on an 0-2 count prevented the game from turning into baseball's version of an NHL-style shootout.
As dramatic as Team USA's victory was, the second question to Leyland in his post-game news conference was about pulling Archer 24 pitches short of the first-round limit.
"Well, he had a situation with his organization," Leyland said before launching into an explanation of Archer's agreement with the Rays.
Contrast that answer with what Colombia manager Luis Urueta said about allowing Quintana to start the sixth inning.
"To make that decision, being early in spring training and take him six innings, it's a bit risky," Urueta said, according to the translation from Spanish that the WBC provided to reporters. "But the adrenaline at that time and what these guys want to give for their country weighs a lot more than this restriction."
Bingo.
Urueta explained that Quintana was not actually under any formal restriction, and that the pitcher's 1-2-3 fifth against the heart of Team USA's order influenced the decision to send him back out for the sixth, with the left-handed hitting Daniel Murphy and Brandon Crawford due to bat.
Quintana struck out Murphy and Andrew McCutchen, but Crawford followed with Team USA's first hit. At that point, with Quintana at 63 pitches, Urueta had no choice but to go to his bullpen. Team USA promptly tied the score on an RBI double by Jones and a wild pitch on a strikeout of Nolan Arenado, with Arenado diving into first to reach safely.
The passion displayed by Arenado was proof of how much American players care -- at least, the ones who are in uniform. But Team USA plays at a disadvantage, helping prevent the tournament from catching on in this country.
It's disturbing enough that Team USA faces the handicap of competing without Mike Trout and other top players. Restricting those who choose to participate only adds to the team's burden, and diminishes the tournament.
The major-league clubs need to decide: Are they in or are they out?
https://www.foxnews.com/sports/mlb-clubs-perpetuate-idea-that-u-s-players-dont-care-about-world-baseball-classic