Messi scores twice as Barca coast past La Liga minnows Eibar
By ,
Published March 28, 2016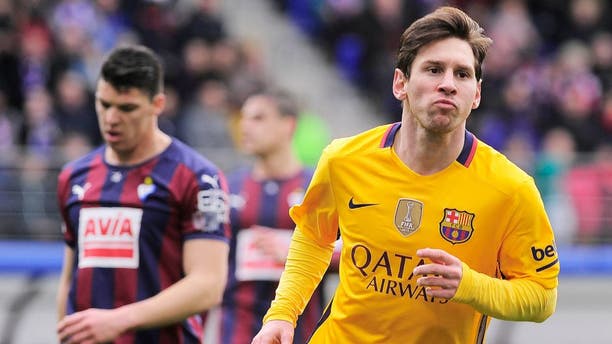 MADRID --
Lionel Messi continued his impressive run by scoring two goals in Barcelona's 4-0 win over Eibar on Sunday, keeping his team unbeaten and maintaining a comfortable lead entering the final stretch of the Spanish league.
Messi scored with a great run in the 42nd and added a penalty in the 76th, giving Barcelona a provisional 11-point advantage over Atletico Madrid, which plays at Valencia later Sunday.
Messi has scored 15 goals in the last 10 matches, and eight in the past four.
Munir El Haddadi opened the scoring in the eighth minute after a cross by Luis Suarez, who netted his league-leading 26th goal in the 84th.
It was Barcelona's 11th straight win in the league. The Catalan club hasn't lost in 36 consecutive games in all competitions.
https://www.foxnews.com/sports/messi-scores-twice-as-barca-coast-past-la-liga-minnows-eibar