Liverpool's Luis Suarez Fined For Biting Opponent's Arm, Apologizes
By ,
Published December 18, 2016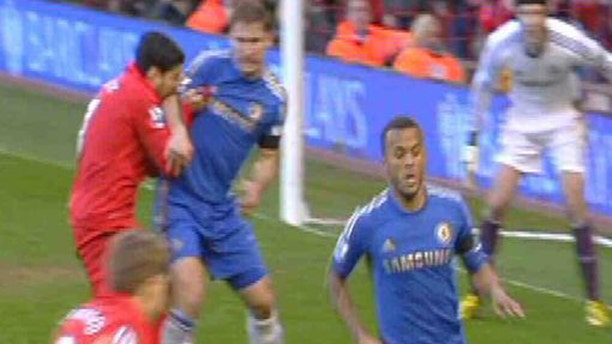 Liverpool fined Luis Suárez Monday for biting an opponent's arm during a soccer match, in another example of the star's appetite for trouble.
Liverpool demanded that the troublesome striker work on his disciplinary problems.
The Uruguay striker bit Chelsea defender Branislav Ivanovic's arm during Sunday's Premier League match before scoring a late goal to clinch a 2-2 tie.
Suárez said he wants the undisclosed sum to be donated to families affected by the 1989 Hillsborough Stadium disaster, which killed 96 Liverpool fans.
Suárez, who could still face a long ban from the Football Association, was suspended for seven matches in 2010 while playing for Ajax after biting a player.
Suárez was foiled by Ivanovic as he attempted to kick the ball between the center back's legs in the penalty area. As the ball rebounded toward the edge of the area, Suárez turned to his opponent, and television images clearly showed him biting into Ivanovic's jersey at the top of the right arm.
Ivanovic shrugged off Suárez and immediately complained to referee Kevin Friend, who didn't see the incident and didn't speak to Suárez.
"I'm sad for what happened this afternoon," Suárez wrote on his Twitter account. "I apologize (to) Ivanovic and all football world for my inexcusable behaviour. I'm so sorry about it!!"
"For my unacceptable behavior yesterday, the club has fined me today," Suárez wrote on his Twitter and Facebook accounts.
Trouble followed Suárez to Liverpool, and he was suspended for eight games in December 2011 for making racist insults toward Manchester United defender Patrice Evra during a Premier League match.
But Liverpool insisted Monday that Suárez's future at the club has not been harmed by his latest high-profile misdemeanor.
"It affects his future in the sense that we have to work with him on his discipline, but Luis is a very important player to the club," Liverpool managing director Ian Ayre said. "He's a very popular player with his teammates. As we keep saying, he signed a new four-year contract last summer and we'd all love to see him here throughout that contract.
"He's a fantastic player, top scorer and everything we'd want in a striker, so there's no change there. This is more about getting him back on the right track."
The Professional Footballers' Association has offered the services of counselors.
"There is no doubting his football ability, that's why it is so disappointing and embarrassing when he lets himself down," PFA chief executive Gordon Taylor said. "We have to work hard on anger management now. We have trained counselors in this field and we will be offering their services to Liverpool and the player to try to improve matters."
Professional Footballers' Association chairman Gordon Taylor also was critical of the forward.
"It is very depressing and embarrassing that it should happen," he told BBC Sport. "If it wasn't for all the controversies he's been involved in he would be a more highly regarded player. Players are role models and are highly rewarded. This sets such a bad example."
Based on reporting by The Associated Press.
Follow us on twitter.com/foxnewslatino
Like us at facebook.com/foxnewslatino
https://www.foxnews.com/sports/liverpools-luis-suarez-fined-for-biting-opponents-arm-apologizes