Lefty Perez happy to join Astros, have chance to win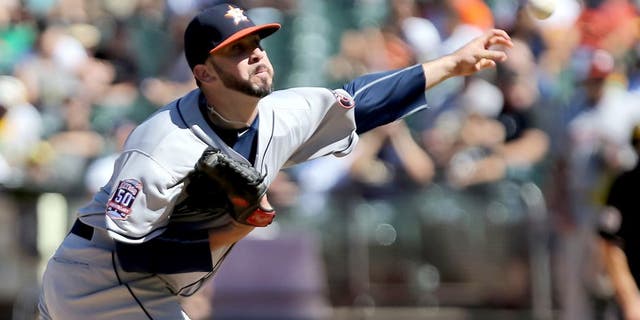 Veteran left-hander Oliver Perez pitched in the postseason for the New York Mets in 2006 - but he hasn't returned to October since then.
That's why Perez, obtained by the Houston Astros in a waiver deal with the Arizona Diamondbacks over the weekend, is so excited about his new club.
As he told Evan Drellich of the Houston Chronicle, he quickly realized what was happening when he received that phone call: "Normally you wait for Aug. 31 and after that (think) 'I'm probably just going to stay here. They just called me, and right away I thought I was going to get traded or released. Sometimes you feel bad, because you know, you have a lot of relationships with your friends. But at the same time, I'm going to have a new experience. We're in first place right now and I feel happy to be here."
Perez and the 2006 Mets fell short of winning a World Series title, so he - now on to his sixth team - is looking forward to having that chance with the upstart Astros. He conveyed as much to Drellich: "Normally when you play baseball, you want to get a ring and I don't have one yet. My last time I was in the playoffs, that was in 2006 and I was traded (during that year from the Pirates to the Mets), too. That made me remember what happened in 2006, and I feel happy because that's what we play for, trying to get to postseason, trying to get a ring."
With Perez and the Astros currently in first place in the AL West and eyeing a lengthy postseason run, the next few months will be pretty big in determining whether or not he has a chance to secure that ring.