Lamb, D-backs bounce back to trounce Phillies
By ,
Published June 25, 2017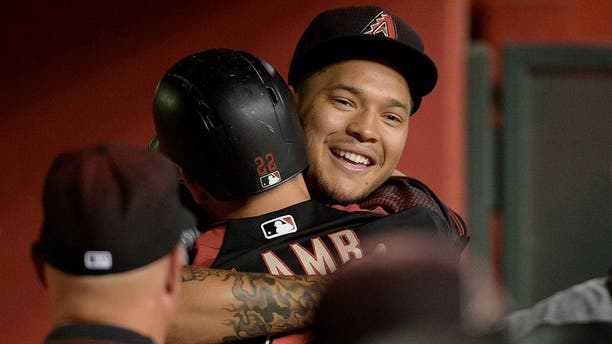 PHOENIX -- Jake Lamb homered, Chris Herrmann drove in three runs and Daniel Descalso had three hits, leading the Arizona Diamondbacks to a 9-2 victory over the Philadelphia Phillies on Saturday night.
The Diamondbacks broke open a one-run game with three runs in the sixth inning and got another effective pitching performance from Robbie Ray (8-3), who allowed two runs and six hits through 6 1/3 innings.
Ray is 6-0 over his last seven starts with a 1.31 ERA in that span. He had five strikeouts and four walks.
Phillies starter Ben Lively (1-2) hit a two-run home run for his first career RBIs, but gave up four earned runs and seven hits in 5 1/3 innings.
The Phillies, down four runs, loaded the bases with one out against Ray in the top of the seventh. Aaron Altherr greeted reliever Archie Bradley with a smash to third base. Lamb fielded and threw wide to home plate, but Herrmann extended his full body to catch the throw for a force out.
Bradley struck out Tommy Joseph with the bags full to end the inning.
The Diamondbacks scored three runs in the sixth on Lamb's 17th homer of the season, Herrmann's RBI single off reliever Hoby Milner and David Peralta being hit by a pitch from Milner with the bases loaded.
Milner made his major league debut.
Arizona added three more runs in the seventh, all with two outs. Herrmann's double just avoided being touched by a fan who reached over the right-field fence as the ball caromed, and two runs scored. Herrmann came home on Nick Ahmed's pinch-hit double.
Peralta and Brandon Drury drove in two runs each for the Diamondbacks. The crowd of 40,557 on Star Wars Night was the largest at Chase Field since the home opener.
BRACHO BACK AGAIN
The Diamondbacks called up reliever Silvino Bracho from Triple-A Reno on Saturday, a day after sending down OF Jeremy Hazelbaker.
Bracho is in his fifth stint with Arizona this season. With Randall Delgado moving out of his relief role to the starting rotation, the Diamondbacks sought bullpen help. "It made a lot of sense to get Bracho up here to pitch and do his job," manager Torey Lovullo said.
TRAINER'S ROOM
OF Yasmany Tomas took batting practice and tested his right groin injury by running the bases before Saturday's game. When he will start playing in rehab games has yet to be determined. … OF A.J. Pollock (right groin strain) will play in a rehab game Sunday for Reno. Lovullo said he'd prefer Pollock to get at least 10 at-bats before being ready to return to the major league roster.
UP NEXT
Phillies: RHP Jeremy Hellickson (5-5, 4.61 ERA) faces Arizona for the fourth time in his career on Sunday. Hellickson is winless in three starts against the Diamondbacks.
Diamondbacks: RHP Delgado, back in the rotation for the moment, makes his fifth start of the season Sunday against the Phillies. He's 1-1 with a 3.48 ERA this season.
https://www.foxnews.com/sports/lamb-d-backs-bounce-back-to-trounce-phillies