Lakers Hold off Wizards, 115-108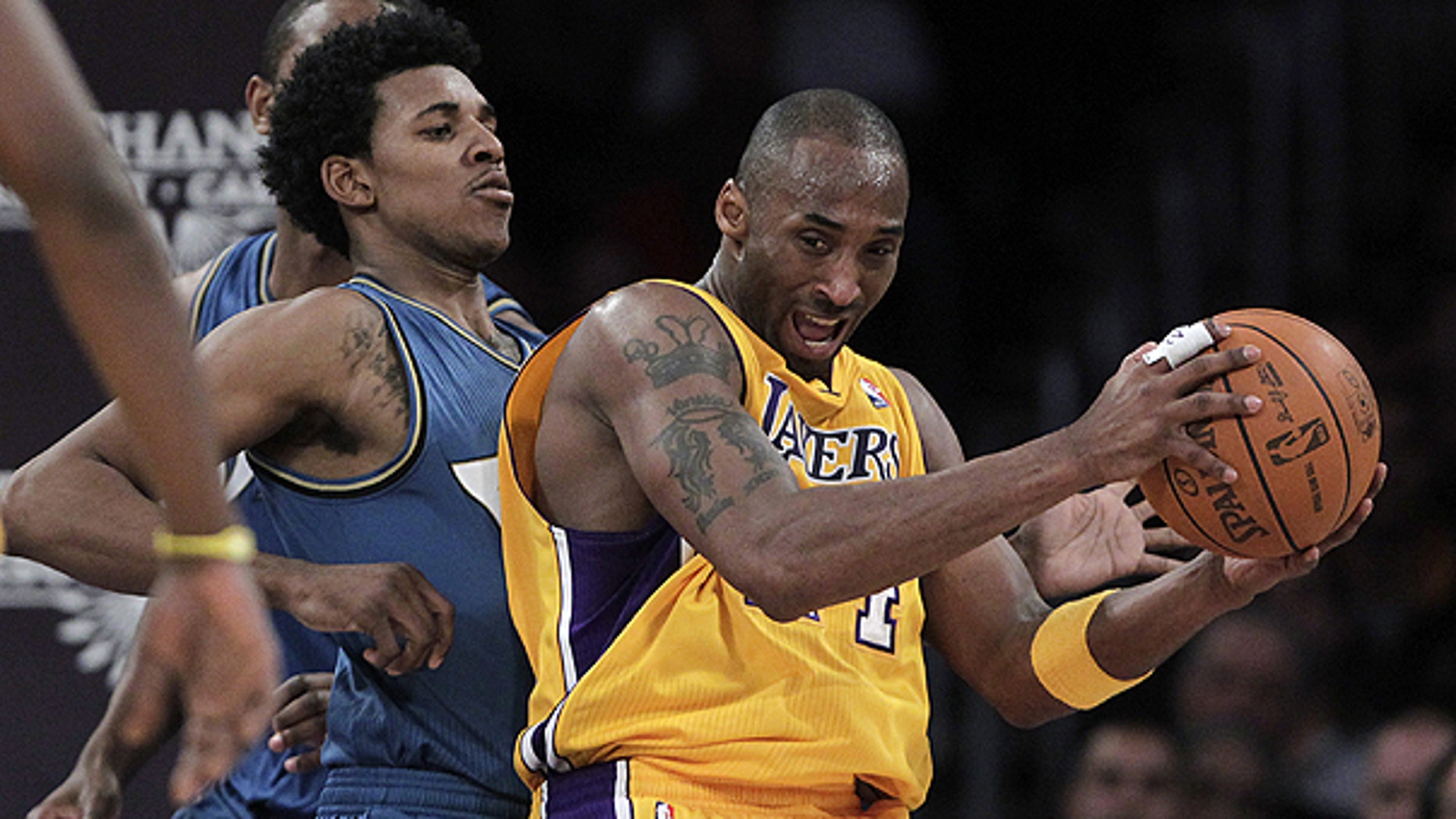 LOS ANGELES -- Kobe Bryant scored 32 points, Lamar Odom added 24 points and seven rebounds, and the Los Angeles Lakers held on to beat the Washington Wizards for the eighth straight time, 115-108 Tuesday night.
Pau Gasol had 21 points, 14 rebounds and eight assists for the Lakers in their final home game before a seven-game, two-week trip that includes a rematch with Washington on Dec. 14. Los Angeles struggled to put away the lively Wizards, but never trailed for the fourth time this season.
Nick Young hit a career-best six 3-pointers while scoring 30 points in his hometown for the Wizards, who closed the third quarter on a 16-1 run to make the two-time defending champions uncomfortable. Young's final 3-pointer pulled Washington to 110-106 with 1:20 left, but it was the former USC guard's only basket in the fourth quarter.
John Wall had 22 points and 14 assists for Washington, which dropped to 0-11 on the road this season. Washington and the Los Angeles Clippers are the NBA's only remaining teams without a road victory.
Gilbert Arenas scored 23 points for the Wizards, who played without forward Andray Blatche after their leading scorer bruised his hip during Saturday's loss at Phoenix.
After snapping a four-game losing streak -- their longest in more than 3 1/2 years -- with a win over lowly Sacramento last Friday, the Lakers skillfully moved the ball around against Washington while taking a 15-point lead in the first half. Los Angeles outrebounded the Wizards 27-11 in the first half, grabbing 14 offensive boards.
After Washington's third-quarter run, the Lakers went back ahead by 10 points in the final minutes, but back-to-back baskets by Wizards rookie Trevor Booker cut it to 108-103 with 3:08 to play.
After Arenas' jumper with 57 seconds left trimmed the Lakers' lead to four, Gasol won a jump ball with 32 seconds remaining that would have allowed Los Angeles to nearly run out the clock -- but Odom inexplicably rushed and missed a 3-pointer with 21 seconds to play.
Wall missed a 3-pointer from the top of the key, and Bryant hit two free throws with 10 seconds left.
Blatche's injury prompted Washington coach Flip Saunders to use his seventh starting lineup of the young season. Chinese forward Yi Jianlian got his first start with the Wizards, while Arenas replaced Kirk Hinrich and longtime Clippers forward Al Thornton took over for Alonzo Gee.
Young kept the Wizards in the game during the first half, scoring 19 points with three 3-pointers while rarely passing the ball.
NOTES: Gasol had eight assists by halftime. He wasn't able to complete his fifth career triple-double after getting his fourth last month. ... With Portland's Andre Miller sitting out due to a suspension, Los Angeles G Derek Fisher became the NBA's active leader in consecutive games played with 434. ... Young gave the Wizards a scare when he dove headfirst over the courtside row of seats in futile pursuit of a loose ball early in the fourth quarter. Young did a somersault, but was unscathed. ... Fans at courtside included Steven Spielberg, Jeffrey Katzenberg and David Geffen. Comedian Carlos Mencia interviewed Lakers in the locker room before the game.