Kyler Murray to enter NFL Draft after dalliance with Major League Baseball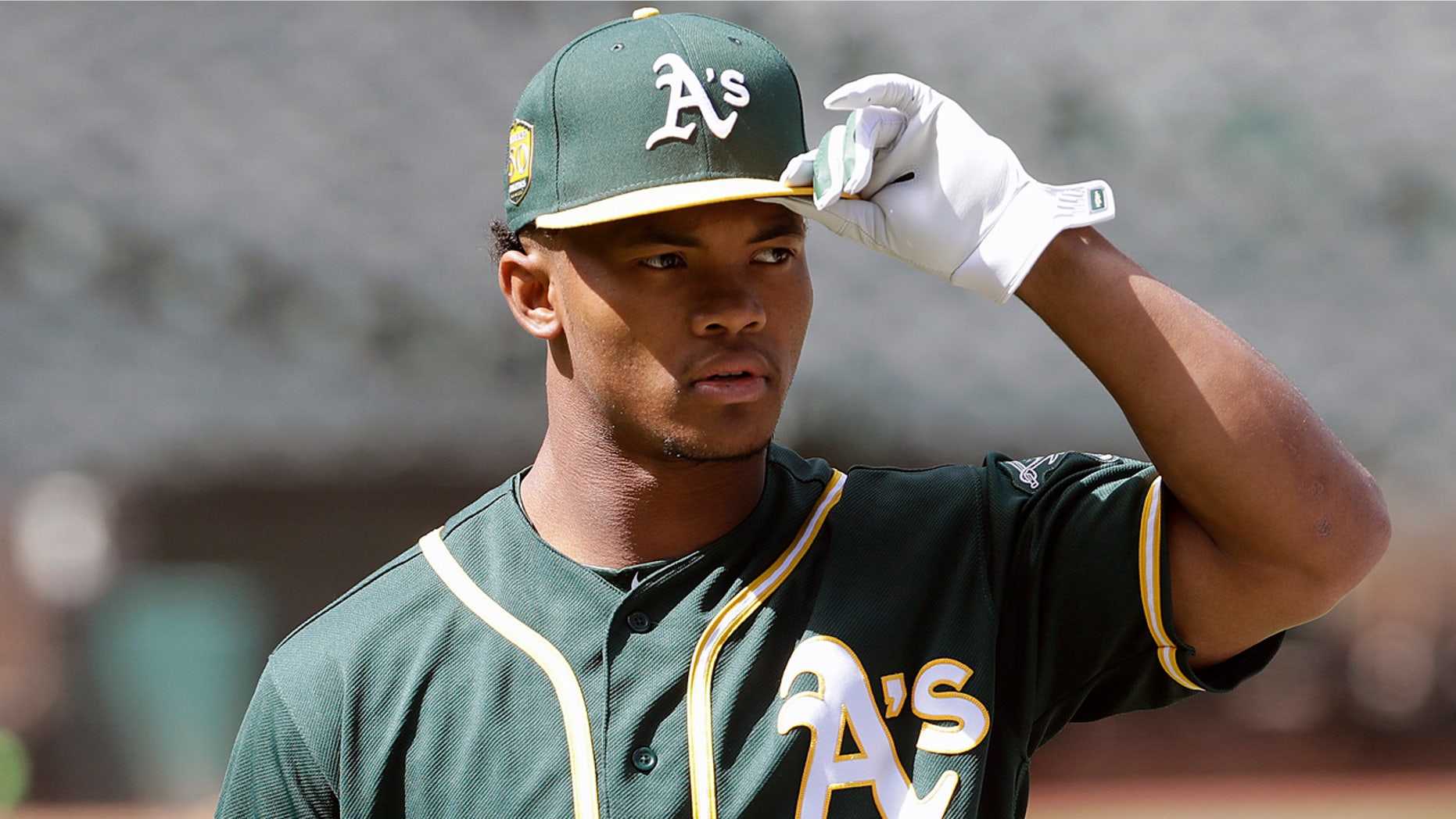 Heisman Trophy winner Kyler Murray announced Monday that he would enter April's NFL Draft, picking football over spring training with Major League Baseball's Oakland Athletics.
Murray announced his decision in a simple statement on Twitter ahead of the deadline for eligible college underclassmen to declare for the draft.
On Sunday, Murray met with representatives from MLB and the A's, who drafted him last June with the ninth overall pick. Murray signed with the club for $4.66 million. There was an agreement between the team and Murray that he would play football for the University of Oklahoma this year, then skip his senior season to begin his pro baseball career — and A's manager Bob Melvin, as well as executive Billy Beane and general manager David Forst, closely followed Oklahoma football in 2018.
Murray completed 260 of 377 passes for 4,361 yards and 42 touchdowns with seven interceptions and a passer rating of 199.2. He also rushed for 1,001 yards and 12 TDs in leading the Sooners to a Big 12 championship and a berth in the college football playoff. Oklahoma lost 45-34 in the Orange Bowl semifinal to eventual runner-up Alabama on Dec. 29.
'JUST DESPICABLE STUFF': SHAPIRO BLASTS WRITER WHO REPORTED ON HEISMAN WINNER'S TEENAGE TWEETS
"I can't put it into words. Just thankful," Murray said after the draft. "That's a huge deal, the organization letting me do that."
Murray showed off his skills taking batting practice at the Coliseum in an A's uniform back in June, greeted by "WELCOME TO OAKLAND" on the big scoreboard with his photo. Beane joked with super agent Scott Boras — who represents Murray — about the prized prospect committing to 15 years with the A's, who reached the playoffs for the first time since 2014 before losing the AL wild-card game to the Yankees and the franchise is preparing to build a new ballpark near the popular Jack London Square neighborhood of the city.
"We're big Oklahoma fans right now for sure," Melvin said at the winter meetings. "It's kind of tough to watch them scramble around a little bit sometimes, but it's exciting."
Jim Callis, a senior writer on MLB.com, told The Associated Press the A's couldn't have foreseen that Murray would be a potential first-round NFL draft pick because of his size. Listed at 5-10 and 195 pounds, Murray would be a small quarterback in the NFL by any standard.
"The primary risk was, what if he gets hurt on the football field?" Callis said, recalling his conversations with scouts before the season. "I don't think anybody was saying he could be an NFL first-round pick."
Callis and other observers say it is very unlikely Murray will be able to play both sports because he's a quarterback. Bo Jackson and Deion Sanders pulled it off, but Jackson was an outfielder and a running back and Sanders was an outfielder and cornerback.
"This isn't Bo Jackson showing up and here, we'll pitch you the ball and you outrun everybody, or Deion Sanders helicoptering in and his great speed, coverage skills," Callis said. "When you're a quarterback, you have to put in hours and hours of study running an offense. ... You can't play both sports when you're a quarterback. I think if he wants to play quarterback, which appears to be his greatest love, there can't be any question that he's 100 percent football."
The NFL scouting combine is in late February and early March and could intersect with his spring training — major league camp starts in mid-February and minor league camp begins in early March. If Murray wanted to participate in the combine, the A's would need to allow it and it would need to be reflected on his contract.
CLICK HERE TO GET THE FOX NEWS APP
Oklahoma coach Lincoln Riley said in November that if anyone could play both sports, it's Murray.
"I don't want to put it past him," Riley said. " A lot of people would say he can't do what he's done right now — how well he performed for our baseball group here this spring, and how well he's played here for us. So there's certainly some different dynamics with it. Obviously the fact that he would want to play quarterback, if he chooses the football route, is a little different than Deion or Bo or some of those guys. But he athletically is so gifted and can transition between the two."
The Associated Press contributed to this report.