Kyle Busch wrecks again in Kansas
By ,
Published September 11, 2015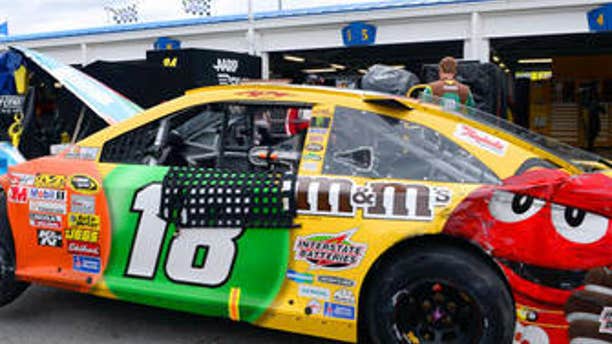 The third time was not a charm for Kyle Busch on Sunday.
For the third consecutive race at Kansas Speedway, Busch found his car on the wrecker and out of the event early. On Sunday, the final blow came after contact with Carl Edwards and Brian Vickers on Lap 200, but it wasn't his first incident of the day.
"Just fine and dandy," Busch said once his car came to rest in Turn 2.
Issues started for Busch on Lap 1 after Danica Patrick lost control of her car entering Turn 2. After three attempts to fix the No. 18 Toyota, Busch returned to action. After the sixth caution of the day on Lap 136, Busch stayed on the track for position and restarted second. On the next restart, six laps later, Joey Logano took the No. 18 car three-wide and Busch showed his displeasure during the next caution.
Busch remained up on the wheel and was turned again after he blocked Juan Pablo Montoya on Lap 187 coming to the start-finish line. He restarted 29th but lasted just 10 more laps.
"I have no idea what happened on the last one," Busch said after finishing 34th. "All I know is we're in Kansas, right? Just run over the 18 car and get what you need."
Although Busch entered the race third in the point standings - 12 points behind leader Matt Kenseth - he left the track seventh, 47 points behind. While Busch may be down, he doesn't consider himself out of title contention.
"We'll just have to work hard," Busch added. "We'll just have to keep doing what we've done and getting us to this point all year long and that's been consistency. And every other track except Kansas seems to be able to bode well for us, so we'll see what happens and if it doesn't happen, it wasn't meant to be."
When Busch was asked if the new tire combination contributed to his issues throughout the weekend, the driver shared blame between the tires and the track, which was repaved last year.
"The race track is the worst race track I've ever driven on," Busch said. "The tire are the worst tires I've ever driven on and track position is everything. You can't do anything unless you're out front. You get back in traffic - Kevin Harvick (race winner) couldn't pass me - he led the first 80 laps of the race, so I'd say it's pretty pathetic."
https://www.foxnews.com/sports/kyle-busch-wrecks-again-in-kansas