Key testimony set in Hernandez case
By ,
Published September 18, 2015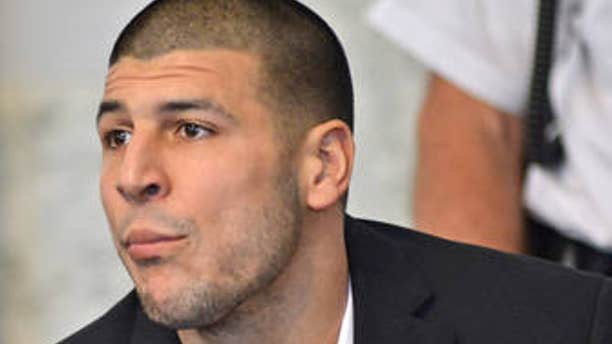 Prosecutors looking to establish a tie between a 2012 double homicide in Boston and former New England Patriots tight end Aaron Hernandez expect to hear Thursday from a Bristol, Conn., man linked to the handgun reportedly used in the killings.
John A. Alcorn, who goes by the street name "Chicago," is one of two men ordered to appear before a grand jury in Boston investigating the drive-by shooting on a highway overpass. Alcorn has ties to a cousin of Hernandez's and also has been linked to a .38-caliber handgun reportedly used in the July 16, 2012, shooting deaths of Safiro Furtado, 28, and Daniel Abreu, 29.
That handgun was discovered in a briefcase in the trunk of a car involved in a three-vehicle crash June 21 in western Massachusetts. When state troopers questioned the woman driving the car, she said she had given a ride to several friends who are football players and that they left their belongings in her trunk.
She identified one of them as a friend she knew only as "Chicago."
Alcorn, 21, is known by the street name "Chicago," according to court documents on file in Bristol, where he was arrested in 2011 for disturbing the peace and failure to appear in court.
He also is a relative of a man who was married to a cousin of Hernandez. The cousin has been jailed for refusing to testify before a grand jury, the Associated Press reported.
The latest ruling adds another layer to a convoluted case involving Hernandez, a Pro Bowl tight end for the Patriots who was cut by the team hours after his arrest on murder charges.
Hernandez, 23, has been indicted in the June 17 slaying of Odin Lloyd, a 27-year-old semi-pro football player. Hernandez's fiancee and the woman Lloyd was dating are sisters.
Prosecutors allege that Hernandez, angered that he had seen Lloyd talking with people that he had problems with, summoned two friends from his hometown of Bristol to Massachusetts and then took them with him as he drove to Boston and picked up Lloyd. From there, Hernandez allegedly drove Lloyd to a secluded field near his home in North Attleboro, Mass., and shot and killed the man.
The two men with Hernandez also face charges. Ernest Wallace Jr., 41, has been indicted by a grand jury on a charge of being an accessory after the fact, and Carlos Ortiz, 27, has been charged with possession of a gun by a previous offender.
According to court documents, Ortiz has cooperated with investigators and detailed the sequence of events in the hours leading up to Lloyd's murder.
Also facing a charge is Hernandez's cousin, Tanya Singleton, 37. She was indicted on a contempt charge after she refused to testify before a grand jury investigating Lloyd's death.
Prosecutors want to hear from Singleton because Ortiz allegedly discussed Lloyd's killing with her, and because one of her credit cards was used to purchase Wallace a bus ticket as he fled to Florida in the days after the killing. Prosecutors have also alleged that she might have helped dispose of the gun used to kill Lloyd.
Alcorn is related to Singleton's late husband, Thaddeus Singleton III. Singleton, whom police were interested in talking to, was killed June 30 in a high-speed car crash. Although police have said that crash appears to be an accident, it remains under investigation.
In addition to Alcorn, Judge Joan Alexander also issued an arrest warrant for Alexander Bradley, 31. Bradley, whose whereabouts are not known, filed a lawsuit in federal court in Florida alleging that Hernandez shot him in the face in February after a dispute at a nightclub.
In the wake of that shooting, which cost Bradley an eye, he told police he did not know who shot him.
Hernandez has not been charged criminally in that case.
Bradley did not appear at a court hearing Tuesday, at which he was ordered to show why he should not testify before the Suffolk County grand jury investigating the 2012 killings.
That 2012 double homicide -- in which another man was wounded and two others escaped unharmed -- had been unsolved for nearly a year when a possible link to Hernandez was discovered. Witnesses told police the killer fired multiple shots from a gray or silver sport utility vehicle with Rhode Island license plates.
Then came the June 21 crash on Interstate 91 near Longmeadow in western Massachusetts and the discovery of the handgun, a .38-caliber Smith & Wesson, in the trunk, along with a locked box. The driver of the car in which the gun was found, identified by Massachusetts State Police as Jailene Diaz-Ramos, 19, told officers the gun was not hers.
According to a police report, Diaz-Ramos "stated that a few days ago she gave a ride to a friend named 'Chicago' and his buddies. She stated that they are football players and they put all their belongings in the trunk."
Investigators ran a ballistics check on that gun and found that it matched ammunition fired in the 2012 case, according to a multiple media reports citing unnamed law enforcement sources. The contents of the locked box have not been revealed.
The Hartford Courant, also citing unnamed police sources, has reported that surveillance video shows Hernandez, Furtado and Abreu were in the same Boston nightclub hours before the two men were gunned down on as they were stopped at a streetlight.
In addition, during a search of Tanya Singleton's home in Bristol, investigators found a rented Toyota 4Runner with Rhode Island plates parked in the garage.
https://www.foxnews.com/sports/key-testimony-set-in-hernandez-case