Keselowski wins, plays Chase spoiler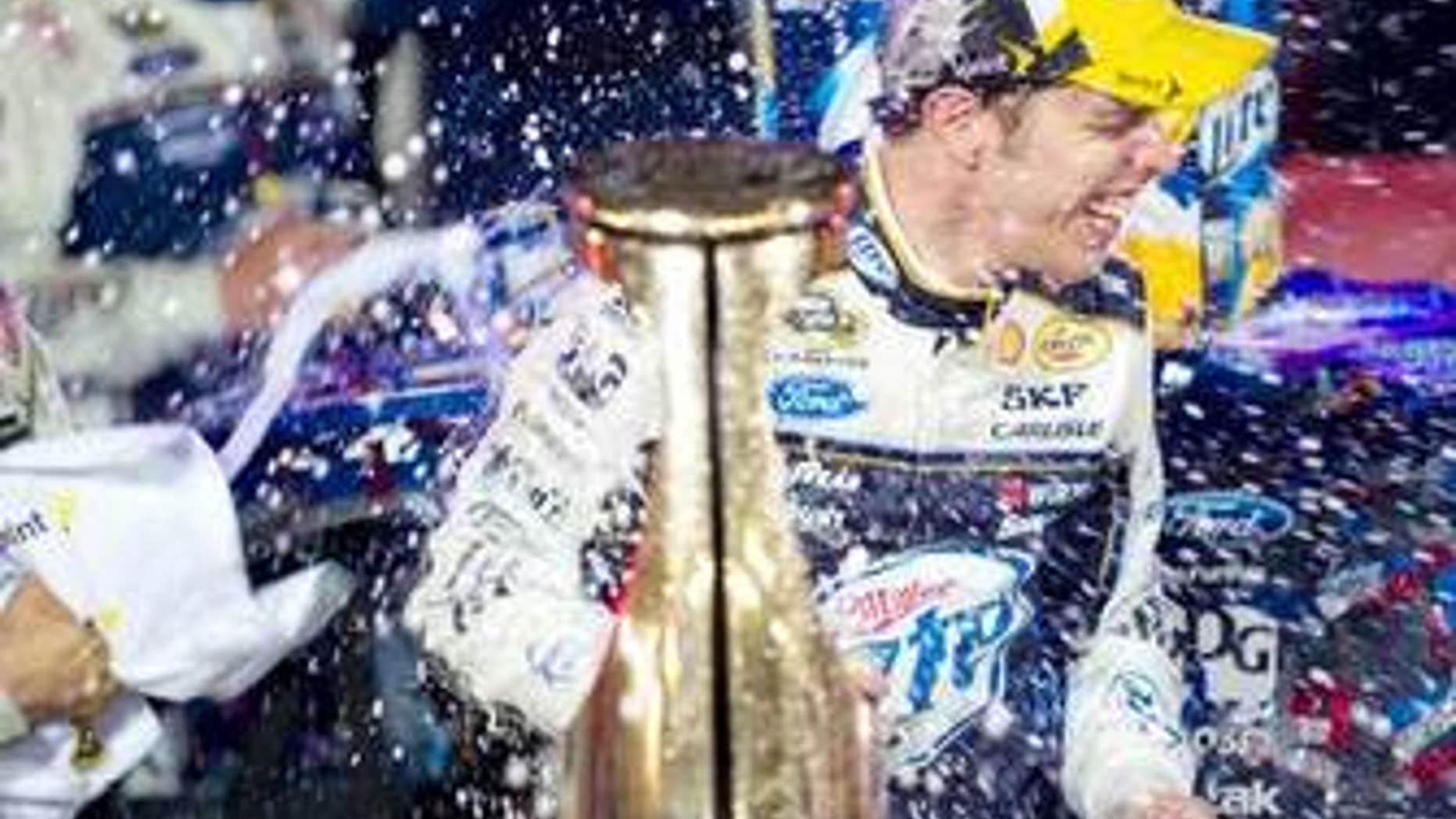 CONCORD, N.C. – Brad Keselowski couldn't defend his Sprint Cup championship in the 2013 Chase for the Sprint Cup -- but on Saturday night, he played the spoiler.
Keselowski muscled his way into Victory Lane at Charlotte Motor Speedway -- past the dominant Hendrick Motorsports cars and points leader Matt Kenseth to become the first non-Chase driver to win a Chase race since Kasey Kahne at Phoenix, the penultimate event in 2011 -- to end a 37-race winless drought.
But the night was not without incident.
Keselowski tempted fate on Lap 87 when he was penalized after his jack stuck under the No. 2 Miller Ford -- and made a lap around the track. The driver served his stop-and-go penalty, restarted 22nd and fought valiantly through traffic over the next 243 laps.
On the final restart, Keselowski entered the pits fifth and exited sixth after crew chief Paul Wolfe elected to take four tires for the last run. In four laps, Keselowski moved past Matt Kenseth into second place behind Kahne.
Spotter Joey Meyer then instructed his driver, "Whatever you need, whatever you want, go get the five."
Keselowski did just that. He and Kahne raced side by side, trading position at the point several times before Keselowski finally commanded the lead on Lap 325 and for final nine laps. Kahne finished second followed by Kenseth, Jimmie Johnson and Kyle Busch.
"It's been a tough year, man, appreciate you hanging in there," Wolfe said over the radio after the race. "Everybody on this team has been working hard. Hopefully, we've turned the corner here. Thank you."
Keselowski expressed his gratitude as well. But the driver who had the world by the tail one year ago appeared more relieved than anything.
While he grabbed the flag and celebrated with his team, the exuberance that fueled the Penske Racing driver to his 2012 title run was absent following his 10th career Sprint Cup win.
Despite enjoying the accolades of his championship, he's also learned that it's lonely at the top -- even more so when a driver is on the outside of the Chase looking in. Over the last year, he's dealt with doubters and trolls, done his best to handle criticism and adversity and continued his quest to find his voice and place among the sport.
"Well, in a competitive environment like racing is, there's always going to be people that root against you, no matter what you're doing," Keselowski said. "It's actually a little bit of a thrill in a way when you can step back and really appreciate it. In the moment it kind of sucks when your sister goes on stage and introduces you and there's always that one loud annoying guy that boos you and three or four people that cheer.
"In the moment that's not always that much fun, but when you get back home and think about it and think about it in a grander scheme, big picture, you realize what that means. You realize that there's the one guy that is a great fan of somebody else and he knows you're a threat, and he's going to take pleasure in you not succeeding because he knows it's just a better opportunity for his guy to succeed.
"You have to see those things in the big picture and it's hard to do in the moment. As I look back at it, certainly I want to be cheered and I want people to be excited when I win, but I also know that the reality is you're never going to have everybody that likes you, and I think that when you try so hard to make everyone like you and to be everything to everyone, you end up being no one to anyone. So it's just something that's not possible, and you have to move on and accept it."
Until last weekend's on-track altercation with Kyle Busch in the Nationwide Series race at Kansas Speedway, Keselowski went virtually unnoticed in the Chase. A penalty stemming from illegal suspension pieces in April at Texas Motor Speedway slowed the No. 2's momentum for a repeat title run.
And while Keselowski didn't drop out of the top 12 for the first time until mid-season, bad luck, miscues and inevitably and untimely engine failure at Richmond -- the last race before the Chase -- dealt the final blows.
While the realization that racing is not a popularity contest might be hard for Keselowski to accept, he's learning that winning can be quite the cure-all.
"Yes, there's going to be people that take pleasure in our failures, but there's also a lot of people that take pleasure in our successes, and I'm not going to reward those that take the pleasure in our failures," Keselowski said. "I'm going to enjoy the success with those that enjoy it like I do."
THE FIGHT TO STAY ON TOP
After a brutal start to the Bank of America 500 when NASCAR Sprint Cup points leader Matt Kenseth couldn't find his way into the top 15, the No. 20 Joe Gibbs Racing team pulled together for one heck of a recovery for a third-place finish.
"They did an incredible job tonight," Kenseth said. "I'm sure I had him frustrated by run 2, because I was getting cranky that I couldn't get my car to turn, and man, they did some really nice adjustments to really wake it up. That's hard to do on pit road these days, and they did a good job of that."
By Lap 130 -- during green-flag pit stops -- Kenseth worked his way to the point and remained in the top 10 throughout the remainder of the race. While his car never seemed quite strong enough to contend for the win, Kenseth's greatest challenge was holding off Jimmie Johnson.
Kenseth entered the weekend with a three-point advantage over Johnson, who proved early to be the class of the field. The No. 48 Chevy led 130 of the first 307 circuits, but lost the lead in the pits, and his car wasn't nearly as effective outside of the point.
With Kenseth able to pass Johnson on the Lap 312 restart, it offered the No. 20 an advantage to the end. Johnson finished fourth.
"Tonight was a big positive for us," said Kenseth, who extended his lead to four over Johnson. "It was a little bit of a struggle this weekend more than we anticipated. I didn't get a good lap qualifying, and that was really the start of us being behind tonight."
SOCIALIZING
Maybe there's something that @MarkMartin wants to tell us?
He retweeted:
@ArleneMartin @MatthewC_Martin @kcox418 @markmartin Our last family photo @ CMS 25yrs went way too FAST.¿¿¿¿ #Nascar pic.twitter.com/nTQ0PYOBNj
-- Rachel Adams Cox (@urfavrachel) October 13, 2013 NUMBERS GAME
7 -- Pit stops for second-place finisher Kasey Kahne, who averaged 38.366-seconds on pit road.
12 -- Top-five finishes for Jimmie Johnson at Charlotte Motor Speedway -- or in 48 percent of his 25 starts.
7 -- Top 20 finishes for Danica Patrick, who finished 20th on Saturday night.
13 -- Drivers finished on the lead lap.
SAY WHAT?
"What we need is wins, and we can't win," said a discouraged Kyle Busch after finishing fifth and remaining fifth in the point standings.