Julio Urias' much-hyped Dodgers debut lasts less than three innings
By , Allyssa Lee
Published May 27, 2016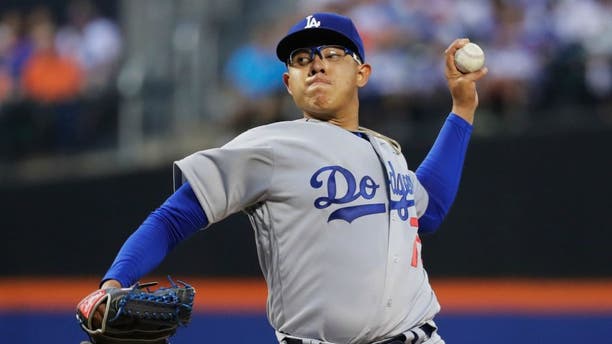 Julio Urias came into his Dodgers start on a wave of hype, but the 19-year-old phenom ended up fizzling early, lasting less than three innings in his major league pitching debut against the New York Mets on Friday.
The left-hander -- the first teenager be a starting pitcher in the majors since Seattle's Felix Hernandez in 2005 -- allowed five hits and four walks and struck out three in his 81 pitches to 17 batters.
Called to start in place of the injured Alex Wood, Uriah came into his major league pitching debut riding a 27-inning scoreless streak with Triple-A Oklahoma City. Through 41 innings pitched with OKC, Urias has registered a waif-like 1.10 ERA, building upon the .219 batting average he's held opponents to through three seasons in the system.
The Sinaloa, Mexico, native drew comparisons to fellow Mexican pitcher Fernando Valenzuela from the get-go. Urias was the first teen to play for the Dodgers since Valenzuela joined the Los Angeles team in 1980, and the youngest starting pitcher since Dick Calmus in 1963.
"He's got four legit pitches. That's more than I have now," Dodgers ace Clayton Kershaw said. "He's got the really hard slider that just shows his aptitude, can learn it in a spring training, and then his curveball still is there, too."
The Mets' Dwight Gooden remains the only teenage starting pitcher in the last 42 years to win his big league debut.
The Associated Press contributed to this report.
https://www.foxnews.com/sports/julio-urias-much-hyped-dodgers-debut-lasts-less-than-three-innings