Johnson, Kenseth in a tie at the top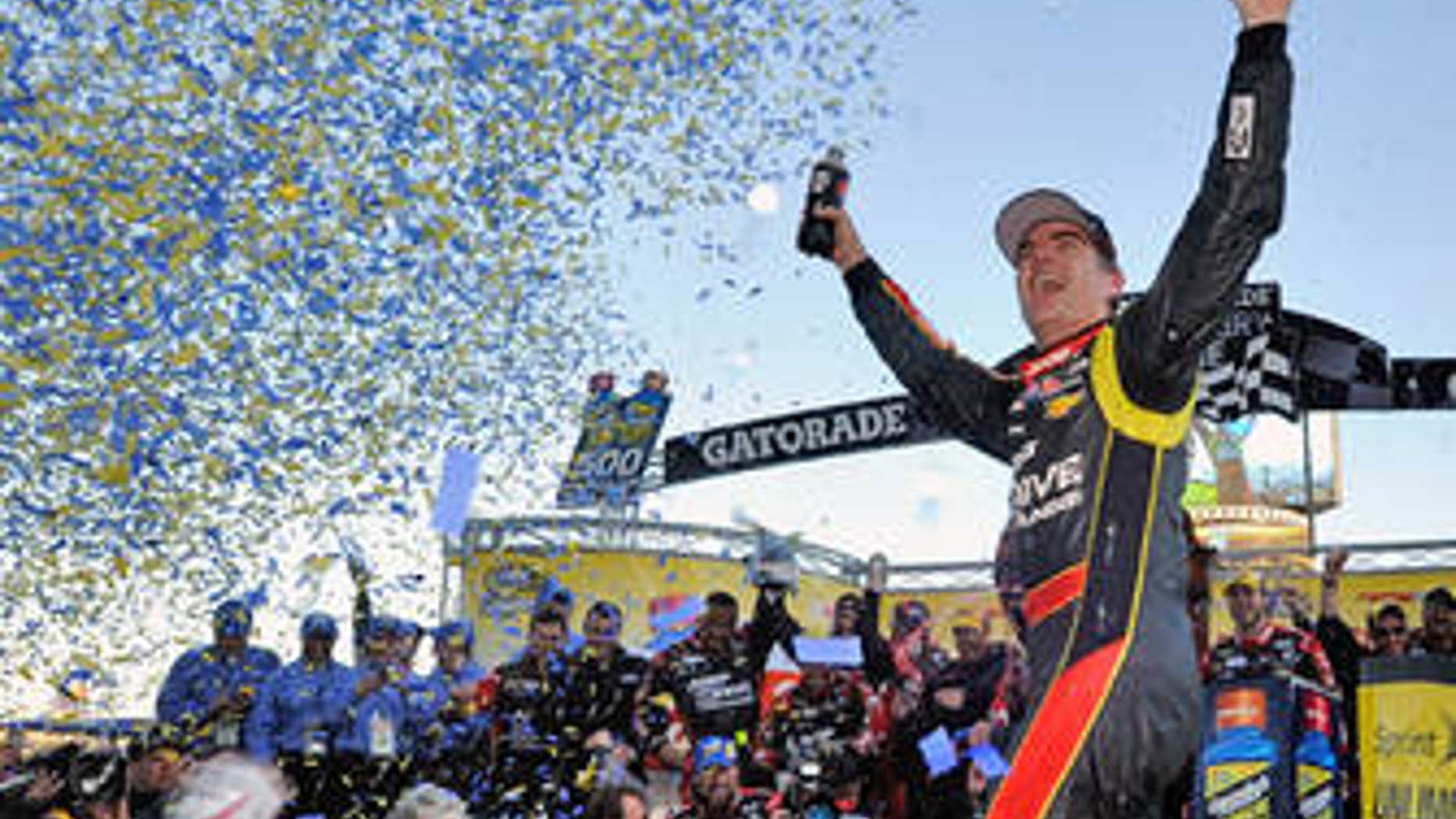 It was just like starting over.
Matt Kenseth did all he could, short of pulling off his first Martinsville Speedway win to retake the lead from Jimmie Johnson on Sunday.
However, after a grueling 500 laps, the two former NASCAR champions found themselves in a tie with three races remaining in the Chase for the Sprint Cup.
Kenseth was disappointed that he was unable to retain the lead of the Goody's 500 when Jeff Gordon passed him with 21 laps remaining in the race and took a checkered flag for the first time this year. But by posting the most laps (202) and finishing second, Kenseth erased Johnson's four-point advantage. (Johnson, in the No. 48 Chevy, finished fifth.)
Kenseth took the race lead from his Joe Gibbs Racing teammate Kyle Busch for the first time on Lap 36. When the No. 20 team elected to remain on the track rather than pit for tires during the mid-portion of the race, Kenseth lost the handling on his car and dropped outside of the 20. However, when the team made multiple pit stops during the 10th and 11th cautions (between laps 299-314) they were able to dial the car back in. By Lap 366, Kenseth was back in the lead but could not hold on.
Following the race, Kenseth said he was unaware of the points standings or whether the Chase is now a two-man race.
"I haven't looked at the points," Kenseth said. "Somebody told me Jimmie and I are tied. I have no idea. I think if you're within a race, anything can happen. I think if you're more than a race behind multiple drivers, I think that makes it tough.
"I think if you're whatever you can get in a race, 48 points, if you're more than that behind more than one driver, more than two drivers, I think that's hard to overcome with three races to go. But as we've seen through the years, anything can happen. You just never know what's going to happen."
Johnson was the clear favorite entering the weekend. He took over the lead from polesitter Denny Hamlin two laps into the race and led three times for 123 laps on the half-mile track where he has been victorious eight times. But Johnson's misfortune in lining up on the outside lane for most of the restarts was problematic in recovering track position in the closing laps.
"Just like it's been," Johnson said. "It's been a great battle with the No. 20 car, and the No. 24 (Gordon) is really showing that he wants to be a part of this deal, as well; and there are some other guys back there kind of close.
"So it's going to be a dogfight to the end. The way that I would want to go racing for a championship, and I know that's exactly what the fans want to see. We'll keep digging hard. We had a decent day today and see if we can't get this Lowe's Chevrolet to Victory Lane here soon."
Both teams tested at Texas Motor Speedway -- the next stop on the Sprint Cup tour. Kenseth has two wins on the 1.5-miler and an average finish of 8.5. Johnson also has two victories in Texas with a slightly worse finish of 9.1. However, he is the defending champion of the race, which he won from the pole.
Socializing
After Kyle Larson's engine blew up 160 laps into the race and he finished 42nd, he proved that, yes, things can get worse:
What a bad last couple of hours. Engine blew up, got a speeding ticket, now my cat just puked and pooped in the car.
-- Kyle Larson (@KyleLarsonRacin) October 27, 2013 Numbers game
1: Top-five finish for Brad Keselowski at Martinsville after finishing fourth.
5: Different crew chiefs who have led Gordon to wins at Martinsville -- Ray Evernham, Brian Whitesell, Robbie Loomis, Steve Letarte and Alan Gustafson.
10: Top-five finishes for Johnson in each of the Martinsville Chase races.
Say what?
Greg Biffle had words for Johnson following the Goody's 500 after the two drivers tangled in the closing laps.
"We had a great 3M Ford Fusion," Biffle said after finishing ninth. "It was a good day for us. I just wish that wouldn't have happened (the contact with Johnson that dislocated his rear bumper and forced the No. 16 to pit). We had a top-five car here today, finally to get in the top five at Martinsville, but that's like our fourth or fifth top-10 in a row, so I'm pretty happy."
The original article can be found at FOXSports.com: Johnson, Kenseth in a tie at the top.