Howard set to shoulder Wings' postseason hopes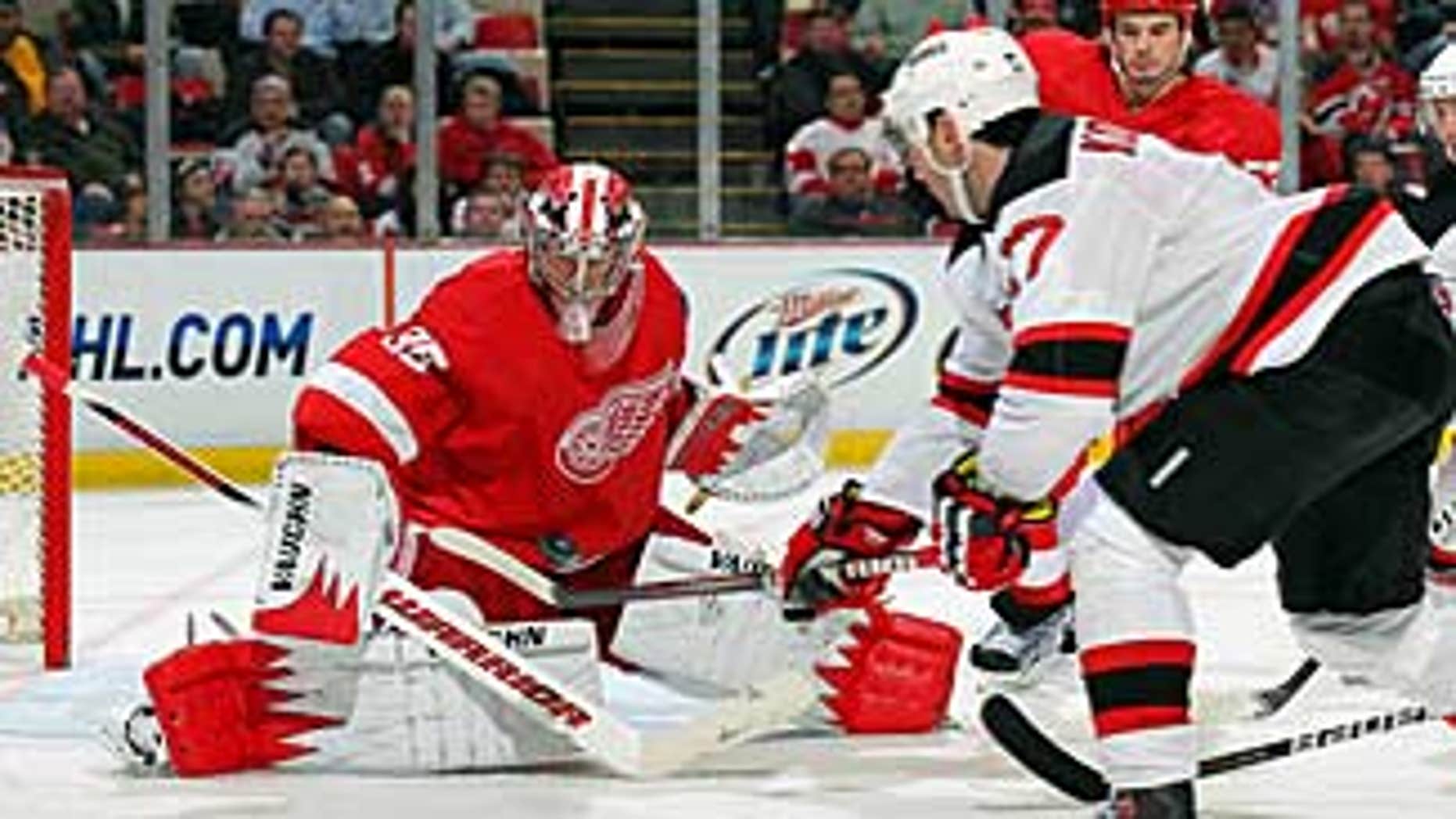 DETROIT -- A common perception is the three toughest sports jobs in this city are closer for the Tigers, quarterback for the Lions and goalie for the Detroit Red Wings.
In just his second full NHL season with the Wings, Jimmy Howard now knows enough firsthand to agree with at least one third of that statement.
"You've just got to live in your own little bubble," Howard said, following Detroit's morning skate Friday at Joe Louis Arena. "It kind of comes with the job."
"It," being the criticism he's faced this season despite a 36-16-5 record as the Wings starting goalie. Howard burst onto the scene in Detroit last year as a rookie and was a Calder Trophy finalist after spending four years with the Grand Rapid Griffins of the American Hockey League.
Now, with just a pair of games this weekend against the rival Chicago Blackhawks left before the playoffs, he is considered a point of concern for some -- who see his statistical decline (2.76 goals-against average, .909 save percentage) as a "sophomore slump" that could trip up the Wings' drive for the Stanley Cup.
Detroit coach Mike Babcock is not one of the concerned.
"Jimmy's been good," he said. "I think there was a chunk of the year where things didn't go the way he wanted. Other than that, he was real good at the start and he's been real good for us now. There's no question about it. He knows we need him to be good and he'll be good."
Howard will get at least one start in the final two games, as he's getting the nod Friday night against Chicago (7:30 p.m., Versus). He might also start Sunday against the Hawks at United Center, but that one might go to current backup Joey MacDonald or even injured Chris Osgood.
In the meantime, Howard is counting down the days until the playoffs start.
"I feel fine," said Howard, who recently missed two games after suffering a minor shoulder sprain Mar. 26 against Toronto. "I'm looking forward to it. I can't wait to get past these next two games and get into the first round. I've been looking forward to this for a while."
It's a different sort of anxiousness than he felt a year ago. After getting a good taste for NHL playoff hockey in two series last season, Howard feels more prepared for what's ahead.
"I was learning on my feet last year," Howard said. "It's one thing to sit here and watch, but it's another to actually be out there experiencing it. The intensity does pick up and guys are coming to the net a lot harder and there's a lot more screening going on. You have to be that much more focused to pick up pucks."
Adding to the Wings' goalie drama is Osgood, who continues his recovery from a sports hernia surgery. He was eligible to come off long-term injured reserve Friday but will not dress for the game. The possibility of Osgood suiting up Sunday in Chicago has been left open by Detroit general manager Ken Holland -- but there is also a possibility that Osgood won't be able to return Sunday or at all this season.
That means Howard could be Detroit's only playoff-tested goalie once the postseason starts. Not only does the 27-year-old Howard not mind the situation -- he's eager to embrace it.
"In this dressing room, the regular season and doing well and everything like that is all great and fine, but in the end we want to win Stanley Cups," Howard said. "That's what this organization is all about and that's what we're striving for. Let's be honest here. As much as the fans want it, I want it just as bad. So, I'm going to do whatever it takes to be able to be there at the end and give (us) a chance."
Zetterberg and Kronwall out: The Red Wings will not have top-line forward Henrik Zetterberg (lower body) or defenseman Niklas Kronwall (upper body) for either game against the Blackhawks this weekend. Babcock said he'd mix and match with forwards to replace Zetterberg on the top line, while Jakub Kindl will fill in for Kronwall.
It will also be a chance to audition for playing time to start the playoffs for both Kindl and veteran Ruslan Salei.
"Every game's important, there's no question about that," Babcock said. "We'll just see how it goes. We'll watch tonight like we do every night and try to make the right decisions."
Abdelkader gaining confidence: After scoring a pair of goals Saturday to help beat the Nashville Predators, Detroit forward Justin Abdelkader impressed with his speed and scoring ability.
He's scored just seven goals and has 18 points in 72 games this season, but the 24-year-old forward has spent the bulk of his second NHL season on the fourth line -- while spending limited time on the other three lines at different points.
He's also starting to feel more comfortable in what he can do at this level.
"The last month or so, I've felt like my game's really taken another step and I've gotten more confidence," Abdelkader said. "That's huge in this game -- confidence and playing confident. That was nice to help on the scoreboard and get a couple goals in a big game that we needed."