Have Dodgers assured Yasiel Puig he won't be traded? Conflicting reports emerge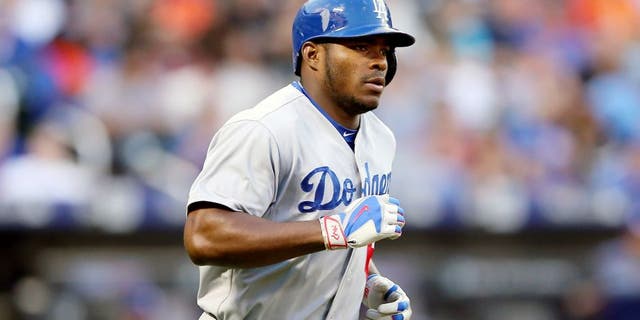 NEWYou can now listen to Fox News articles!
With the trade deadline less than a week away, the Los Angeles Dodgers are expected to make a move to strengthen their pitching rotation, but would they be willing to part ways with star outfielder Yasiel Puig in order to land a top starter?
Analysts have pegged Puig as their pick for a surprise player to be on the move at the trade deadline, primarily due to failure to meet expectations on the field and for reportedly being a distraction in the clubhouse.
A report published by CBS Sports on Saturday morning cited sources that said that Puig had been assured by Dodgers brass that he won't be traded this season, adding that the Dodgers "are not having any [trade] conversations about Puig and are not interested in moving him."
However, later on Saturday, a report from MLB.com said that the 24-year-old Cuban right fielder has not been guaranteed by the Dodgers that he won't be traded.
Additionally, Dodgers manager Don Mattingly stated that he hadn't heard of any internal talk about trading Puig.
"I don't know if it's speculation or talk," Mattingly said. "None in the inner circle."
Nonetheless, speculation that Puig will be traded continues, and will undoubtedly carry on until the non-waiver trading window closes on July 31.
(h/t MLB.com, CBS Sports)