Gauging the value of Garza vs. Greinke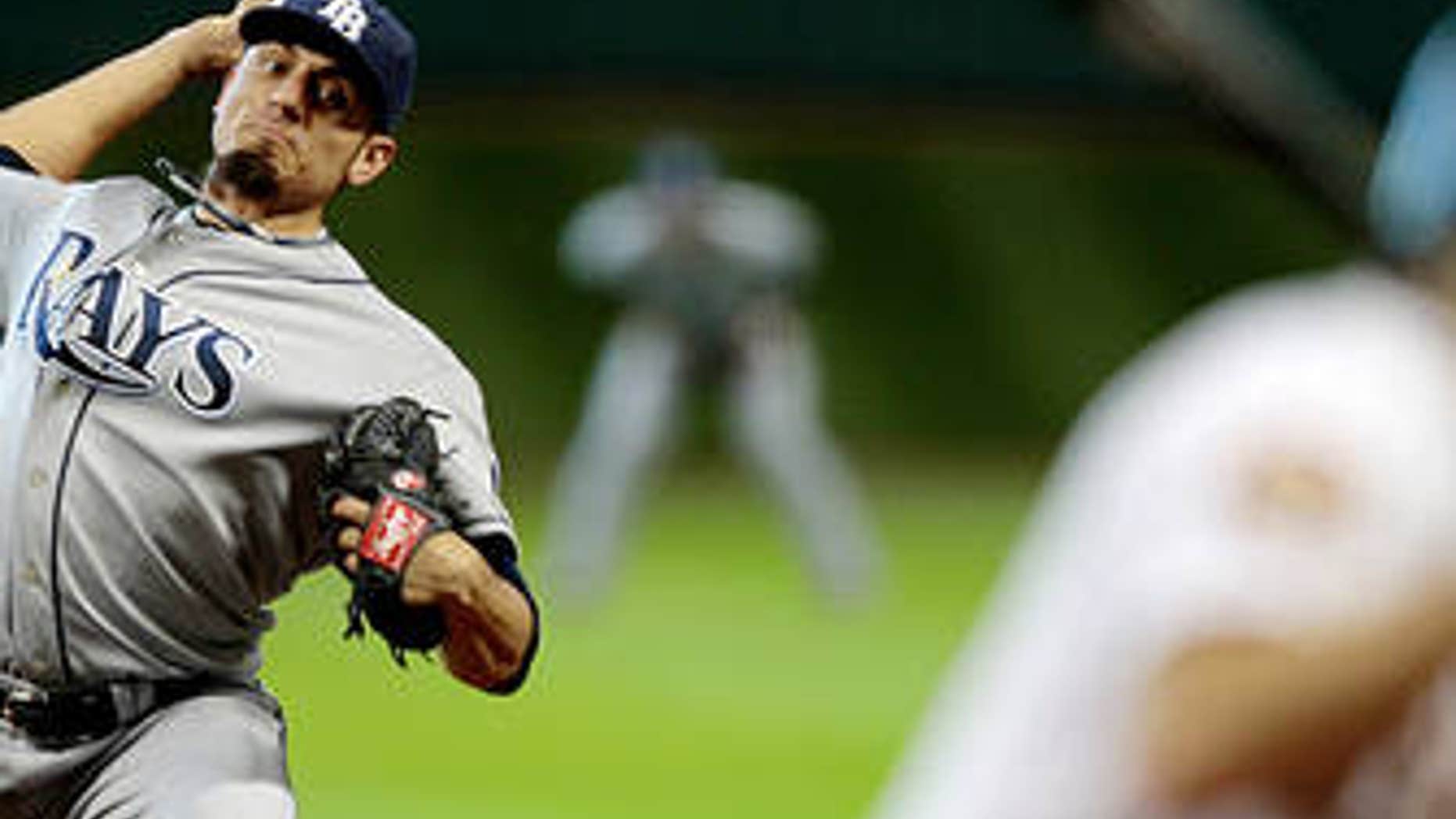 For all the appeal of Royals right-hander Zack Greinke, Rays right-hander Matt Garza might make even more sense to a team seeking to trade for starting pitching.
True, Greinke is more of an ace, or at least he was before slumping to a 4.17 ERA last season. But get this: Garza will be paid roughly the same amount over the next three seasons as Greinke will be paid over the next two.
That's right, any team that obtains Garza instead of Greinke will gain an additional year of control at comparable dollars.
Pretty tempting.
Tempting enough that the Rays should continue to draw serious trade interest in Garza, who -- at the very least -- represents a viable alternative to Greinke, the 2009 AL Cy Young winner.
The Rays, after losing left fielder Carl Crawford, first baseman Carlos Pena and most of their bullpen to free agency, would prefer to keep their starting pitching intact.
The demand for Garza, however, might be substantial enough for the Rays to receive an offer they cannot refuse.
Just follow the money:
Garza figures to earn $24 million to $26 million over the next three years in arbitration. Greinke will earn $27 million over the final two years of his contract before becoming a free agent.
The question, then, boils down to this:
Which would a team rather have: the superior pitcher or the pitcher who comes with an extra year of control?
Few would argue Greinke is the superior pitcher: His 3.25 ERA over the past three seasons is more than a half-run per game lower than Garza's. His .674 opponents' OPS is 28 points lower. His 3.74 strikeout-to-walk ratio is better by a significant margin.
Garza, though, is not exactly a slouch.
He actually has been more consistent than Greinke, posting sub-4.00 ERAs in each of the past three seasons while pitching in the AL East.
He also offers postseason experience, which Greinke does not. Garza, the 2008 ALCS MVP, is 2-1 with a 3.48 ERA in five postseason starts.
Rival executives question the makeup of both pitchers -- Garza can be overly emotional, while Greinke has dealt with social anxiety disorder and depression.
But in the end, most clubs would take either one.
Greinke for two years. Garza for three. Similar dollars.
NEXT FOR THE ORIOLES: 1B/DH
While the Orioles' moves certainly do not compare with those of the Red Sox, the O's clearly are getting better, too.
Lest anyone forget, the team ranked 26th in OPS at third base last season, 28th in left field and 30th at both shortstop and first base.
Mark Reynolds, for all his flaws, will improve the production at third; he had a .913 OPS against lefties last season, though only a .693 OPS against righties.
J.J. Hardy is an upgrade over Cesar Izturis at short, and any one of three free agents -- Adam LaRoche, Derrek Lee or Jorge Cantu -- would help at first.
LaRoche's former manager with the Pirates, John Russell, is the Orioles' new bench coach. In addition, Baltimore manager Buck Showalter crossed paths with LaRoche's father, former major league pitcher Dave LaRoche, while coaching and managing in the Yankees' system.
Cantu, too, has a connection to a member of Showalter's staff -- his hitting coach with the Marlins, Jim Presley, is now with the Orioles in the same capacity.
Jim Thome could make sense if the O's prefer to play Luke Scott at first and sign a DH. Thome's quest for 600 homers -- he is 11 short -- would help attract fans to Camden Yards.
MORE ON THE WERTH CONTRACT
Believe it or not, Jayson Werth's seven-year, $126 million free-agent contract with the Nationals includes some added goodies.
Werth would receive an additional $500,000 the first time he won an MVP award and $200,000 for finishing second through fifth, according to details of the contract obtained by FOXSports.com.
He also would receive $1 million if he won a second MVP and $1.5 million if he won a third and each subsequent time he captured the award.
In other words, he's covered if he turns into, say, Albert Pujols or Barry Bonds.
In addition, Werth's contract stipulates that the Nationals award him No. 28, his number with the Phillies.
ROCKIN' REDS
Right fielder Jay Bruce's new six-year, $51 million deal reinforces that the Reds should be in position to contend for the next several years.
Consider their players under club control:
For six more years: Bruce, left-hander Travis Wood.
For five: Right-hander Mike Leake, center fielder Drew Stubbs.
For four: Lefty Aroldis Chapman and righty Homer Bailey.
For three: First baseman Joey Votto, right-handers Edinson Volquez and Johnny Cueto, and left-handed reliever Bill Bray.
The Reds also have a young catcher -- 22-year-old Devin Mesoraco -- who broke through last season, producing a combined .964 OPS at Class A, AA and AAA.
Signing Votto long-term will be a priority, but the club figures to gain significant flexibility after next season.
Closer Francisco Cordero and second baseman Brandon Phillips, who will earn a combined $23 million in 2011, are entering the final years of their contracts.
FIXING A BULLPEN: MANY WAYS TO DO IT
The Diamondbacks moved swiftly to address their bullpen, signing free-agent right-hander J.J. Putz, trading for righties David Hernandez and Kam Mickolio, and claiming righty Brian Sweeney off waivers; selecting lefty Joe Paterson in the Rule 5 draft and signing lefty Mike Hampton to a minor league contract.
The Marlins, too, have been aggressive, obtaining lefties Mike Dunn and Dustin Richardson and righties Ryan Webb and Edwin Mujica in three separate trades, and trying to sign free-agent lefty Randy Choate.
Still, plenty of free agent and trade options remain, which is why bullpen-hungry teams such as the Rays need not panic. A number of bargains will surface in January.
The Rays did take lefty Cesar Cabral in the Rule 5 draft and could add right-hander Adam Russell and lefty Cesar Ramos if they ever complete the Jason Bartlett trade with the Padres.
AROUND THE HORN
- The Dodgers are in discussions with free agent Bill Hall, who would be their primary left fielder. Hall, who hit 18 home runs in 344 at-bats for the Red Sox last season, likely would be the Dodgers' last significant addition; the team is nearing its budgetary limit.
- The A's, as various reports suggest, are indeed leaning toward Hideki Matsui as their solution at designated hitter. Matsui should be affordable enough for the team to revive its pursuit of free-agent third baseman Adrian Beltre, but if the Angels are indeed on Beltre -- and how can they not be -- it's difficult to imagine Beltre choosing the A's.
- The Brewers weren't interested in trading center fielder Lorenzo Cain for minor league right-hander Brandon Beachy, who was an undrafted free agent and has been used mostly as a reliever. Lefty Mike Minor, a former first-round pick and starter, would be far more intriguing to the Brewers. The Braves, though, have little interest in moving Minor.